ITALY
RAVELLO
BELMOND HOTEL CARUSO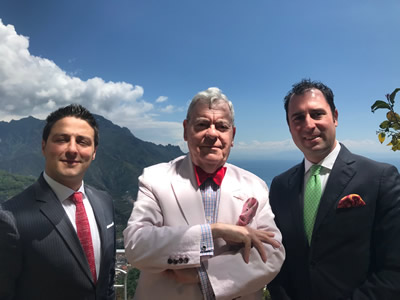 1,200 feet above the Amalfi Coast perches the exquisite collection of ancient churches and palaces which is Ravello. A thousand years ago one of those palaces was built by the D'Afflitto family. Much altered over the centuries, the building was opened as an hotel in 1893 by a gentleman called Pantaleone Caruso. Soon it was attracting guests of the very grandest sort. Eventually, they would include Greta Garbo, Humphrey Bogart and Jackie Kennedy. Now, I am pleased to report, they include your correspondent.
A great deal has happened to the hotel since Signor Caruso opened its doors. Its current owners have poured $30 million into its restoration. All the Belmond hotels I visit inhabit delightfully restored buildings, but this is one of the finest. 18th century frescoes have been uncovered, Norman arches have been repaired, hand-made tiles have been laid and 12th century stonework has been cleaned. The result is dazzling. Elegance, history and good taste have combined to produce surroundings which are welcoming, comfortable and beautiful. The interior designer, Federico Forquet, is to be congratulated on the sensitivity with which he has respected the integrity of this important building.
A fine hotel needs a fine manager. And it has one. Mr Alfonso Pacifico (pictured, on the left of the picture, with your correspondent) moves smoothly about his domain, ensuring that all is well. He is aided in his endeavours by a very good staff – including the attentive Food & Beverage Manager, Domenico Pellegrino (on the right of the picture). Courtesy, efficiency and friendliness are to be found throughout the Caruso, together with the ability to anticipate one's needs. Guests are looked after very well here.
I stayed in a most attractive apartment on the ground floor, which enjoyed the famous view down onto the sea and the coastline. Number 61 is a Junior Suite and therefore 1,325€-3,445€ a night, bed and breakfast for two, according to season. I liked its cool and sophisticated colour scheme: the white walls and the green, brown and white Amalfi floor tiles. Good use of mirrors (and the high, vaulted ceiling) made an already spacious room seem very large indeed. Certainly, there was no difficulty in accommodating the supremely comfortable bed, a decent sofa and an easy chair. I liked the detail of my private wall safe being hidden behind a framed painting. Through an archway was a smaller room with a dining table, a writing table and French windows to my own private terrace – from which the view was, of course, startlingly beautiful.
Back inside, my ablutions were conducted in the white marble surroundings of one of the much admired Belmond bathrooms. These rooms are famous among those of us who spend much time in luxury hotels, for they are models of what The Hotel Bathroom should be like: full of the best toiletries (by Bulgari), with lots of space for a properly-shaped and properly-sized bath (and a control for the water temperature which always works), a pair of wash basins, a separate shower and a separate apartment for the loo. This particular bathroom also had The View and a sculpture of an angelic cherub. Needless to say, all of this was immaculately maintained.

At breakfast, lovers of the sun went out onto the terrace, but I stayed within, next to stone pillars and mirrors with shell frames. I like elegant surroundings when I am breaking my fast. Here I was looked after by Luca, the excellent head waiter. Everything I secured from the extensive buffet – the cakes, the dishes of melon, pineapple and strawberries, the mozzarella – ticked the box marked 'top quality'. And better still, brought to me from the kitchen, were plates of bacon, tomato and poached eggs and my Grandfather's Breakfast. This consists of a bowl of porridge (made with water, not milk), a dish of sliced raw onion and a plate of brown bread and butter. Yes, it sounds strange, but it is a delicious combination and it got my grandpapa to his ninety-first year – so I am hoping it will do the same for me.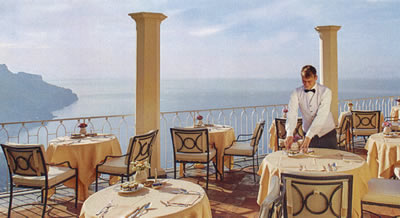 It became my custom to linger over these comestibles and after them to meander through the hotel's lovely gardens and walk by its 'infinity' swimming pool, surely one of the loveliest in the world. But, had I been a little more adventurous, I could have taken the hotel shuttle 'bus to Amalfi and Positano. This is a free service for guests of the hotel, and it is a valuable one. Taxis in these parts are not cheap, and to go to and from Positano might well run up a taxi fare of 200€. (But have in mind that traffic along the Amalfi Coast can sometimes be difficult. Personally, I prefer to stay within the cosseting surroundings of the Caruso.)
Dinner at the Caruso is another joy. The excellent Restaurant Manager, Vito Esposito, ensures that all runs smoothly and well. He certainly looked after me with grace and charm. The glasses are by Riedel, the napery is beige, the waiters wear black tie, a single candle twinkles on each table and, from the Drawing Room, the pianist's melodies drift in. The cuisine of Chef Mimmo di Raffaele (pictured) is based upon fine ingredients and impressive culinary technique. And his food, I am pleased to report, comes to the table in generous portions.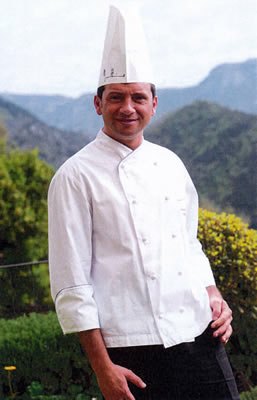 I began with a really wonderful dish – the sort of dish which makes all the effort of travel worthwhile. This was sautéed duck foie gras with tartare of red prawns, braised onion and a sauce of port wine and green tea. This imaginative confection was as near perfect as one can expect this side of the Pearly Gates. My pasta was spaghettoni with tomatoes, basil and pesto. Then it was on to braised beef, set off well by creamed potatoes, turnips and a sauce made with Aglianico wine. I finished with a Neapolitan bavaroise with ricotta ice cream. (Allow around 120€ for four such courses.)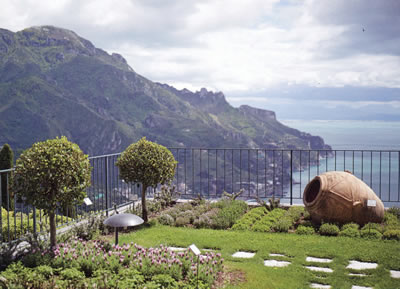 The wine list is Italian and French. The prices of its 605 offerings run from 44€ for a local white to 8,100€ for the 2006 vintage of Chateau Pétrus. Other French gems include 2007 La Tâche (3,850€), 2006 Cheval Blanc (1,980€), Krug Grande Cuvée (400€) and 2007 Yquem (990€, half). From Italy, I noted 2017 Planeta chardonnay (75€) and 2015 Cervaro dell Sala (220€). Those of you who like horizontal tastings (and travel with a few friends) might care to note that the great Tuscan red vintage of 1997 is represented by Luce (190€), Solaia (950€), Tignanello (385€) and Sassicaia (1,100€). My own drinking included – at the suggestion of the enthusiastic sommelier, Damiano Rosin – a 'super Tuscan' from 1995, which had developed interesting secondary flavours (Sanmarco Castello dei Rampolla – 145€).
1,200 feet above the Amalfi Coast, the Belmond Hotel Caruso is an exclusive and privileged retreat. It is rightly regarded as one of Europe's great hotels. Its location, its perfectly restored building, its luxurious furnishings, its high level of service, its good food and its charming General Manager combine to offer its fortunate guests an experience which is likely to remain long in the memory.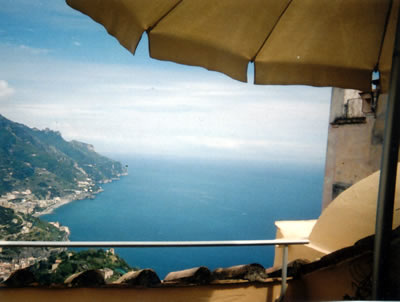 ---
ADDRESSES
BELMOND HOTEL CARUSO
Piazza San Giovanni del Toro 2, 84010 Ravello, Italy.
Telephone +39 089 858 800
Fax +39 089 858 806
Email: reservations.car@belmond.com
www.belmond.com
Check the hotel website for the rates for specific dates and for special offers
Open March to November