austria
VIENNA
RESTAURANT DREI HUSAREN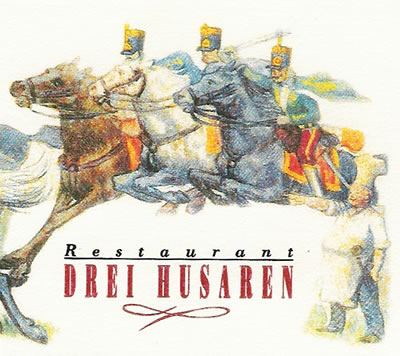 In Vienna it felt right to seek out some gastronomic tradition. Surrounded by so many of the trappings of past imperial greatness, a yearning came upon me to be defiantly old-fashioned. I therefore made my way towards the restaurant which everyone in the Austrian capital regards as a Viennese institution. Indeed, there are some who say that if you have not eaten in this establishment in Weihburggasse (very near Stephen's Cathedral), then you have not truly visited Vienna. The place in question is, of course, the Drei Husaren.
It was in 1933 that the three Hussar officers set up their dining room at this address. Being military chaps, doubtless they were determined that their new kitchen should manifest their own strong patriotism. I fancy that, in the officers' mess in the sky, they now look down and are pleased with what they see. For le patron, the genial Mr Uwe Kohl – who has been the sole proprietor since 1993 – knows that a winning formula does not need changing. His happy customers, of whom I am one, would agree with him.
As I arrived, my ears detected the strains of As Time Goes By. This is a popular melody with restaurant pianists, and I am glad it is. I yield to no one in my enthusiasm for the film Casablanca, which made the song a classic. Hearing this tune always stirs in me the contentment of nostalgia. "The fundamental things of life, As time goes by." It might be an appropriate motto for the Drei Husaren. For while the world might be changing for good or ill, here one will find a bastion of stability: traditional Austrian food – the food which has delighted past generations and which will, I fervently hope, go on delighting future generations for many years to come. It certainly delighted me on my visit.
I was shown into the smaller of the two rooms. Lined with bookshelves and large mirrors, lit with spotlights and decorated in warm colours, it is called The Library. A pleasant, comfortable room, I thought – as I eased myself into an armchair upholstered in green velvet. I liked the white tablecloths and the good Schott glasses which stood upon them. The waiters in their striped waistcoats were eager to please, so I asked them to bring for my selection the Drei Husaren's famous assembly of hors d'oeuvres. From these I chose chicken in jelly, foie gras, marinated salmon, tomato mousse, vegetable terrine and (my two favourites) beef in jelly and smoked salmon.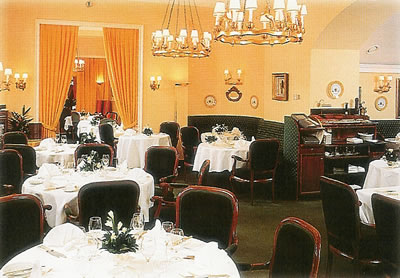 Then it was on, as I felt it had to be, to a meat dish from the classics: braised sirloin with cabbage pasta in a red wine sauce. As so often with fine, old-fashioned food, its appearance was not the stuff of oil paintings. But its taste was lovely – the beef tender and flavoursome, the pasta combining beautifully with the cabbage and the accompanying broccoli cooked just as it should be. I really ought then to have ended with the Pancakes Three Hussars (crêpes, filled with walnuts and topped with chocolate and strawberry mousse), but I had feasted too heavily from the trolley of hors d'oeuvres and so I could only manage a Grand Marnier parfait. (Allow about 70 euros for three courses; the hors d'oeuvres are priced individually.)
One small detail appealed to the child in me. The splendid maitre d', Ivan Vrdoljak, produced for me a pepper mill, which worked by electricity. Pressing the button on the top and watching while it rotated and gave forth its contents tickled my fancy no end.
Mr Vrdoljak it was who dealt with my wine. The list is substantial and is strong in France (with clarets like 1976 Pichon Lalande at 314 euros and 1995 Cheval Blanc at 471 euros) and Italy (with 1995 Luce at 260 euros). I stayed in Austria. The riesling from the Wachau was bright, bold and fresh (Federspiel, Alzinger, Dürnstein, 2004 – 47 euros), and my other bottle confounded those who think that Austria cannot produce red wine of high quality. Young and tannic, it opened up in the glass to offer black cherries and hints of toffee (Solitaire, Feiler-Artinger, Rust, 2002 – 95 euros).
After dinner I went for a stroll around the mighty exterior of the cathedral, a vast declaration in stone of eternal truths. Looking up at this sublime paean of praise to tradition, I was glad I had sought my own evening of tradition – of the culinary sort. A visit to the Drei Husaren produces this sort of happy glow.
---