ENGLAND
SOMERSET
BATH (COLERNE, WILTSHIRE)
LUCKNAM PARK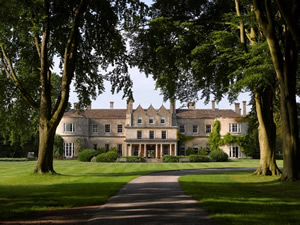 Let me try to describe an idyllic moment. I awake, having slept the sleep of the righteous in a four-poster bed of supreme and yielding comfort. I draw back the heavy damask curtains and, through the casement window, look down upon a pair of pheasants, promenading upon a lawn bathed in warm sunshine. Beyond this happy couple, an avenue of mature lime trees stretches towards the horizon. All is silent and serenely calm. I am in an 18th Century mansion of modest size but exquisite proportions, eight miles from the city of Bath. I am at Lucknam Park.
Built in 1720 and surrounded by 500 acres of parkland, this Palladian house opened as an hotel in 1987. Since then its 42 rooms have welcomed persons of taste and refinement from all over the world. This is truly where travellers come to find England as it should be. Here is the world of the panelled library and the carefully mown grass, of the elegant drawing room and the walled garden, of the wing chair and the herbaceous border.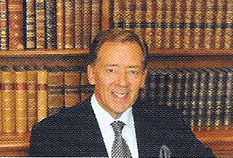 It is a world which can offer a game of croquet, a snooze over a pot of tea or a canter on a fine mount (for the hotel has its own Equestrian Centre). Here is a heavenly quietness, which soothes away the stresses of life. Indeed, the magnificent new Spa offers sundry treatments to pamper the hotel's guests. It seems there is nothing the good folk of Lucknam Park will not do to ensure the health and wellbeing of their guests. And presiding over it all is the Chairman, one of the treasures of the British hotel industry, Mr Harry Murray (pictured).
If you look at the photograph of the main façade, you will see the middle three windows on the first floor. These are the windows of my room. Number 5 is designated a 'Grand Suite' and is therefore £1,140 a night, bed and breakfast for two. Actually, it has a name: the Camellia Suite. It was accommodation of the very best kind, coloured in beige and tones of gold.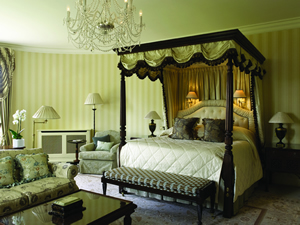 In its proper hall were fitted wardrobes, wherein was a private safe. The door to the left led into my drawing room, with a fireplace and a dimmable crystal chandelier. It had plenty of space for a sofa, two armchairs, a mahogany writing table, a sideboard in the Georgian style and a dining table with four balloon-back chairs. Tea and coffee-making facilities were provided – which is a feature I always like, because one does always want to summon room service. Attached to the first of my two television sets was a cd/dvd player, so that I could enjoy a little civilised music with my beverages. It turned out to be Mozart – found for me by Tim, the concierge, who was remarkably helpful and rushed hither and thither on my behalf, finding all sorts of jolly items to make my stay as good as good can be. (Indeed, every member of staff I encountered was eager to be of service, which I judged to be a tribute to the leadership of the Managing Director, Claire Randall. And they all seem to be possessed of very good taste, too. One of the young gardeners came over to tell me that he had travelled in a car similar to mine – a Rolls-Royce Silver Cloud III – on his wedding day.)
In the bathroom – a chamber of pristine white – I found a splendid bath tub of the free-standing sort, of which I am these days particularly fond. I used to be rather dismissive of them, but I was wrong, for they add a touch of pleasing theatricality to one's toilet. Two wash basins, a walk-in shower, a loo, overhead spotlights and toiletries by Anne Semonin of Paris completed the facilities.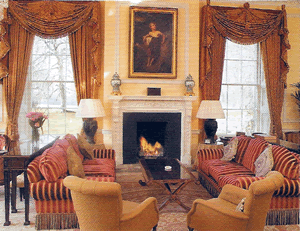 I noticed from my windows that some of my fellow guests were given to exercise. I suppose if one likes running, one might as well do it in such pretty surroundings. But one need not go outside. The hotel's afore-mentioned spa is of considerable size and splendour – although it fits into its verdant surroundings with pleasing discretion and restraint – and provides admirably for those who wish to indulge in physical jerks or to receive treatments. It contains a large swimming pool and a well-equipped gymnasium. Never willingly having stirred my own feeble frame more than Mistress Necessity has dictated, I confined my perambulations to modest walks in the hotel gardens. Here I found stone statues, fragrant flower beds and charming vistas of the tower. This last, despite its antique appearance, dates only from Edwardian times, and was built to house (as it still does) a water tank – as happy a combination of utility and beauty as you are likely to find.
Eating at Lucknam Park is done either in the Brasserie, within the Spa, or in The Park Restaurant, in what used to be the ballroom. In the latter my days began as every Englishman's day should: with a hearty breakfast. The generous sunshine warmed the pink roses around the white casement before it spilled onto the damask tablecloth in front of me, and a gentle breeze wafted through the French windows, as I tucked into smoked haddock and mushrooms, brought to me by the smiling waitress. Other delights included really good marmalade and superb local honey. Each day I also incorporated into my comestibles my Grandfather's breakfast: a bowl of porridge, with brown bread and butter and chopped raw onion. (It sounds odd, but you should try it. Delicious.) At £25, this breakfast was good value.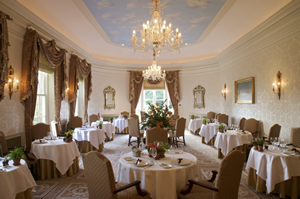 At the Brasserie I had a most enjoyable dinner. Its abundance of floor-to-ceiling plate glass makes it feel like part of the surrounding garden. Here the wooden tables are without cloths, and the spotlights shine down from above. Here I was looked after with efficiency and good humour by the Assistant Restaurant Manager, Maisie Newman. The cooking at the open kitchen is based on good ingredients simply and effectively handled, so that flavours are direct and appealing. Wye Valley asparagus was precisely steamed and served with excellent Hollandaise sauce, and my pudding – Yorkshire rhubarb and blood orange salad, with white chocolate and ginger ice cream and pistachio crackling – was very well done. In between these two dishes, I decided to try – since I was, after all, very close to the Spa – two of the 'Healthy Options'. The grilled mackerel, with sweet potato and lime pickle, cucumber and yoghurt, brought lovely fish as well as a well-balanced medley of flavours. And the grilled corn-fed chicken was served effectively by the accompanying spiced aubergine and tomato couscous. These four courses were £39.50. (The three-course set lunch at £22 is a snip.)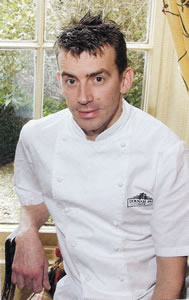 The wine list at the Brasserie is short and to the point. From it I liked the creamy Henriot champagne (£13, glass) and the beautifully grassy and aromatic sauvignon blanc from New Zealand (Tin Pot Hut, 2013 - £7, glass).
It was back to the ballroom for my other dinner. The Park Restaurant is the more formal of the two dining rooms and is presided over by its Manager, Christopher Kidd. He attended to me with exemplary care and attention. The well-spaced round tables, the crystal chandeliers, the trompe-l'oeil sky on the ceiling and the flickering candles in their silver candlesticks created a setting which was entirely to my liking. The dress code is 'smart casual' – which, being the old fuddy-duddy I am, I have always regarded as a bit of a contradiction in terms. I therefore donned my usual attire: suit, starched collar, tie and highly polished shoes. I was happy to observe that most of my fellow diners had also made proper sartorial efforts for the evening. The service, from waiters in black waistcoats and bow ties, was properly correct. The napkins of those who left the table for a moment were replaced. The glasses were of good quality – Riedel (the Restaurant range). The armchair, with the help of the cushion brought specially for me, was comfortably supportive.
Executive Chef Hywel Jones (pictured) thoroughly deserves his Michelin star. I found his cuisine to be based upon sound technique, upon respect for the intrinsic taste of ingredients and upon an intelligent approach to the combination of flavours. Some of his dishes require a great deal of work, but it is work to a purpose. Mr Jones is, quite rightly, obsessed with finding the very best suppliers, and many of them are mentioned on his menu. He also has a proper concern for the appearance of what leaves his kitchen, and I salute his decision to serve his beautiful food on white porcelain plates. They always make good food look its best, despite the obsession of some chefs with trying all sorts of strangely coloured crockery.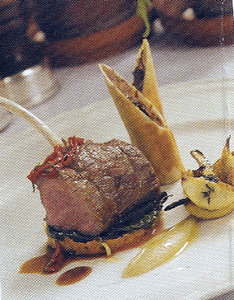 He offers two 'tasting' meals: one for £105 and another (vegetarian) for £85. From the carte three courses are £80. I opted for four courses from the carte. All hail the divine beetroot! The citrus cured salmon of my first course came with garden herbs, a yoghurt dressing and... beetroot. How I wish more chefs would use beetroot more often. Its texture and flavour so often – as here – lift a good dish to the level of the superb. Then it was an intriguing and successful combination of poached veal fillet with glazed sweetbreads, marinated salsify and Wiltshire truffles. (Wiltshire truffles? Yes, and they worked well.) The main course kept up the high standards – loin and neck of lamb (terrific meat), with asparagus, peas, wild garlic and morel mushrooms. And the meal ended with a triumphant pudding, a fine croustillant of roasted pineapple, with rum and raisin parfait, pineapple sorbet and macademia nut caramel.
The wine list, presided over by Head Sommelier Cesare Rosa, has 329 offerings, including 37 half-bottles. Twenty wines are available by the glass. Prices range from £25 for an Argentinian merlot (Norton) to £1,300 for the 1986 Haut Brion. Other bottles to catch my eye were: 1997 Ornellaia (£640), Krug Grande Cuvée (£235), 2011 Cervaro della Sala, Antinori (£135), 1995 Vega Sicilia Unico (£560) and 1994 Penfolds Grange (£840), as well as some lovely clarets from fine vintages: 1982 Cos d'Estournel (£1,200), 1982 Lynch Bages (£975), 1989 Palmer (£1,090) and 1996 Cheval Blanc (£1,185).
Life should be full of idyllic moments. At Lucknam Park I found many. That is why I believe Lucknam Park to be one of the finest country house hotels in England.
---