FRANCE
PARIS
RESTAURANT LAURENT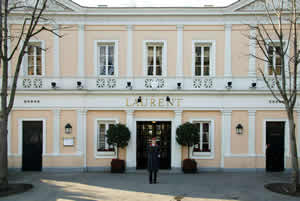 I like to think of myself as an honorary Parisian. My French friends might raise their eyebrows at my presumption, but it is based entirely upon my love of the French capital – so perhaps they will forgive me. And, as a 'Parisian', I am hugely proud that my city possesses a number of restaurants which are of historic importance. They are part of what has made (and still makes) Paris Paris. They are bastions of the French culinary tradition. They are cathedrals of gastronomic excellence. They are the shrines to which the faithful flock for sustenance. They are the basilicas to which the princes offer their jewels and the paupers give their pennies. And none fulfils its role with greater panache than the white pavilion on the Champs-Elysées – the famous Restaurant Laurent.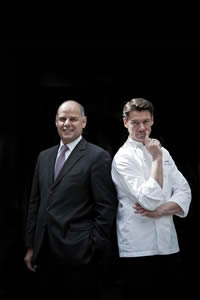 The building began life as a hunting lodge. In the French Revolution it was a dance hall. In 1842 it was restored by the German-born architect Jacques-Ignace Hittorff, who had been commissioned by King Louis Philippe to sort out the Champs-Elysées. Then it became a restaurant, and its third owner gave to it his own name, Laurent. Ever since, it has been one of the most famous and most respected restaurants in Paris.
Great restaurants have their own characters. As soon as I stepped through the doors of Laurent, to be greeted by the Manager, Philippe Bourguignon (pictured, with the Chef), I knew that I liked this place. Tradition has conferred upon it an atmosphere which is both completely relaxed and reassuringly grand. It is like a family of ancient ancestry, which wears its grandeur lightly and which is clearly delighted to welcome guests into its fine ancestral pile. Indeed, the master of the house has been here for some decades, for Mr Bourguignon arrived as the Chef Sommelier in 1977, and took over the management in 2002.
He presides with skill and panache over a setting of columns and pilasters, of silver candelabra and exquisite flower arrangements, of fine oil paintings and views of the lovely garden (wherein is a terrace for the summer and a fountain by Hittorff). I settled myself onto a supportive banquette and surveyed the curved sweep of the room. The large table before me was covered with a beige cloth, on which stood glassware by Riedel and Spiegelau and a candlestick with two flickering white candles. All around waiters in suits and ties were purposefully about their business. I sipped a glass of bubbly and felt very much at home. Then came a delightful surprise. "Hello, Monsieur Bown." It was the General Manager of one of my very favourite hotels on the Côte d'Azur, who was dining at Laurent with his charming wife. This, of course, should not really have been a surprise, because every Frenchman of taste – as this gentleman undoubtedly is – enjoys the food at Laurent when he is in Paris.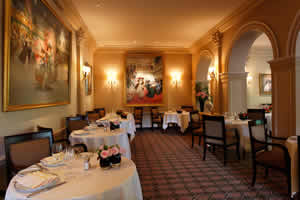 That food is currently the creation of Chef Alain Pégouret (pictured), who has been here since 2001, having previously worked with Joël Robuchon and at the Paris Ritz. He describes his food as "French cuisine with a contemporary twist", and I am happy to concur with that description. I can also tell you another conspicuous characteristic of his menu: it is very, very appealing. Indeed, I would have been very content to have chosen any of the dishes listed. His portions are generous; his technique is precise; his approach to combining tastes and textures is admirable; and the ingredients which appear on his plates show him to be a man who demands the very best.
I began with what might have been described as sardines on toast. But this dish was the world's finest 'sardines on toast' – sardine fillet with aromatic herbs on a crisp, thick cracker with lemon mousseline. The balance of contrasting flavours and textures was remarkable. This was a beautifully conceived and magnificently executed dish, and made me revise my opinion of the humble sardine. Pan-fried duck foie gras was equally – if more predictably – impressive, and proved a delicate yet ravishing dish with ginger, lime and freshly roasted mango.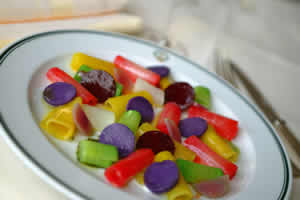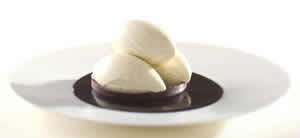 Then I embarked upon the gastronomic ascent of Everest. In my many years of eating at the world's great tables, I have tucked into many rich dishes. But at Laurent there was now brought to my table the richest dish I have ever encountered. It sounds innocent enough: Hare à la royale. It was devised, I was told, by a certain Senator Couteaux, around the year 1900. The good senator, I soon realised, must have been a man who liked his food very rich indeed. To produce the main course I had ordered, a hare had been braised gently and at length in red wine. It had then been boned and generous amounts of foie gras had been added to the meat. Meanwhile, the saddle of the hare had been stuffed with foie gras and roasted. All this was now put before me, together with pasta parcels filled with more hare. It was as if I had been transported back a century. I only wish that I had been able to clear my plate of this dense and delicious masterpiece. But, in the end, it defeated me – to such an extent that I was unable to face the hot citrus soufflé with which I had intended to conclude my dinner, and had to go instead for some delicious vanilla ice cream with warm dark chocolate sauce.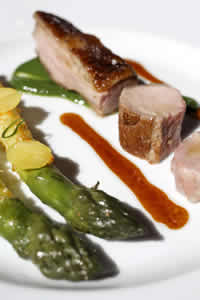 These four courses from the carte were 224€. (A 6 course set meal is available for 165€.) As you would expect at an establishment of such age and dignity, the service – orchestrated by the delightful maitresse d'hôtel, Stéphanie Rodriguez – was formal, courteous and impeccable.
In the cellar of the Restaurant Laurent are 30,000 bottles. Most, of course, are French, but I was pleased to see on the list of the Chef Sommelier, Patrick Lair, a good showing of German Rieslings (40 in number), including the 2003 'Saarburger Rausch' trockenbeerenauslese, Zilliken, from the Mosel, at 1,000€. Other bottles to catch my eye were: 1947 Margaux (1,380€), 2009 Romanée-Conti (3,500€) and 2006 DRC Montrachet (3,680€). Prices start at 38€ for a red Côteaux du Lyonnais (Clusel, 2009).
I was happy to go with the recommendations of the Assistant Sommelier, Mattieu Ghislain. He took me to Burgundy for my white and to the Rhone for my red. I drank a beautifully balanced Chablis (1er Cru Butteaux, F. Raveneau, 2009 - 95€), with more fruit than usual (a characteristic which made it ideal for both the sardines and the foie gras) and a St Joseph (J.L. Chave, 2009 - 85€) with an abundance of ripe damsons and a hint of a farmyard nose.
As an honorary Parisian, I am happy to recommend to you one of my city's most famous and most highly regarded dining rooms. Indeed, I rather suspect that, when you have been to the Restaurant Laurent, you will want to be an honorary Parisian, too.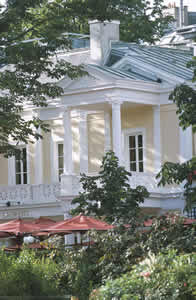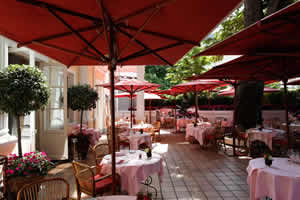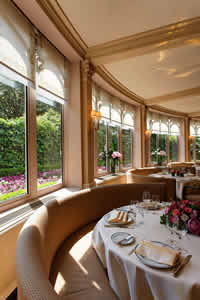 ---
ADDRESSES
RESTAURANT LAURENT
41 avenue Gabriel, 75008 Paris, France.
Telephone +33 (0)1 42 25 00 39
Fax +33 (0)1 45 62 45 21
Email: info@le-laurent.com
www.le-laurent.com
Lunch: Monday to Friday
Dinner: Monday to Saturday
Set menu: 165 euros