AUSTRIA
VIENNA
RESTAURANT ANNA SACHER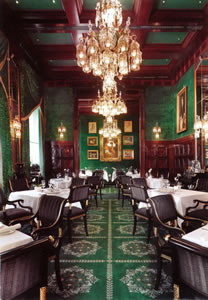 Why do we like green? Do we like green because there is so much of it in the world? Or is there so much of it in the world because we like it? These questions were put to me many years ago by the saintly Dr Outram. He was one of my masters at school – and a fine fellow he was, with a D.Phil. from Oxford and a refined wit. At the time of his enquiry, I think he was tutoring me for the Scholarship Examination to the other University, Cambridge. I still do not know the answers to his questions, but I do know – as I knew then – that like green we do. Indeed, I had particular cause to be a verdophile as a schoolboy, for my Father drove a succession of P4 Rover motor cars, which were all painted sage green. (Perhaps that is why my current Royce is green?) And now, in my dotage, I have another reason to harbour the warmest feelings towards green. For green is the colour of one of the loveliest dining rooms in Vienna, the Restaurant Anna Sacher.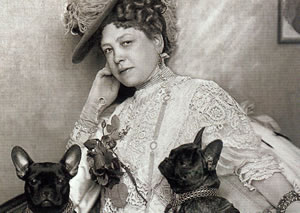 Within the delightful Hotel Sacher – and therefore only a few steps from one of the world's most famous opera houses, the Staats-oper – the two rooms which comprise the restaurant are wonderfully sumptuous. The crystal chandeliers by Lobmeyr twinkle, the oil paintings (including a fine portrait of a lady by Sir Peter Lely) glisten, the starched white napery shines, the Spiegelau glasses sparkle and the cross-banded mahogany gleams. This environment is truly welcoming. But it was the predominance of green I liked best. It made me wonder why so few restaurants use this wonderful colour.
I was shown to my table by the Head Waiter, Thomas Schimmler, a smart young man who attended to me with the utmost professionalism throughout the evening. (I was pleased to note that my napkin was replaced, when I left the table for a moment.) He, of course, went ahead of me. And, as we moved through the room, I experienced a new sensation. I felt under-dressed. I was, of course, in a Savile Row day suit, a starched collar and highly polished bespoke shoes. But all the other gentlemen diners were in white tie. Perhaps, I suddenly thought, a great and wonderful sartorial revolution had happened in the Austrian capital and a craving for the utmost formality had suddenly seized its inhabitants. But no. Once I was safely seated, Mr Schimmler gave me the less exciting explanation: it was the season of the Viennese Balls and my fellow diners were here for supper before going on to dance away the night at the Hofburg palace. I sat back in my armchair of black and gold, listened to the grand operatic arias coming through the loudspeakers and felt under-dressed no longer.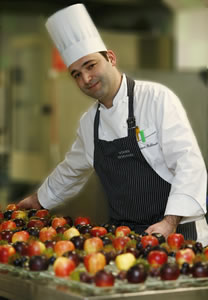 Chef de Cuisine Werner Pichlmaier (pictured) offers several set menus, up to one with six courses at 84 euros. My four courses from the carte came to 88 euros. He describes his food as "a contemporary, light version of Austrian cuisine", and I am happy to concur. I began with goose foie gras with herbal cake, physalis and pepper. The presentation was elegant – with the brown liver, the orange fruit and the green leaves on the white plate – and the flavours and textures were well-balanced. Next, since I was in Austria, I thought I should have soup. And I was glad I did. This consommé of parsley with dumpling and quail's egg was strangely refreshing, as well as being full of taste. The ox rib, in salt crust pappardelle with a vegetable salad and béarnaise sauce, was carved by the table. This was something for the man with a healthy appetite and an appreciation of good meat. Finally, Bourbon pineapple, stewed with wheat beer, came with chocolate parfait. This was a new combination for me, and I think I might have preferred to eat the two elements separately.
400 wines populate the list, which was brought to me by the knowledgeable sommelière, Martina Illeck. Prices range from 34ε for an Austrian white to 1,600ε for the 1990 Lafite. Other bottles I noted were: 1999 Penfolds Grange (446ε), 2002 Bonnes Mares, Comte de Voguë (420ε), 2006 Montrachet, Prieur (650ε) and 2006 Tignanello (120ε). My own drinking comprised a bright, perky, acidic Austrian riesling from the Wachau (Ried Zehenthof, Holzapfel, Joching, 2008 - 44ε) and a Barbaresco from Piedmont with notes of damp oak (Sori Paitin, Neive, 2001 - 64ε, half).
Anna, by the way, was the wife of the hotel's founder, Eduard Sacher. She was famous for liking cigars, bulldogs and aristocrats. At her death in 1929, it was said that the reason the Sacher had never made any money was that she could not resist having princes and archdukes living at the hotel rent-free. I wonder whether, like the rest of us, she liked green? I rather suspect she would like the restaurant named after her. I certainly like the Restaurant Anna Sacher, in all its splendid greenness.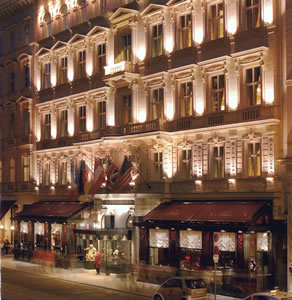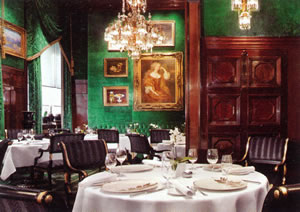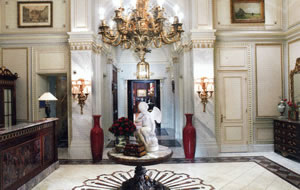 ---