UNITED KINGDOM
ENGLAND
SOMERSET
BATH
ACORN VEGETARIAN KITCHEN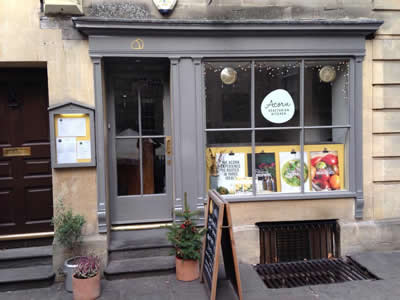 Let me admit immediately that I have little experience of vegetarian food. Of vegetables I am a devoted fan, but 'vegetarian food' is rather different, and implies combinations of tastes and textures which might provoke reactions of surprise from the carnivore's palate. Still, now and again, the thought comes upon me that I should venture into unfamiliar territory, and where better to do that than in England's most beautiful city? Moreover, Bath has a restaurant which is highly regarded for this sort of cuisine – The Acorn Vegetarian Kitchen.
Located in a pretty house a few steps south of the Perpendicular glories of Bath Abbey, this restaurant is, I suspect, a place of gastronomic pilgrimage for those who share its outlook. Certainly, on the evening of my visit, it was full – not only full, but full of those who were clearly enjoying themselves. The house is small, the dining rooms are small and the tables are small (without tablecloths). But the friendliness – from the eager young female staff – is large. I was shown to a round corner table, where the waitress was careful both to make sure I was comfortable and to address the intricacies of the menu.
The twelve dishes, she explained, were all of medium size, with the idea that one would choose 3, 4 or 5 of them (for £26.95, £34.95 or £39), which would be served in the order judged most appropriate by the kitchen and which could, should I wish, be accompanied by glasses of wine from either the 'Classic Wine Match' or the (slightly more expensive) 'Connoisseur Wine Match' – for prices from £15 to £30. (Bottles on the very short wine list run in price from £17∙50 for an Italian white to £58 for Jacquart champagne.)
I chose my five dishes and 'wine match', adjusted my grey napkin, decided the canned music (of the 'popular' sort) was not too noisy and looked out through the window. It was dark and, up over the rooftops, I could see the filigree castellation of the Abbey, floodlit against the sky. This was a charming sight and put me in a good mood for dinner.
I began with beetroot, which had been steamed with herbs and then shaved into slivers. It was served with a beetroot sauce vierge and a purée of aged cashew nuts. This I judged to be of pleasing delicacy. Then came sautéed cauliflower heart with cous cous and lemon gel; then charred carrots with seeded spelt grain; then local cheeses (including a particularly good Cheddar) and some excellent, home-made digestive biscuits; and finally a tiny Christmas cake with poached pear and a brandy parfait. The accompanying wines included a 2015 Sancerre with the austerity to stand up to the beetroot.
This was an interesting experience. Those readers who – like your correspondent – relish the joys of meat, might wish to try out the Acorn Vegetarian Kitchen for a meal out of the ordinary.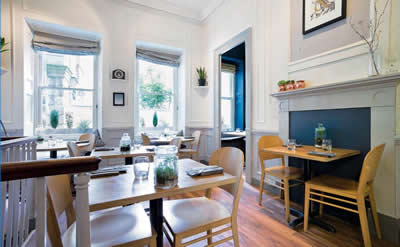 ---
ADDRESSES
ACORN VEGETARIAN KITCHEN
2 North Parade Passage, Bath BA1 1NX, Somerset, England.
Telephone +44 (0)1225 446 059
Email: reservations@acornvegetariankitchen.co.uk
www.acornvegetariankitchenco.uk
Open daily for lunch and dinner