ITALY
ITALIAN LAKES
LAKE COMO
TREMEZZO
RISTORANTE AL VELUU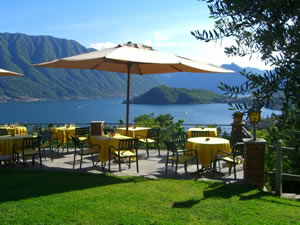 There are many lovely views to be had of Lake Como. One of the best is from the hill above the town of Tremezzo. If you find exactly the correct vantage point, you can look over the palm trees and see the famous Villa Balbienello, itself far above the waters, as proud as it is elegant on its high promontory. I am pleased to report that I have enjoyed this panorama from precisely the right spot. And you can, too – for precisely the right spot is the terrace of the Ristorante Al Veluu. But there other reasons to seek out this particular eatery. Its food is excellent, its facilities are comfortable and its service is charming.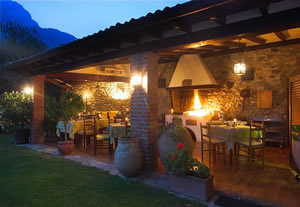 I found the last in the hands of Cheryl, a young lady from – of all places – East London. I expressed my surprise at her origins, but – as she quickly pointed out – it is not entirely strange that someone should wish to swap the questionable offerings of Poplar for the undoubted magic of the Italian Lakes. And Al Veluu is a lovely property. It was opened in 1974 and is run by Luce and Adriano Antonini. Apart from the restaurant, it offers two charming suites for those who wish to stay overnight.
But my priority was the food. I was taken through the dining room, out into the garden and then onto the terrace, where my table – with beige napery – was waiting. I noted that the glasses were by Schott and by Spiegelau and that the waiters were wearing white t-shirts. But, of course, it was difficult forcing my eyes away from the view.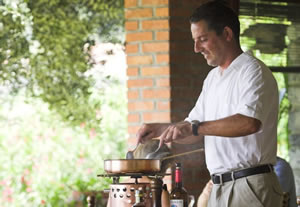 Still, for you, dear Reader, the work must be done. So I counted the wines on the wine list. There were 106 of them, all Italian. And there was something I have never seen before. Each wine had two prices: one for drinking the wine at the restaurant and one (about half the other) for taking it away. This is a good idea and should be copied elsewhere. Prices (for in-house consumption) ran from 23€ for a Brentino from the Veneto to 480€ for the 2001 Brunello di Montalcino from Casanova di Neri. Several super-Tuscans caught my eye: 2004 Solaia (340€), 2007 Tignanello (108€) and 2009 Ornellaia (290€). Antinori's elegant white Cervaro della Sala is 69€. After a jolly Bellini – in which prosecco had been joined by juice from peaches grown in the restaurant's own garden – I had a bottle of another good Antinori wine, the fruity and medium-bodied 2010 Villa Antinori.
I began my eating with beef carpaccio. Yes, I know that this can be rather boring. But this was anything but, with the high quality beef enlivened by black truffle and olive oil from Monte Nava. Next was soft and delicious ravioli with buffalo ricotta. I wished there had been more, but then I would not have been able to do proper justice to the magnificent chateaubriand which was my main course. The beef at Al Veluu is splendid. This fillet, with good Béarnaise sauce and some glorious chips, made my spirits soar, such was the uncompromising robustness of its flavour. I could not let any of it leave my table, and was therefore reduced to asking for only a (small) dish of ice cream for my pudding. (Allow 60€-70€ for four courses.) I did not exactly stagger from the table, but I certainly left feeling satisfyingly replete.
If you would like to take in the remarkable view of Lake Como and enjoy splendid food in a jolly setting, the Ristorante Al Veluu awaits.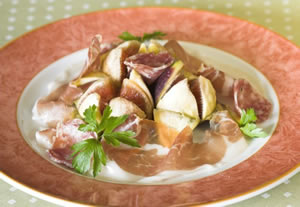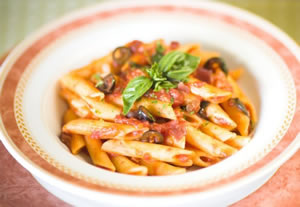 ---
ADDRESSES
RISTORANTE AL VELUU,
Via Rogaro 11, 22019 Tremezzo, Lago di Como, Italy.
Telephone +39 0344 40510
Fax +39 0344 490005
Email: info@alveluu.com
www.alveluu.com
Open for lunch and dinner
Closed: Tuesdays