Italy
ROME
ANTICO BOTTARO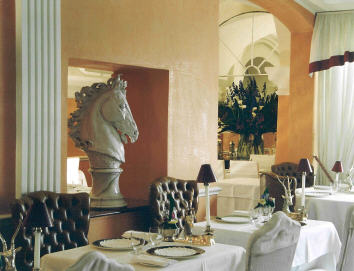 If the idea of enjoying some resolutely old-fashioned French haute cuisine in the heart of Rome appeals, you must book a table at Antico Bottaro straightaway.
Five minutes stroll from my favourite square, the Piazza del Popolo, brought me to the busy Passeggiata di Ripetta. As the Fiats and Alfa Romeos whizzed by (and, golly, how they do whizz in the Eternal City…), I peered up and down in search of my destination. And there was the giveaway sign: the potted plants by a doorway. To them I sped, and was soon surrounded by the calm and luxury of one of Rome's best restaurants.
I used to love that little jewel-box of an eatery up on the hill, near the Via Veneto – the Sans Souci. Now that is closed for some major re-building work, and the staff have de-camped en masse to the lovely Antico Bottaro. And here to prove it was the ever-suave Fernando Bonanni, resplendent in his black tailcoat. Signor Bonanni is a fine maitre d', and to him must be attributed much of this establishment's attractive style. For this is clearly a place for folk who like formality and a sense of occasion. And those folk include me.
I settled into my seat of buttoned leather and looked around the room: intimate, rather than large, with a sense of spaciousness provided by a mirrored wall and a plate glass window. Beyond the latter, two stone children frolicked, as water trickled into a basin below. Over my right shoulder was a bust of a stallion's head; in front of me, on the white damask tablecloth, a silver stag allowed a shaded candle to rise up from its rump. I felt comfortable and at ease, and eagerly surveyed the menu.
There is something about the prospect of traditional French food which makes me smile. I suppose it must be the anticipation of so much pure pleasure. I know what to expect and I know how much enjoyment is in store. But, of course, I have omitted the crucial conditional clause: if it is done well. So many kitchens have abandoned the old ways; and of the few which remain some are woefully inadequate. Not so here. The young French chef at the helm is an energetic bundle of enthusiasm and talent, who really enjoys taking his lucky customers on a gastronomic trip down Memory Lane.
So here was my menu: slices of hot foie gras with pears and black truffles, a parmesan and gruyère soufflé, Chateaubriand (carved by the table and served, of course, with béarnaise sauce) and white chocolate mousse in a dark chocolate case. You see what I mean about 'traditional'? Each course was carefully prepared from the finest ingredients, and each course was utterly delicious. If I must choose a winner from these four courses (96 euros), it is the soufflé – cooked for two in a large dish, and spooned onto our plates with the addition of a creamy sauce, enriched with slices of black truffle. It sounds rich and over-indulgent, and it was. Bravo!
If you want to drink the grandest French, 1996 Lafite is available at 382 euros. I went for two Italians, and into the good Spiegelau glasses were poured wines of high quality and modest cost. My white was the 2001 Gaja Rossi-Bass chardonnay (52 euros) – clear and fresh, with hints of oak and toast. And my red was 100% nebbiolo – Sassella Superiore Triacca, Valtellina, 1997 (53 euros) – an astonishing liquid, which initially yielded an intense nose of liquorice and which, over the course of an hour, changed its character from a burgundy to a claret to a Rhone. I have seldom encountered a wine with such a multi-layered personality.
And I have seldom encountered a restaurant which so expertly takes us back to the joys of yesteryear. Thank you, Antico Bottaro, for providing the ancient glories of haute cuisine amidst the ancient glories of Rome.
---