ITALY
VENICE
ANTINOO'S RESTAURANT
CENTURION PALACE HOTEL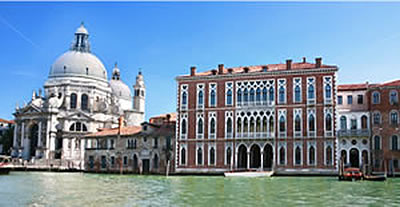 It really lifts my spirits when I find that a good restaurant has got even better. Improvement, I am sure, is good for the souls of all those who encounter it, and improvement in a restaurant means blessings for that most important of the senses – the taste buds. My expectations were high when I headed for Antinoo's, because my previous visit – when it was still quite new – had been a happy one, and I had heard reports of its progress up the ladder of gastronomic attainment. And then, of course, it is always exciting to get off the public boat at the Salute stop. The great church of Santa Maria della Salute stands proudly before those who alight here. No artist worth his salt visits Venice without painting at least one canvas of Longhena's masterpiece. Its bravura is astonishing. And a few pleasant steps away stands the Centurion Palace.
The hotel occupies one of the grandest-looking Gothic palazzi on the city's thoroughfare of grandeur, the Grand Canal. It has been wonderfully restored. Its painstaking restoration took many years and has resulted in an establishment which is now regarded as one of the finest in the city. That reputation is being reinforced by its dining room, Antinoo's.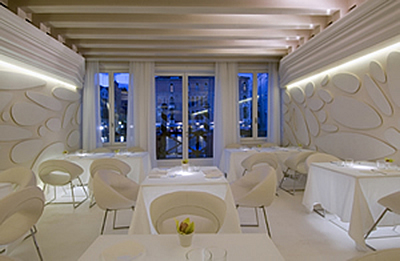 The restaurant is on the ground floor and occupies two rooms. One is white and one is red. Each conveys an aura of stylish modernity within an ancient setting. I chose the red. I was shown to my table by the Restaurant Manager, Nicola Nardo. He is a charming and knowledgeable fellow. He looked after me with the utmost courtesy and consideration throughout the evening. Settled in a comfortable armchair – brought from the bar specially for me (to accommodate my demanding back) – I could look straight across the glistening waters of the Grand Canal. Outside the darkness was intensifying: inside the lights caused the glassware by Bormioli to sparkle. Mr Nardo changed the canned music for me (from depressing jazz to jolly Classical), and then all was set for a really good dinner at Antinoo's.
But why the name? Who was this eponymous gentleman? It seems that during the years of the palace's renovation various artefacts were found in the building's foundations. Among them was a Roman coin. And upon the coin was the name of a Roman centurion. He was, of course, Antinoo. Having, one supposes, served the Roman Empire with courage and loyalty, this long dead soldier now serves the Most Serene Republic of Venice by providing a name for one of its best dining rooms.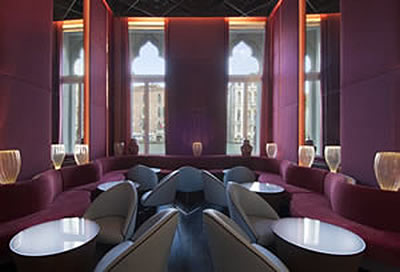 Chef Massimo Livan is clearly not afraid of hard work. The dishes which come from his kitchen certainly involve a great deal of it. He also cares about finding the very best ingredients. Presentation, too, is a strong point here, with the Chef ensuring that each of his plates is a pleasure both to the eye and to the palate.
This was certainly true of my first dish – wonderfully tender lobster, whose sweetness was carefully balanced by the asperity of marinated red cabbage and Granny Smith apple. Next I tucked into the dish which I could scoff quite happily every day for the rest of my life: lovely soft tagliolini over which a multitude of shavings of black truffle had been caused to fall. My main course of 'beer-aromatized' sirloin of beef was enormous, and it speaks clearly of the meat's taste and quality that I could not bear to leave a single morsel on my plate. The sautéed onions which I ordered to go with it were tip-top, too. I ended with raspberries, set off by lukewarm ginger cream and crumbled butter biscuit. (You should allow around 140€ for four such courses.)
On my previous visit, the wine list had been too short. Now it is impressive, with several hundred offerings, and there is much to tempt the fan of Italy's finest producers. Prices are not outrageous, as you will realise when I record the following: 320€ for 2011 Ornellaia, 325€ for 2011 Sassicaia and 370€ for 2011 Gaja Barbaresco. 14 examples of sparkling Franciacorta are available, with my favourite, Anna-Maria Clemente from Cà del Bosco, 320€ for its 2006 vintage. Mr Nardo advised me well, bringing to my table the ever-reliable, big-boned chardonnay by Planeta (2013 – 50€) and a truly superb 2008 Amarone. These wines are famous for their density and weight, and this one certainly needed its decanting. But then it was a magnificent and complex beast – rich, smooth, soft, voluptuous, a gorgeous blend of black cherry, spice, tobacco and leather (Hatteso, Garbole – 165€). Such drinking always lifts my spirits.
Indeed, the whole evening lifted my spirits. I judged that this dining room had improved so much that, had any been to hand, I would certainly have showered Antinoo's with gold stars. The Roman centurion of yesteryear must be proud.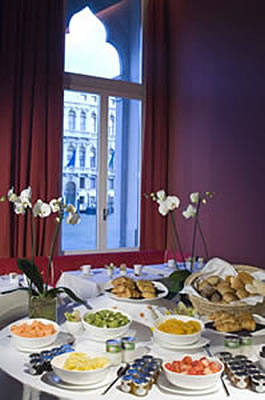 ---
ADDRESSES
ANTINOO'S RESTAURANT
Centurion Palace Hotel, Dorsoduro 173, 30123 Venice, Italy.
Telephone +39 041 34281
Fax +39 041 2413 119
Email: centurionpalace@sinahotels.com
www.sinahotels.com