UNITED KINGDOM
ENGLAND
LONDON
APSLEYS A HEINZ BECK RESTAURANT, THE LANESBOROUGH HOTEL
Heinz Beck is one of the finest chefs in the world. The clarity of his gastronomic vision and the brilliance of his culinary technique are recognized by everyone who cares about our planet's best dining rooms. His restaurant in Rome – La Pergola (see separate article), on the top floor of the Cavalieri Waldorf Astoria Hotel – has three Michelin stars and, indeed, many of us thought that the third of those stars was awarded long after it should have been.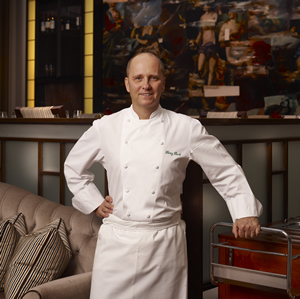 Now Chef Beck (pictured) has opened another restaurant, in London's Lanesborough Hotel, which quite properly bears his name – Apsleys A Heinz Beck Restaurant. It already adds another star to his tally. And, like its senior partner, it has a Restaurant Manager of surpassing friendliness and consummate skill, for one of Mr Beck's many talents is to attract the loyalty of good people who work to the very highest standards. I went for dinner in the certain expectation of a wonderful evening.
The Lanesborough is a handsome neo-Classical pile which occupies one side of the junction we know as Hyde Park Corner. Close to the former home of the 'Iron' Duke of Wellington and to the garden wall of Buckingham Palace, it was built for the Apsleys, who now supply their family name to the hotel restaurant. I remember this room when it housed a much simpler eatery – a pleasant place for lunch (because of the feeling of a conservatory engendered by the glass roof), but not a 'destination' for the discerning gourmet. Now, thanks to the designer Adam Tihany, it is a place of discreet lighting, sumptuous fabrics and very evident luxury. As soon as you walk into this space, you know that the aspirations of everyone involved in this enterprise are very high indeed.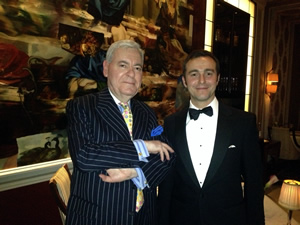 I was met at the entrance by an old friend. I first met Pasquale Cosmai (pictured with myself – note that he is wearing a properly tied bowtie) when he was one of the assistant managers of the restaurant at The Ritz. Even back then it was clear immediately that here was a man of impeccable style and manners, who would strive constantly for perfection. When I heard that he was to be the Restaurant Manager of Apsleys, I knew that Mr Beck had found the right man. Now he guided me to a table on the higher level, next to the large painted collage of 'Love & Venus', and immediately found a cushion for my back, so that I was comfortable both psychologically and physically. Had I been a pussy cat, I would have begun to purr.
I surveyed the scene. The table in front of me was of a decent size. On its off-white cloth stood porcelain by Rosenthal. The waiters wore black waistcoats and were numerous. There was canned music, of which I am never a fan, but the chatter of my many fellow diners soon obscured it. Those fellow diners looked affluent and contented, although – as is too often the way nowadays – some of them seemed to have little regard for standards of the sartorial sort. (Of course, as usual, I was in a Savile Row suit and a stiff collar.)
This is a dining room which likes you to have a tasting menu of many courses. The standard one is of seven courses and is £85. This rises to £130, if the suggested wine pairings are taken. Pasquale suggested to me eight courses, so that is what I had.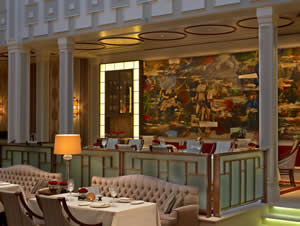 Lobster salad with avocado, fresh tomato and crispy potatoes was a light and delicate opening dish. Then came squares of the finest duck foie gras terrine, with slices of smoked apple cleverly inserted into their bodies. Third came what I regarded as the highlight of the meal – yielding tagliolini pasta with salsify, which was steeped in the flavour and aroma of black truffle from Umbria. I really never tire of these essentially simple dishes which are so brilliantly executed that they caress and flatter the palate. Next was more delicious pasta, in the form of carbonara fagottelli. Precisely cooked scallops came with more of the divine fungus. And then there was cod with a bit of a bite – with an "n'duja crust" and minestrone vegetables. Tender, tasty pigeon was effectively paired with marinated figs and cauliflower. And the finale was a huge celebration of milk chocolate – full of magnificent textures and combinations to lift the spirit.
Chef Beck visits frequently from Rome, but the cooking at Apsleys is done regularly by Heros de Agostinis, the Executive Chef. He was formerly number two at La Pergola, and has been in London since May, 2012. Apart from his time with Mr Beck, he has worked with two other three-star chefs – Heinz Winkler and Marc Veyrat. The kitchen at Apsleys is therefore in very good hands indeed.
As you would expect, the wine list is a substantial volume. Its strengths lay in the great wines of France and Italy. Prices run from £30 – for several bottles, including a red from Campania – to £10,500 for the 1982 Pétrus and £12,300 for a magnum of 1947 Lafleur. Other entries to catch my eye included: Krug Grande Cuvée (£260), 1985 Krug (£1,415), 1982 Haut Brion (£2,500), 1982 Margaux (£2,820), 1982 Cheval Blanc (£2,800), 1997 Solaia (£1,120), 1988 Tignanello (£585) and 1985 Sassicaia (£5,000). From Australia there is 1996 Grange (£480) and from California there is 1993 Opus One (£940).
For my own drinking, Head Sommelier Enrico Bucci – a charming young fellow I first met at La Pergola – poured into the Riedel glasses (the Restaurant range) a creamy, biscuity blanc de blancs (Bruno Paillard, Reserve), a white with some of the characteristics of a good chenin blanc (Derthona 2010, Vigneti Massa) and a lovely, smooth, luscious red from Tuscany (Orma 2009, Tenuta Sett Ponti).
I had gone to The Lanesborough expecting a wonderful evening. And that is precisely what I got. I suppose it could not really have been otherwise, at a restaurant created by a culinary genius. This restaurant is, indeed, rightly named – Apsleys A Heinz Beck Restaurant.
---
ADDRESSES
APSLEYS A HEINZ BECK RESTAURANT
The Lanesborough Hotel, Hyde Park Corner, London SW1X 7TA, England.
Telephone +44 (0)207 333 7254
Fax +44 (0)207 333 7255
Email: apsleys@lanesborough.com
www.apsleys.co.uk
Open every day