United Kingdom
LONDON
BAGLIONI HOTEL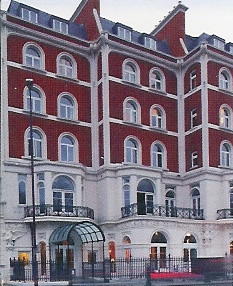 Italian style appeals to me. I love its mannered gestures and its flamboyant excess. Only dullards think that life should be always understated. So I was looking forward to a little bit of Italy in grandest Kensington. And I was not disappointed. Just a few steps from the Albert Memorial, there is an hotel with all the immodest swagger of a painting by Caravaggio or an opera by Verdi – The Baglioni.
Externally, The Baglioni looks like its prosperous neighbours – solid, Victorian and slightly heavy. Overlooking Kensington Gardens, this part of London has always been favoured by English of the affluent (and not always very adventurous) kind. But step inside, and you are transported from the land of respectable drawing rooms to the chic interiors of Turin and Milan. Murano crystal gleams, water runs down a glass screen, spotlights shine onto surfaces of black and walls of gold leaf glow and shimmer. I would not dare to decorate my own home like this, but I was truly captivated by the design of Gil Dez – which I think I shall call 'Baroque Modernism'.
It is not confined to the public areas of the hotel. Upstairs I was delighted to find that my room was also done out in Baroque Modern. Number 104 on the first floor was a 'deluxe junior suite' and therefore £330 - £450 a night, according to season – a price I judged very good value for this expensive area of the capital city. Its floors were of black wood. Its pictures were black and white photographs of classical sculptures. Its walls were grey and purple and, either side of the working fireplace, they were covered in gold leaf. Lighting – one of the most important elements of any room – came from spotlights in the ceiling, from wall lamps, from table lamps, from lamps behind curtains and from lamps hidden behind giant ceramic vases. Does this all sound a tiny bit theatrical? It was. And, thespian manqué that I am, I loved it.
Perched on the two-seater sofa, I could look out through the French windows, across my balcony and over at the greenery of Kensington Gardens. I could also select my music. No fewer than 1500 tracks of music were available to me (free of charge) via my two television sets. I chose some Elgar and set to work on another facility of my room. This was a first – my very own espresso machine. Soon I was enjoying a cup of good Illy coffee and leafing through one of the glossy magazines provided, about weddings.
Soon it was time for afternoon tea, for even in these Italianate surroundings one must not forget one's Englishness. I went downstairs and sat at a round black table. Here I enjoyed the usual comestibles of the ritual: sandwiches (of which I particularly liked the ham and cheese), cakes and excellent scones with cream and strawberry jam. This set tea was £20. It was served in the friendliest possible manner by the ladies and gentlemen of the waiting brigade. Here I should record that every member of (largely Italian) staff I encountered was both charming and helpful. The General Manager, Luca Virgilio, is clearly running a happy and efficient ship.
After a stroll in the park, it was time for the pre-prandial ablutions. The black wooden walls and chromium fittings of the bathroom provided a restful setting for these time-consuming activities. I do not care to rush such matters, particularly when there is a large tub in which to enjoy my hot soak. But all is achieved in the end, and spot on eight o'clock I was ready for dinner – brushed, combed, stiff-collared and bespoke-shoed.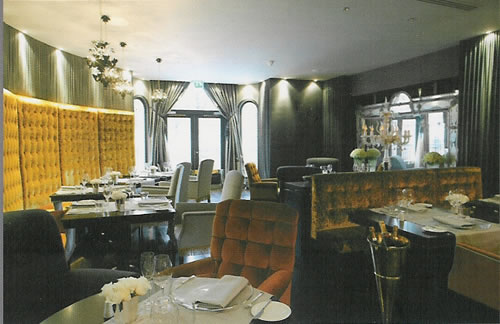 Brunello, the hotel restaurant, is part of the large open-plan area by the entrance hall. If, like me, you like your privacy, this sounds slightly off-putting. But somehow, by the use of screens and the clever arrangement of the furniture, a comfortable and relaxing space has been created. I slid onto a banquette of gold velour. Before me was a black tablecloth. Above me was a chandelier of black glass. The waiters wore black shirts. The Baroque Modernism was much in evidence. But the atmosphere – once the horrid canned music had been turned down, at my request – was of old-fashioned courtesy. I particularly approved of one part of the very correct service, orchestrated by the Assistant Restaurant Manager, Elisabetta Giachello: the replacement of my napkin when I left the table for a moment.
Chef Stefano Stecca cooks in the Italian manner and achieves some impressive results. My opening dish of pan-fried scallops with green beans, hazelnuts and cep mushrooms was beautifully presented on a square white plate, comprised top class ingredients, achieved a lovely balance of tastes and textures and manifested real skill in the kitchen. My pasta dish – taglioni with pecorino cheese, pepper and black truffle – was also enjoyable. Beef of the strongest flavour, almost approaching that of liver, marked the chateaubriand, which came with some really delicious roast potatoes. And a bright conclusion was provided by an Earl Grey savarin, with strawberry terrine and marsala ice cream. (£87 for these four courses; a seven course tasting menu is available at £60.)
450 wines are offered. Most are Italian, which makes the wine list at Brunello one of the most interesting in London. A white from Puglia can be had for £21, but – if the pennies are to hand – this is a place to indulge in something rather grander. You might, for example, wish to sample one or more vintage of the most famous of the 'super Tuscans', Sassicaia. There is a run of every year from 1979 (£588) to 2001 (£191), with 1982 at £789 and 1985 at £1275. Another of the Tuscans, Tignanello, goes back to the 1980 at £447. Or perhaps you are a fan of Mr Gaja. A page of 30 of his Piedmontese reds includes the 1988 Darmagi cabernet at £682. I like the Planeta wines from Sicily. Here the 2003 chardonnay is £49, the 2002 merlot is £52 and the 2001 Syrah is £55. And, if you are determined to drink 'foreign' wine, there are some interesting bottles listed – like 1995 Dominus from the Napa Valley at £276.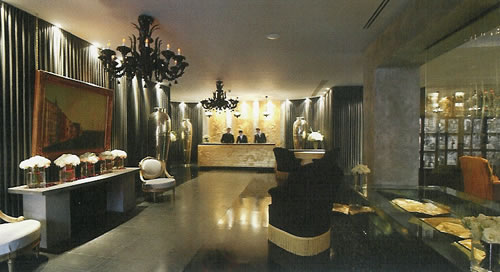 I found the sommelier, Emanuel Orona, a most knowledgeable fellow. I asked him for a big, bold chardonnay of cream and vanilla, and that is exactly what he brought me. Indeed, the 2002 Castel Ringberg, Elena Walch (from the Alto-Adige region of Italy - £81) was a veritable Arnold Schwarzenegger of a wine, so perfectly honed was its muscular structure. And for my red he brought one of those Tuscans, made with 80% cabernet sauvignon, which has a great future. The 2000 Saffredi (Le Pupille - £115), after decanting, was still very youthful, yet yielded waves of perfume and heavy black fruit.
After these liquid delights, I slept the sleep of the righteous. The next morning, back in the restaurant, I was fortified by a proper breakfast (£25), which included a huge tumbler of freshly squeezed grapefruit, a silver pot of good coffee and tasty mushrooms on toast.
I drove away to Hyde Park Corner, glad that I had been to Italy in Kensington. If you fancy a little Baroque Modernism in the centre of London, you will not find a better place to eat and lodge than The Baglioni Hotel.
---
ADDRESSES
BAGLIONI HOTEL
60 Hyde Park Gate, Kensington, London SW7 5BB, England.
Telephone +44 (0)207 368 5711
Fax +44 (0)207 368 5701
Email: reservations@baglionihotellondon.com
www.baglionihotellondon.com
Double rooms from £230-£300 according to season, breakfast extra