Switzerland
LAUSANNE
BEAU RIVAGE PALACE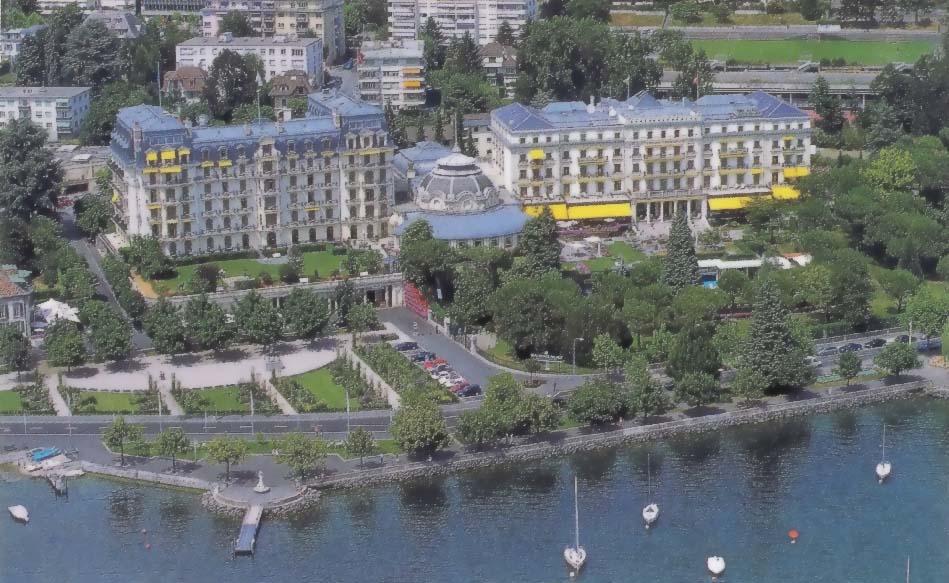 Why am I so fascinated by grand hotels? Part of the answer must lie with my youthful enthusiasm for Hollywood films. I mean those black and white depictions of high society, which invariably included a scene in which the elegantly tailored and immaculately coiffured stars would arrive at their hotel and be shown to their suite. Through tall double doors they would stride into vast, airy apartments the size of decent ballrooms, there to conduct their amorous adventures next to gigantic floral displays and pieces of museum-quality furniture. Like the rest of humanity, I am doomed to spend my adulthood searching for the dreams of my youth. And, since my dreams are of such celluloid hotels, the result is disappointment.
But not always. Let me direct your thoughts to Lausanne, the lovely Swiss town by the side of Lake Geneva. More specifically, come with me to the 10 acres of exquisite lakeside gardens which surround one of the best hotels in Europe, the Beau-Rivage Palace. Now, I have stayed in this wonderful place before, so I can assure you that its 'ordinary' rooms (from £200 a night) are very good indeed – comfortable, spacious and fully equipped. Many of them also have the added blessing of a view of the lake, with its glorious backdrop of snow-capped mountains. Whether you are in the original 1861 building or the more flamboyant 1906 Palace wing, you will be aware that the recent £40 million restoration has achieved a remarkable synthesis of luxury and good taste.
Just the destination, I decided, for turning some dreams into reality. Thus I found myself – like the Hollywood stars of my youth – being shown through double doors into a vast suite. The Royal Suite, no less. Yes, I know that just over £2,000 a night for two is quite a lot to pay. But look at what you get for your money. The size of my drawing room can be gauged from the number of its windows: 5 of them, all swagged and tailed with the finest brocade and opening onto a balcony from which I could gaze over the lake towards Evian-les-Bains on the opposite bank. Back inside, Aubusson carpets covered the wooden floor, 17th and 18th century portraits hung on the walls and white roses and pink gladioli burst from porcelain vases. With Albinoni on the cd, I wandered from the 8-seater dining table to the mahogany desk and across to the marble fireplace, there settling on one of the striped sofas to do a little gentle reading by the light of a gilt table lamp.
The sleeping quarters were more intimate, but they were equally sumptuous. Silk rugs are so pleasant when one is walking barefoot, don't you think? And all the white marble and gold plate in the bathroom made ideal surroundings for my ablutions. Twelve spotlights shone down as I caused hot water to gush from the mouths of gilded dolphins into the monumental bathtub. Actually, the tub proved a mite too monumental: I suppose I am too accustomed to a more modest volume of liquid. Still, it was soothing to lie back surrounded by Bulgari toiletries. A pressed button brought me the jacuzzi effect, but I quickly decided that I preferred my water still, not sparkling. After bathing I wiped my brow with a tissue from the gold Kleenex holder and tossed it idly into the gold rubbish bin. Yes, life can be good.
But there are hardships. On my bed was a duvet, and I simply cannot sleep under a duvet. While this problem occupied my mind, I carelessly locked myself out of the safe in the dressing room. It is a sure sign that a hotel is properly run that such difficulties can be swept aside with ease. A brief telephone call and after a few minutes the bed had been remade with blankets and I had been re-admitted to my valuables. Full marks to the members of staff at the Beau-Rivage, whom I found invariably helpful, courteous and efficient.
Three restaurants can be found within the walls, so Executive Chef, Didier Schneiter, has no fewer than 49 chefs at his command to ensure that they please their customers. Naturally, I tried the best, La Rotonde. Since both the weather and the view were glorious, I swept through the elegant curved dining room and out onto the terrace. There I ate and drank very well indeed, for La Rotonde is an excellent French restaurant. Again, the service – from waiters in smart blue tailcoats – was conspicuously good. I noticed that napkins were replaced if any diners momentarily left their places. (The provision of fresh napkins is often a sign in a restaurant that there is a determination to maintain high standards.)
A summer salad had the most lovely truffle vinaigrette – so lovely, indeed, that I asked for more and would have been happy to spend the rest of the evening consuming the very generous portion brought in answer to my request. But I moved on, to warm courgette flowers stuffed with fromage frais and basil, with a coulis of sweet peppers. Decent, but the dish cried out for a few slivers of Parmesan on top. Then, veal with chanterelle mushrooms and potato rösti with summer truffles. Excellently done, the meat both tender and tasty. To finish, super meringues with wild strawberries and almond cream. (£58 for these 4 courses from the carte.) No, this is not the cuisine of exciting innovation. Instead, it is traditional, well done and highly enjoyable.
Most wines on the list are either local or French (the Swiss wines begin at only £8 a bottle). Waiter Didier Szpigel recommended two fine tipples. A chardonnay from the great Italian producer, Angelo Gaja, was buttery, alcoholic and elegant (1999, Rossj-Bass - £58). Then an example of how a lovely red bordeaux can be produced even in a difficult vintage. 1997 Château Pichon Longueville Comtesse de Lalande (a famous second growth and certainly my favourite name among clarets) was full of fruit, well-balanced, with long legs and with that hint of residual sweetness which my palate finds so satisfying (£89).
The day after this meal, I felt in need of some exercise. Not my own, of course, but other people's. I did not therefore go to the hotel's lavishly equipped spa. Instead, I strolled next door to the Musée Olympique and spent a few minutes watching a film of highlights of the Sydney Games. Most invigorating.
One final glory of staying at the Beau Rivage must be mentioned. On the drive to Lausanne (from Alsace), the Cloud had decided that one of its electrically operated windows would stick in an open position. No amount of fiddling by the roadside would persuade it to budge. I therefore arrived at the hotel in an anxious frame of mind. In Switzerland it rains. And rain is not good for leather upholstery and walnut door cappings. But I need not have worried. Right next to the Beau-Rivage Palace is the Beau-Rivage Garage, with its magnificent sign, 'Rolls-Royce & Bentley Motor Cars'.
What else should I have expected of the Beau-Rivage Palace, the ne plus ultra of grand hotels? Thank you, Hollywood and your old monochrome films, for instilling an obsession which now takes me to such places.
---