Switzerland
BERN
HOTEL BELLEVUE PALACE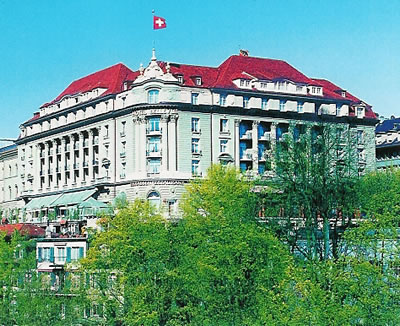 My school was triumphantly unreformed. There was the Arts side (which included your correspondent) and there was the Science side. And never did the twain meet. This is my excuse for knowing nothing whatever about the Theory of Relativity. Had I realized back then that Mr Einstein had thought his great thoughts in the delightful city of Bern, perhaps I might have been inspired to cross the divide. For the Swiss capital is a joy. Set by the winding green of the River Aare, with a backdrop of mountains, its mediaeval arcades, gothic churches and 18 th century town houses add up to one of the loveliest urban ensembles in Europe. And right at its centre is the wonderful Bellevue Palace Hotel.
I knew the Bellevue was wonderful as soon as I stepped inside. You will think I am too easily won over by Ionic columns, marble floors and acres of uncluttered space. (I like to put my predilection for such grandeur down to an enthusiasm for the monumental, inspired by youthful gazing at St Pancras Railway Station.) But no one with a soul could fail to be impressed by the Belle Epoque majesty of the Bellevue. I adored its wide and immaculately maintained corridors, and I smiled my broadest smile when I first stepped into one of its lifts – and found myself surrounded by mirrored glass and bright blue marble.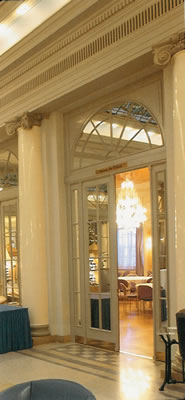 That lift took me to my suite (number 304) on the third floor. Here was exactly the sort of air-conditioned apartment I like to inhabit when I visit a new town: spacious, of course, but also full of light and elegance. Cream and white walls, carpets of dark blue, crystal chandeliers hanging from 10-foot ceilings, yellow damask upholstery – what more could I want? Perhaps a couple of balconies. And there they were, with views of the Konzerthaus, the bridge over the river, the spire of the Minster and the far-off Alps. I even had my very own Corinthian capitals – one to frame each balcony – carved in the sandstone from which the hotel was built in 1913.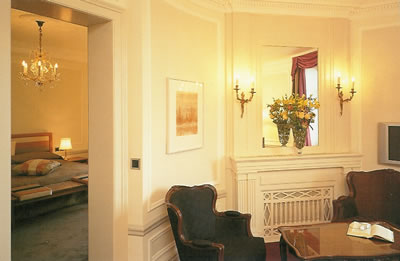 From the sitting room, sliding doors parted to reveal the bedroom and some of the most comfortable beds in Christendom. Here, too, was my second safe and lots of those little details – like a vase with a single rose in blushing pink – which make life more civilized. Then it was past more hanging space and the door to the separate loo and on to the bathroom. Surfaces of granite and marble, polished and grey, sparkled under the spotlights. These, I am pleased to report, were dimmable. As is my custom, I did not use the scales, but I noted their presence. The tub was of a good size, there were two wash basins and Molton Brown toiletries (although, strangely, no hair conditioner) were provided.
This suite was 950 Swiss francs a night, bed and breakfast for two. I considered this very reasonable, particularly given the hotel's location – right next to the Bundeshaus (the home of the federal parliament). Service throughout the establishment is of a high order – a tribute, I think, to the long-serving General Manager, Melchior Windlin.. Members of staff were careful to call me by name. Such small courtesies mark out a great hotel and doubtless please those many famous persons who seek out the hospitality of the Bellevue. From whom, I pick at random Thomas Mann, Herbert von Karajan and Sophia Loren.
The Beautiful View which gives the hotel its name can be enjoyed in its glorious fullness from the terrace at the back of the building. There is a panelled dining room (pictured), but – as long as the weather is kind – the terrace is the place for eating. Way below is the river, then the gentle hills, and finally the meeting between the snow-capped Alps and the azure sky in the far distance. Here I breakfasted on melon, pear, bacon, croissants and coffee, while sparrows chirped and pots of geraniums glowed in the early sunshine.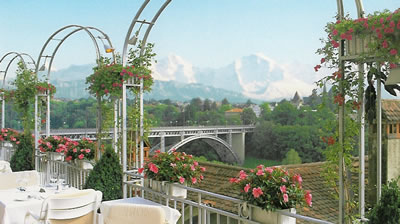 And it was back to La Terrasse for dinner, as the sun began to bid its daily farewell. I sat at table 25, next to the balustrade, and felt that the world was good. To my white tablecloth waiters in white jackets, expertly orchestrated by maitre d' Kurt Aeberhard, brought four courses of very satisfying food from the kitchen of head chef Heinrich Lauber. Occasionally, the tinklings of the pianist and the quiet murmer of conversation from the contented diners would be interrupted by a shout of 'Voilà!', as waiters lifted silver domes with synchronized panache.
I like it when my plates are pretty, and here they were. Fillet of St Pierre (John Dory) on a purée of artichokes and olive oil was delightful to the eye, and the plump fleshiness of the fish was well balanced by the slight asperity of artichoke. Then another painterly creation: green, orange and white pasta with richly sauced mushrooms. Next, a piece of tasty beef fillet with a mustard of sour cherries – an intriguing combination, well supported with spears of sautéed green asparagus. A cold vanilla soufflé with strawberries concluded this enjoyable repast. (137 Swiss francs for these four courses.)
For 38 francs you can drink a local pinot noir (Rebgut, 2004). But the Bellevue has a fine cellar and has much to offer those with deeper pockets. Claret-lovers, in particular, will be in their element. Some of these are listed with a note of Mr Robert Parker's numerical opinion – like 1990 Margaux (1,115 frs), 100 points out of 100. Most, however, commend themselves just by being what they are. These caught my eye: 1962 Mouton Rothschild (800 frs), 1966 Haut Brion (640 frs), 1970 Cheval Blanc (740 frs) and 1982 Lynch Bages (620 frs). But the rest of the world's best can also be had – like 1997 Ornellaia (360 frs), 1987 Vega Sicilia Unico (825 frs), 1999 Opus One (418 frs) and 1999 Penfolds Grange (750 frs).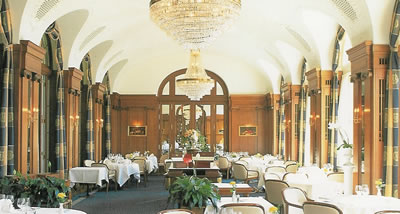 My own drinking comprised a Swiss chardonnay with a honeyed nose and lots of butter in the mouth (Domaine Frôté, Neuenstadt, 2001 – 98 frs) and the 2002 vintage of Planeta's wonderful merlot from Sicily (82 frs). A little young at present, this red nectar – with its clear structure, depth of fruit and residual sweetness – still manages to impress mightily.
And impressing mightily is what the Bellevue Palace does, too. Whether you use the Germanic 'Bern' or the French 'Berne', if you stay in the city's foremost hostelry, you will know that the capital city of Switzerland has an hotel of which to be truly proud. I expect if I could live in the Bellevue Palace for a year or two, I might come up with an important equation, like Dr Einstein. But, then, perhaps not. After all, I was on the Arts side.
---