ITALY
PORTOFINO
BELMOND HOTEL SPLENDIDO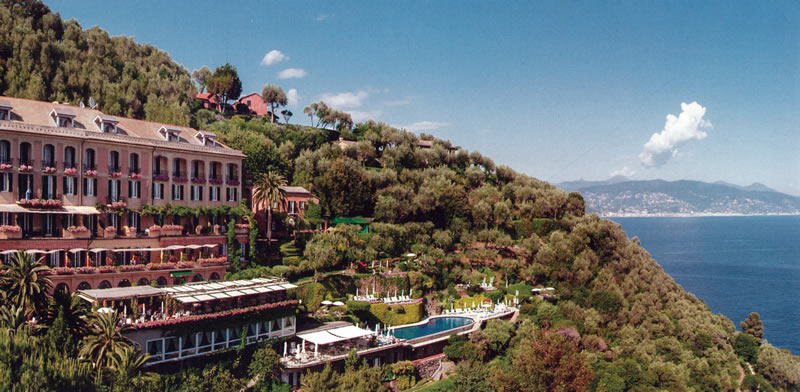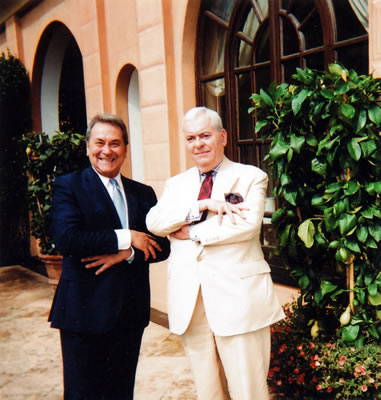 One of the world's great hotels deserves one of the world's great hotel managers. And it has one. The hotel, of course, is the famous Splendido in Portofino. And the manager is Mr Ermes de Megni (photographed with your correspondent). When he is not away collecting awards and titles for his establishment – 'Best Hotel in the World', and so on – Mr de Megni is always about, ensuring that the highest standards are maintained. If there is ever a slight hiccup in the service – and such a thing is astonishingly rare in this manicured corner of Paradise – he will know all about it. When there was a slight delay in the arrival of a risotto to my table during dinner, he was most concerned the next morning that my evening had not been ruined. It had not, as I assured him, but his anxiety only increased my admiration for this fine gentleman. But I understand his principle: when you are striving for perfection, only the best will do.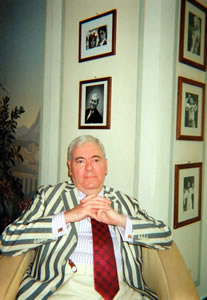 As well as the magnificence of the property and the excellence of the staff, there is another important reason to pay a visit to the Splendido. The walls of the hotel bar are decorated with black and white photographs of those film stars and other notable folk who had stayed at the hotel. And those pictures include one of myself. (You can see it on the wall behind where I am sitting.) The study in question was taken specially for its current location by one of England's most distinguished photographers, Jack Hill. You will observe that my portrait hangs below those of two famous cinematic thespians, Monica Vitti and Alain Delon. I am sure my picture will bring a smile to your lips. But then, most people at the Splendido smile most of the time, for it is a lovely hotel in a lovely setting.
With the sun shining its radiant best, it was clear to me once more why the Splendido's location has been so popular for so many centuries. It looks over one of the prettiest little bays in the world. Monks built their monastery here. They abandoned it in the 16th century, not because they had tired of its charms, but because they were attacked too often by Saracen pirates. Eventually, Baron Baratta built his summer home on the same spot. Then the hotel opened in 1901. Before long it was crowded by persons of means and discernment. Winston Churchill, Rex Harrison, the Duke of Windsor, Humphrey Bogart, Clark Gable, Elizabeth Taylor – these and many, many more of the world's finest have sought out a room at the Splendido.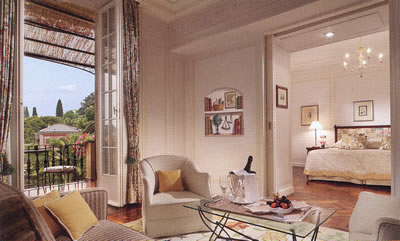 My own billet was on the second floor of the main building. Room 234 was a 'Junior Suite Executive' (and therefore 2,178€ – 2,893€ a night, bed and breakfast for two, or 2,383€-3,098€ a night, half-board for two, according to season). This was a most lovely room, with plenty of space (I thought it measured around 20 feet by fifteen feet) and possessed of a décor which was light, elegant and traditional. Discreet stencilling, engravings of flowers, table lamps and walls lights, the sofa and the armchair, the writing desk, the dining table, the wooden floor, the Aubusson carpet – all contributed to the feeling that this was a place of good taste and comfortable luxury. The television and dvd player rose vertically from their cabinet at the touch of a button. The two windows afforded the prettiest of views, down to the boats in Portofino's harbour. And the pleasant feeling that this was my apartment, rather than just another hotel room, was reinforced by the fact that my private safe was behind one of the pictures on the wall, as if I had decided that it was to be precisely there.
I need hardly record that the bed had been made supremely soft and comfortable for my ailing back. And the hot soakings which also relieved my creaking were had in the splendid bathroom, where I could pamper myself with the perfumed toiletries of Messrs Bulgari and Penhaligon, lie in the large tub and shower in the walk-in facility. Here, too, was the hanging space – adequate even for my wardrobe. This was a bathroom for those who love their ablutions.
And the Splendido is also a place for those of us who love breakfast. Occasionally, it grieves me to notice that fellow hotel guests not only rush through this most important meal, but also dress for it in a way which suggests that they are addicted to the worst excesses of Casualness. There was less of this at the Splendido than one might find elsewhere – and no wonder, for the terrace of the restaurant is a superb spot for one's morning comestibles. And the comestibles themselves – all of them – are of the very highest quality. The friendly members of staff brought to me jugs of freshly squeezed orange juice, pots of coffee, bowls of ice, my concluding cappuccino and super omelettes with black truffle (this is the Splendido, after all). From the buffet, I obtained bowls of melon, raspberries, pineapple, strawberries and blueberries, slices of various ravishing tarts, slices of crusty bread and scoops of gorgeous marmalade and various sorts of honey. You will gather that I always started my days properly at the Splendido.
I present to you a picture of the maitre d', Luca Calvia, smart in his spectacles and bow tie. He presided over these happy occasions with skill and flair, and I owe him a particular word of thanks. The seats on the restaurant terrace were difficult for my back. Mr Calvia therefore ensured that a chair and a cushion from the dining room were awaiting my arrival each morning. Service at the Splendido is like that: kind, courteous and efficient.
After these wonderful beginnings, my days at The Splendido were spent either in pottering about its garden terraces or, after taking the hotel shuttle 'bus for the five minute journey down the hill, in looking at the quaint sights of Portofino. In the latter I made it my habit to indulge in some ice cream and coffee at Il Molo by the water's edge. These were served to me by the town's famous twin brothers, Paolo and Matteo Giovannini. These fine young fellows now also have a restaurant on the opposite side of the harbour – Ristorante da I Gemelli (of the twins) - which looks very interesting, and I have marked it down for trying on a future visit. One of the pleasures of sitting at their family gelateria is in watching the little boats which come and go from the passing cruise ships, which like to send their passengers to enjoy an hour or so of the Portofino magic.
But, of course, I was back at the Splendido for dinner – once again on the restaurant terrace, but this time captivated by the darkening sky and the twinkling lights down by the harbour far below. Now my dishes were of the grander sort. Chef Corrado Corti takes the very finest ingredients and produces really good, traditional food which is entirely appropriate to these luxurious surroundings.
Allow me to share with you some of the highlights of my dinners here. Roasted lobster was beautiful to look at and beautiful to eat. Beef carpaccio was of the highest quality. Two pasta dishes captivated me: linguine with pesto, potatoes and French beans was carefully balanced, and tagliolini with black truffle from Norcia was soft and rich and satisfying. Sea bass – simply grilled and served with olive oil and lemon – was expertly boned by the table and was truly splendid, although it was bettered (just) by tender, pink medallions of sautéed lamb. My puddings included a light and refreshing meringue cheesecake. And cheese is of particular interest at the Splendido. It merits its own menu, which describes each of the two dozen offerings in detail. Thus did I learn that one of the cheeses, Bagòss di Bagolino, made from cows' milk, is "a masterpiece of traditionally handmade cheese" which "now faces extinction". (For those not on half-board, the cost of a four-course meal would be around 130€.)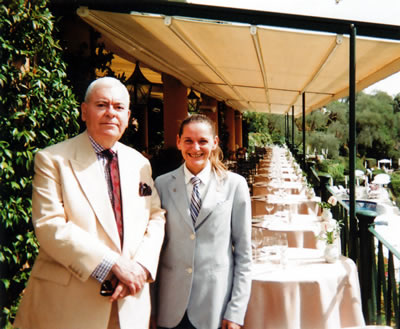 Such memorable meals, in this magical setting, with the good food and the correct, attentive service (napkins were re-folded) combined to produce the calming pleasure of harmony. And to add to that harmony, there was the piano playing of Vladimoro Gatto. He has been tinkling the ivories here for over twenty years. You will be pleased to know that he has retained his love of bright and sparkling dinner jackets.
The charming 1st maitre d' and Sommelière Maina Macrì (pictured) takes care of a cellar offering 600+ wines. It can provide a white from the Veneto for 35€ (Breganze Vespaiolo) or the 2005 Pétrus for 9,500€. Her list is divided in two. In the general list are Italian, French and a few New World offerings. These bottles caught my eye: Krug Grande Cuvée (280€), Penfolds Grange 2008 (650€), Opus One 1999 (480€), Cloudy Bay chardonnay 2008 (98€), Lafite 2000 (1,500€), Haut Brion 2000 (3,200€) and 2005 Cheval Blanc (2,800€). The other list of "great wines and unique vintages" is all Italian, and runs in price up to 3,300€ for 1985 Sassicaia. The marks out of 100 given by The Wine Spectator are noted for each wine. 1999 Masseto (which I can certainly recommend) is 1,800€, 1997 Luce is 240€ and Mr Gaja's barbaresco, 1990, is 550€.
As I left, the manager was, of course, on hand to bid me farewell and to hope that my stay had been pleasant. Mr Ermes de Megni is justifiably proud of the hotel over which he presides. The Splendido is certainly one of the best hotels in the world. And he is one of the best hotel managers.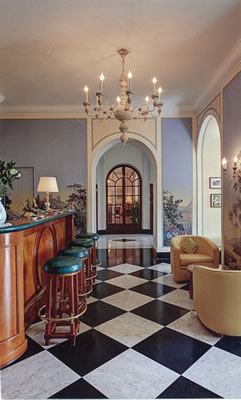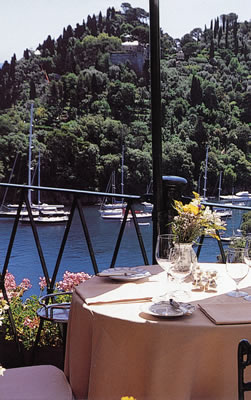 ---
ADDRESSES
BELMOND HOTEL SPLENDIDO
Salita Baratt 16, Portofino 16034, Italy.
Telephone +39 0185 267 801
Fax +39 0185 267 806
Email: reservations.spl@belmond.com
www.belmond.com
Open: April to mid-November
Double rooms from 935€-1,150€ a night, bed and breakfast, or 1,140€-1,305€, half-board, according to season
Check the hotel web site for special offers