United States
CALIFORNIA
PASADENA
BISTRO 45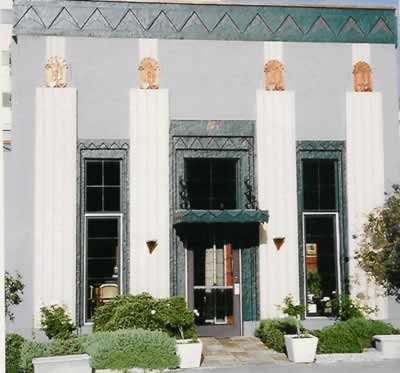 Art Deco is now so ubiquitous within the 'world of hospitality' that I sometimes suffer from the effects of stylistic over-kill. But in prosperous, peaceful Pasadena – perhaps the quietest of Los Angeles' neighbouring towns – is Bistro 45. And the façade of this little gem of a restaurant revived even my jaded aesthetic palate.
Look at the picture and marvel. This is not pastiche, but the real thing. It could be a miniature picture palace. I was thrilled just to walk up to its front door and go in. Once inside, I had to reconcile myself to some decent, light, but rather ordinary surroundings – the sort of environment you would find in any well-run bistro in Paris. White tablecloths, good Spiegelau glasses (although the cabernet sauvignon style is used for all wines, white and red) and the loud buzz of many animated conversations. I sat back and perched the half-moons on the end of my nose in readiness for the arrival of the menu.
Then blackness. All the lights disappeared in a power cut. Suddenly the waiters were rushing hither and thither with candles. With the other diners I joined in the general bonhomie of comrades facing adversity. Ten minutes later and the power, and normality, returned. But I had enjoyed the darkness. After all, had I not imagined that I had been arriving at a cinema just a few moments before? And where better to dream of life Over The Rainbow than in a film show?
And Over The Rainbow the food is magically good. So now my expectations were sky high. And Chef Matthew Brady certainly sent to my table some fine dishes. Clearly, he has good suppliers, for all the ingredients were first class. His technique is French and his instincts – in terms of the combining and balancing of tastes and textures – are spot on. My only disappointment was in his presentation. The eye matters as well as the mouth, and the plates here – given the intrinsic quality of the food – really should be made to look sharper and more attractive.
An organic salad of young romaine, with goat's cheese, tomatoes and a French olive dressing, was simple but wonderfully tasty. Pan seared foie gras was partnered not only by a truffled stone fruit dressing but also by a touch of Roquefort – the cheese adding a delightfully unexpected sense of balance. Balance was there again in the meat course – the black pepper coated, pan-fried buffalo singing a duet with a rich sauce of sun-dried cherries. And a fitting finale was provided by 'chocolate soup' – a softly baked soufflé with (in separate pots) vanilla ice cream and warm chocolate sauce. (Allow about $70 for four courses.)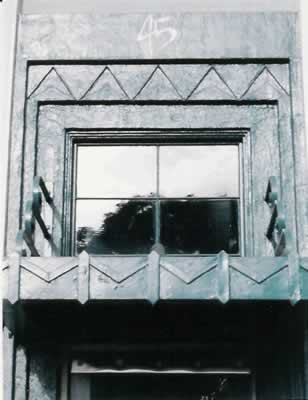 Owner Robert Simon is justifiably proud of his wine list. It is very strong in wines from the United States. Whites run from a zinfandel at $22 ( Montpellier, 2001) to a Sonoma chardonnay at $195 (Kistler, Cuvée Cathleen, 2001), and reds from a Russian River zinfandel at $30 (Castle Rock, 2002) to a Napa Valley cabernet at $608 (Bryant Family Vineyards, 2001). But other countries do get a look in. If you like super-Tuscans, you can order the 2000 Tignanello for $116 or the 1999 Ornellaia for $200.
My own drinking comprised a well-structured Sonoma Coast chardonnay with over-tones of vanilla (Fort Ross, 2001 - $31 half), a well-balanced, gently tannic and seductively sweet Napa Valley cabernet (Jarvis, Lake William, 1999 - $145) and a simply stunning half-bottle of sweet German riesling auslese from Dr Loosen – only $28, yet a classic example of how the combination of petrol and delicate sweetness can somehow produce the essence of refinement. This half-bottle from the Rheingau on its own would have made my visit to Bistro 45 worthwhile.
But there was much more to it than that. Good food, friendly service and, of course, that initial reminder of the glories of Art Deco.
---
ADDRESSES
BISTRO 45
45 South Mentor Avenue (between Colorado and Green), Pasadena, California 91030, U.S.A.
Telephone +1 626 795 2478
Fax +1 626 792 2676
www.bistro45.com
Closed: Monday, Saturday lunch, Sunday lunch