ITALY
VENICE
BISTROT DE VENISE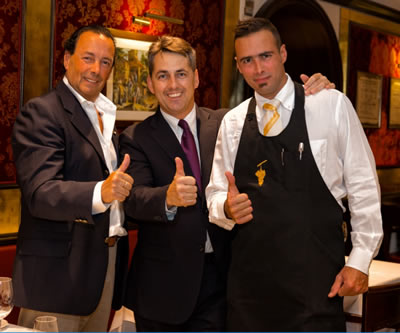 How often do you encounter a restaurateur who is interested in academic subjects? Not often, I suspect. After all, the occupation of a restaurateur requires him to master the many skills which are involved in running a fine dining room. If he can master those, he already deserves the title of Renaissance Man. Is that not enough? Not, it seems, if you run the splendid Bistrot de Venise. There I found not only interpretations of Venetian recipes from the 14th to the 18th centuries, but also a programme of events which included both wine tastings and talks on intriguing aspects of art and culture. I say: Splendid!
"The food of Venice's ancient monasteries: architectural spaces and consumption in the registers of food expenditure" sounded like a lecture I might have encountered when I was studying Theology at Oxford, not a diversion at a popular restaurant in Venice. All credit, then, must go to les patrons, Sergio Fragiacomo, Carlo Modonese and Paolo Fragiacomo, for the imagination and enthusiasm with which they run their excellent establishment.
The Bistrot de Venise opened in 1993. It is but a hop, skip and a jump from St Mark's Square. Its rooms are long, narrow and brightly lit. There is much of my favourite colour, red. Within this warm and welcoming environment, you will be given a lovely table with a single tapered candle, with beams from spotlights coming down from above. There is canned music, but it is Bach and Mozart – so all is well. The sparkling glasses are by Rastal, Bormioli and Riedel, the napery is white and the bow ties of the waiters – like the genial Davide, who looked after me – are black. All these features raise expectations. And they are not disappointed.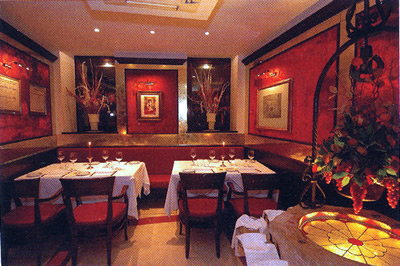 On my very first visit to the Bistrot de Venise, I learnt – from the ever-genial Mr Sergio Fragiacomo – of the election of Pope Francis. On this occasion, there was no startling news to impart. But there was a jolly good meal to be eaten and some intriguing wine to be drunk. The food here is based upon fine ingredients and sound culinary technique. It is therefore hugely enjoyable.
The season of the divine truffle was upon us, and therefore it was only right that the princely fungus should adorn one of my dishes. But, before that particular treat, there was another – a generously sized escalope of foie gras, with apple compote, balsamic vinegar and brioche. I do not think I will ever tire of foie gras: it lifts my spirits and caresses my palate. Then came the beautiful simplicity of soft, yielding tagliolini, smothered with shavings of white truffle. It was good to be alive at that moment. For my main course, I decided upon one of the ancient dishes which adorn the menu. This was a version of duck, popular in the 16th Century. Its rich sauce – called 'Pevarada' and made from offal – imparted a most pleasing intensity to the flavour of the meat, an intensity which was counter-balanced elegantly by wild apple and red onion chutney. At this point the substantial portions took their toll and, instead of the apple pie I had earmarked for my pudding, I had to fall back on some (jolly good) ice cream. (Allow around 110€ for four courses from the carte. Tasting menus are available at 70€ and 100€.)
The wine list is a good one, being both extensive and informative. It gives not only the grapes but also some details of the wine-making for each wine. Most of the 462 offerings are Italian, but there are also temptations from France and elsewhere. Prices range from 25€ for a local grenache to 2,200€ for the 1995 vintage of a grand amarone (the wine made in the Veneto from partially dried grapes) – Riserva Bepi Quintarelli. There are plenty of 'super-Tuscans' (like the 2001 Solaia for 630€) among the reds, and the whites include the reliable Cervaro della Sala from Antinori (2014 – 90€). Part of my own drinking was a Tuscan merlot of such hot, intense, black fruit that it was ideal for the duck (Abuntia, il Rigoloccio, Gavorrano, Grosseo, 2011 – 90€). Had my luggage allowance on the aeroplane permitted it, I might have bought a bottle to take home, for the restaurant has an excellent arrangement by which any wine on the list can be purchased to take away, with a 40% discount.
That is a thoughtful arrangement, is it not? Indeed, we might characterise the whole approach of the restaurant as thoughtful – from its historical menu, its helpful wine list, and its considerate service to its provision of interesting events and talks. The Bistrot de Venise is, truly, the ideal destination in Venice for the thinking gourmet.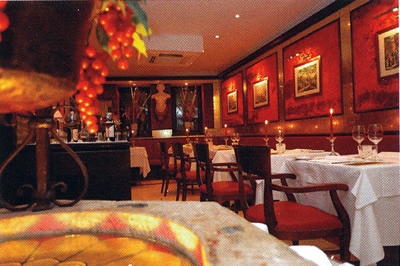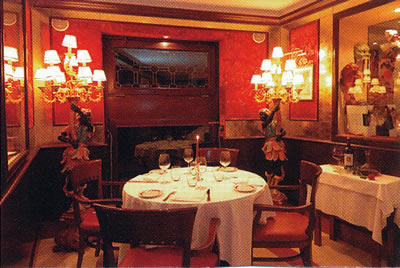 ---
ADDRESSES
BISTROT DE VENISE
Calle dei Fabbri, San Marco 4685, 30124 Venice, Italy.
Telephone +39 041 5236 651
Fax +39 041 5202 244
Email: info@bistrotdevenise.com
www.bistrotdevenise.com