Germany
BLACK FOREST
Hotel Traube Tonbach & Restaurant Schwarzwaldstube, Baiersbronn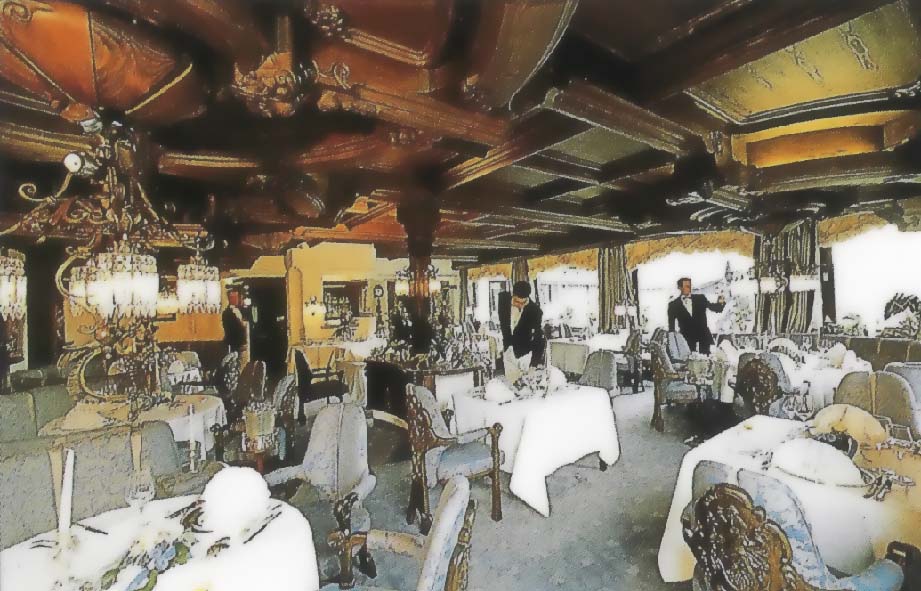 Every so often I need my spirits lifting. I long to be reassured that goodness can triumph and that decency can succeed. The moment comes when I have to know that the world has not been conquered by the vulgar, the nasty and the ruthless. Then I head off for Germany's Black Forest and the Hotel Traube Tonbach. Not because this is one of Europe's most pleasant and most comfortable hotels – although it certainly is. Not even because it houses one of the world's finest restaurants – although it assuredly does. But because all its luxury, efficiency and good taste is provided by people of such remarkable kindness, courtesy and charm.
I suppose I ought to thank Duke Karl Eugen von Würtenburg. For it was he who in 1789 granted to Tobias Finkbeiner a licence to open an inn for forest workers in the village of Baiersbronn. The Finkbeiner family has been providing hospitality here ever since, although the present establishment is rather larger than the original, now employing 290 souls to care for the fortunate occupants of its 175 rooms. Heiner Finkbeiner – tall and patrician – has inherited the mantle of le patron. He is a model of what every hotel-keeper should be like. He is everywhere, ensuring that nothing provided for his guests falls below the highest quality. But it is not just his ubiquity which counts. What really matters is that Herr Finkbeiner is a true gentleman.
And everything here – from the greeting at Reception to the attitude of the porters to the manners of the waitresses in the restaurants and the politeness of the chambermaids – manifests a gentlemanly approach. Good manners are a way of life at the Traube Tonbach.
This must go a long way to explain why so many return year after year to this wooded haven an hour's eastward drive from Strasbourg. But there is the question of good value, too. My vast apartment of 90 square metres (send for a price list and you will receive ground plans and area measurements of all the 25 room categories) costs from £250 to £300 a night for two, depending on season. I could happily have settled here for a couple of years. What did I have? A hallway, 2 bedrooms, a spotless white bathroom (large enough to make getting up a real joy) and a second shower room. The size of the main bed/sitting room can be judged from its number of lights – no less than 31. Outside the 30 foot stretch of window was my terrace with its own garden and a view down the valley of pine trees.
If, like me, you are a morning misanthrope, such an apartment demands a breakfast from room service. It arrived, bang on time. Bacon and egg on bone chine, with German classic radio providing for background Tchaikovsky's Dance of the Sugar Plum Fairy.
Replete, I stretched out on one of my two sofas, admired the décor of carved pine with white, blue and yellow fabrics and scanned the newspaper. Not the Black Forest Bugle (or whatever the local rag is called), but the hotel's very own daily. There is so much going on here (wine tastings, cookery demonstrations, music, walks, events in the spa or at the 3 swimming pools) that, unless you share my near-perfect indolence, something will probably tempt your participation. There is even a pretty little chapel, should your thoughts turn heavenwards.
My attention focused on the food. There are 4 restaurants. The Schwarzwaldstube has 3 Michelin stars and is famous throughout the world for the French cuisine of Harald Wohlfahrt. I had eaten here before, so before returning I tried one of the others, the Köhlerstube I confess that I was not expecting all that much. After all, how many great restaurants can you have under one roof? And only the Schwarzwaldstube has attracted any of those all-important stars. So I was dumbfounded by the meal sent out by the kitchen.
It was wonderful. Each dish was well conceived, precisely executed and presented on the plate with delightful flair. Carpaccio of wild salmon and scallops with a ginger-lime marinade. Garlic spaghettini with thyme sauce and grilled vegetables. Saddle of venison with juniper berry, red currant and pear (carved by the table and served in two courses). And caramelized passion fruit parfait with mango sorbet. A delicious meal for £43, served by a pretty waitress in local costume called Simone. And a good bottle of big red Côte de Beaune, which benefited from its decanting (1990 Pommard, Jarollières, J.M.Boillot - £90) – still heavily tannic but with a lovely touch of residual sweetness.
The wine list at the Köhlerstube is a much shortened version of that in the Schwarzwaldstube. At the latter the cellar is presided over by the excellent Stéphane Gass, who has built up a marvellous collection, with some outstanding bargains. My bottle of 1981 Chateau Latour was a snip for only £95. Other well-priced clarets to catch my eye were a trio of 1979s: Cheval Blanc (£130), Mouton Rothschild (£105) and Cos d'Estournel (£55). Stéphane also brought me two stunning German half-bottles. With my foie gras a Gewurtztraminer Auslese (Laible, Durbacher Plauelrain, 1998) and with my pudding a joyous balance of sweetness and acidity – a 1995 Eiswein (Rusch). This is a sommelier you can trust.
As you can the chef. In his 20 years serving this small but heavily beamed, Germanic room, Harald Wohlfahrt has amassed virtually every award and honour which can be bestowed upon a chef. He has deserved them all. The tasting menu (more excellent value at £75) showed off his talents. Terrine of goose foie gras with Sauternes jelly; fried scallops with Chablis sauce; pike-perch with parsley purée (the only dish with which I could find fault: too salty for my palate); venison with caramelized red cabbage; cheeses (French, of course) and puddings of chocolate and fruit. A feast.
Service, as you would expect, is both elaborate and immaculate. Here was a first. Not only were napkins replaced, but my glass (Spiegelau, good quality) was changed after each second bottle of water. (I drink a lot of water.) This is attention to detail of a fine order.
I drove the Royce away from the Traube Tonbach refreshed and renewed, my spirits lifted once more by the experience of being served by good people who are achieving standards of hospitality seldom found in this naughty world.
---
ADDRESSES
HOTEL TRAUBE TONBACH
D-72270 Baiersbronn im Schwarzwald, Germany.
Telephone +49 (0)7442 4920
Fax +49 (0)7442 4926 92
www.traube-tonbach.de
Double rooms from £145
SCHWAZWALDSTUBE
closed Monday and Tuesday