ITALY
FLORENCE
BUCA LAPI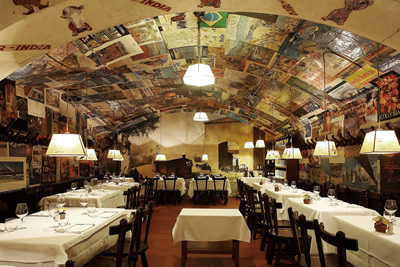 Anyone with any sense who goes to Florence wants to eat beef in this City of Beef. And when you eat beef in Florence, you will want to eat it where the eating of beef is not a passing interest, but a way of life. You will want to eat it in Florence's oldest restaurant. Tradition at Buca Lapi is everything. And I say: three cheers for that! Opened in 1880 in the cellars of the magnificent Palazzo Antinori, Buca Lapi ('buca' means 'hole') is famous throughout the world for its beef. Those who love Florence and who love beef – and strange those who, in full possession of their senses, do not do both – come from far and wide to this remarkable gastronomic destination, close to the church of SS Michele & Gaetano, and bring with them the healthiest of appetites. Thus did I present myself for an evening of homage to the cow.
Down a few steep steps at the right hand side of the building, I was within the bovine shrine. The vaults of the cellar have been plastered with posters, some of them quite old. I settled myself comfortably at a table to the left of the stairs. I noted the pleasing contrast between the bright white of the napery and the dense black of the waiters' aprons.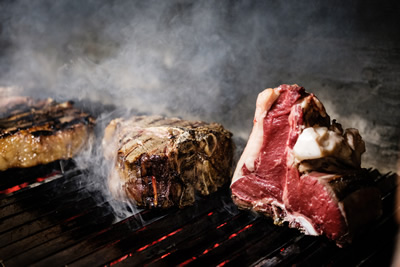 Of course, the best known of the dishes here is the mighty Bistecca Fiorentina (which is 45€ per person, with vegetables an extra 10€ per portion). If you are on your first visit to this dining room, this must be your choice. But, having been before, on my recent visit I decided to try the grilled sirloin (also 45€). Now, dear friends, I must try to exercise some self-restraint, for I could wax lyrical for hundreds and hundreds of words about the magnificence of this meat, its tenderness, its multi-layered textures, its caressing of my taste buds and its life-enhancing lifting of my spirits. Yet I must deny myself such literary self-indulgence and issue a word of warning. You must be prepared to exercise iron discipline if you are not to follow my example.
For I knew that the quantity of meat set before me was well beyond my capacity, and I realised that, half-way through my plate, I had eaten my fill. But the pleasure I was having was so intense that I simply could not stop – until I had chewed and swallowed every last morsel of beef. I knew that I would suffer for it later, and I did. So, be prepared to eat too much, unless you have the willpower of the gods.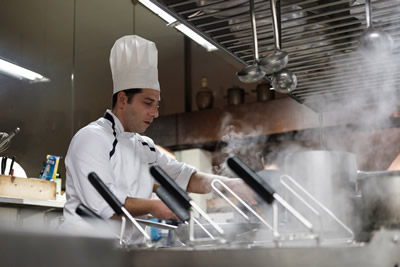 Of course, I could have neglected the previous courses, but these were tempting, too: Tuscan beans and tuna and spaghetti in the 'buttera' style (with tomato, bacon and eggs). And it seemed churlish to disregard the Italian custom of four courses. This led me into a rich and tasty pudding – strawberries with ricotta cheese – which added another dimension to my attempt to ape Billy Bunter. I am not sure that even the fat Owl of the Remove could have eaten more than I did on this evening. Still, I cannot say that I regretted one mouthful of my feast.
The wine list has 70 or so offerings, with prices running from 20€ (for the house red or white from Antinori – Bianco di Toscana and La Maestrelle) to 250€ (for 2012 Solaia). Il Bruciato 2015 is 35€ and 2013 Tignanello is 150€. Many of the wines – appropriately for the location – are from the house of Antinori, as was my white, the ever-reliable Cervaro della Sala from Umbria (2014 – 30€, half). For my red, the genial owner of Buca Lapi, Luciano Ghinassi, recommended the highly regarded super-Tuscan, Prima Pietra, in its 2012 vintage. A blend of merlot, cabernet sauvignon, cabernet franc and petit verdot from a vineyard in the Riparbella area and made by Castiglion del Bosco, this looked dark and luscious when poured into the good Spiegelau glasses. And thus it was to drink, its firm tannins and abundance of blackberry making it the ideal foil to the beef.
Beef. That is why gourmets go to the oldest restaurant in Florence. If you love your beef, you will love Buca Lapi.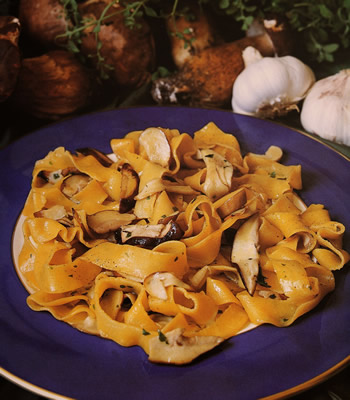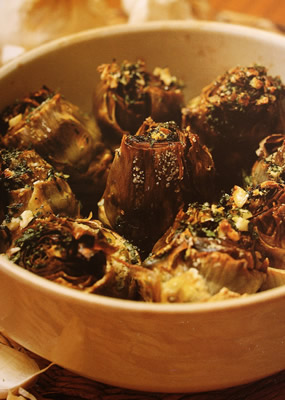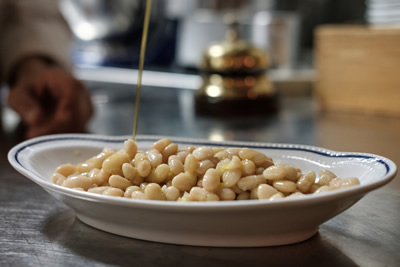 ---
ADDRESSES
BUCA LAPI
Via del Trebbio 1R, 50123 Florence, Italy.
Telephone +39 055 2137 68
Fax +39 055 284 862
Email: bucalapi@gmail.com
www.bucalapi.com
Open for dinner only
Closed on Sundays