ITALY
FLORENCE
BUCA LAPI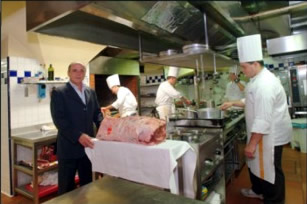 If you are going to Florence, you will want to eat the city's most famous dish. And you might well want to eat it in Florence's oldest restaurant. Tradition at the Buca Lapi is not a passing interest: it is a way of life. Opened in 1880 in the cellars of the magnificent Palazzo Antinori, the Buca Lapi ('buca' means 'hole') is famous throughout the world for its Bistecca Fiorentina. Those who love Florence and who love beef – and strange those who, in full possession of their senses, do not do both – come from far and wide to this remarkable gastronomic destination, close to the church of SS Michele & Gaetano, and bring with them the healthiest of appetites. Thus did I present myself for an evening of self-indulgence.
Down a few steep steps at the right hand side of the building, I was within the bovine shrine. The vaults of the cellar have been plastered with posters, some of them quite old. I settled myself comfortably at a table to the left of the stairs. I noted the pleasing contrast between the bright white of the napery and the dense black of the waiters' aprons.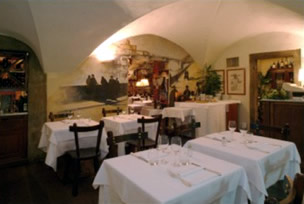 Of course, I ordered the Bistecca Fiorentina (which is 45€ per person, with vegetables an extra 9€). But there were other culinary pleasures to be had, too. I began with Tuscan beans and tuna – a good, straightforward start for my dinner. Then I enjoyed hugely the soft and yielding papardelle pasta with really good boar ragout. (It took an iron discipline not to eat the entire generous portion, but I had to save myself for the main event of the night.)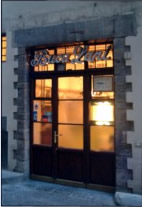 When the magnificent piece of beef came, it was huge. By the table the T-bone was cut out. I expected that then the meat would be sliced, which is how I have been served this dish on previous occasions. But no, the beef arrived on my plate as two giant pieces. I asked the waiter about this, and he explained that this was, indeed, the proper manner of service. (I suppose that the slicing was introduced in less traditional establishments to lower the intimidation level of visiting foreigners.) I cut into the masterpiece. It was, of course, charred without and bloody red within. And it was delicious. This, I thought, is why I am a carnivore. I ate. And I ate. And I ate. After a long time of this feasting, it occurred to me that there was still a considerable quantity of lovely meat before me. But, physically, I could not go on. I stopped – replete – but with a tinge of regret that I had to do so. I do not know how I managed any of my pudding, a slice of excellent warm apple cake. I suppose my pride kept me going for the last few, tottering steps.
The wine list has 68 offerings, with prices running from 18€ to 200€ (for 2010 Solaia). Moët champagne is 70€ and 2011 Tignanello is 90€. Many of the wines – appropriately for the location – are from the house of Antinori, as were my two, recommended by the genial owner of Buca Lapi, Luciano Ghinassi, and poured into the good Spiegelau glasses. A white Orvieto Classico was medium-bodied and fruity (Campogrande, 2012 – 18€), and a super-Tuscan from Bolgheri – made from cabernet sauvignon, merlot and syrah – was young, with hints of sweetness to come from its ripe fruit (Il Bruciato, 2013 – 30€).
Florence's most famous dish in Florence's oldest restaurant. To eat the Bistecca Fiorentina at the Buca Lapi is a treat. Try it.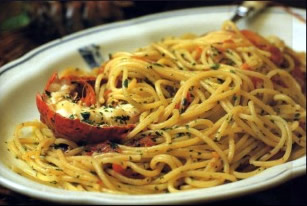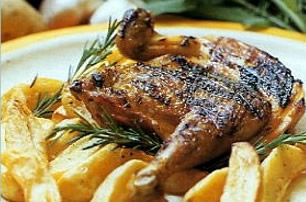 ---
ADDRESSES
BUCA LAPI
Via del Trebbio 1R, 50123 Florence, Italy.
Telephone +39 055 2137 68
Fax +39 055 284 862
Email: bucalapi@gmail.com
www.bucalapi.com
Open for dinner only