ITALY
FLORENCE
RISTORANTE BUCA MARIO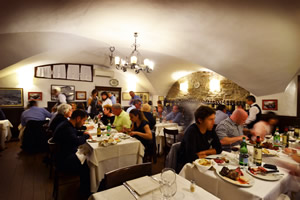 Florence is a place for the gourmand as well as the aesthete. In the former's search for gastronomic enjoyment, there is one dish for which less is most definitely not more. It is a dish which reflects the Florentine love of excess. It is, of course, the Bistecca alla Fiorentina. And the most famous place at which it can be found is the splendid Ristorante Buca Mario.
'Buca' means cellar. In this case, it is a 16th Century wine cellar, in a narrow street equidistant from the piazza della Repubblica and the piazza Ognissanti. In its collection of bright, vaulted rooms, by arches and exposed brickwork, waiters in black waistcoats and bow ties rush hither and thither each evening (the restaurant is open only in the evenings) with plates of the finest traditional food to be found in Florence. It has been pleasing good trenchermen (and good trencherwomen, no doubt) since it opened its doors in 1886. It is a bastion of good, old-fashioned, Florentine cuisine and it is preserved in all its proud glory by the Pasquetti family. Indeed, members of the family, both young and not so young, are very much in evidence throughout each service to ensure that all is well.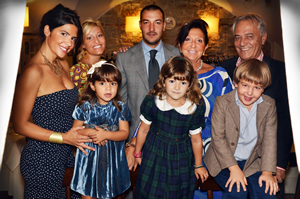 I sat at a table with white napery before me, looked at all the jolly diners and had the very strong feeling that I was going to enjoy myself. And enjoy myself I did. All was busy and buzzy. I was looked after with friendliness and efficiency by my waiter, Fabio.
The first course he brought to me comprised salmon, truffle and burrata crostini. The toasted bread was properly crisp and made me feel completely immersed in Italian gastronomic culture . This was a simple starter, and it was very well done. I would have been very happy indeed to eat everything in front of me, but thoughts of what was to come made me stop well before then. The same calculation also kept me from scoffing all of the wonderful taglierini. I do love pasta with truffle (this was the black variety, from Tuscany), and it was only a serious act of will which allowed me to leave any of this wonderful example on the plate.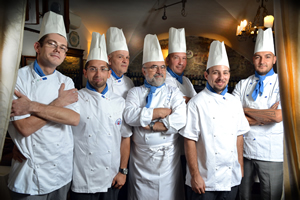 But then came the Bistecca alla Fiorentina, and I knew that my self-denial had been worthwhile. Carved by the table, this formidable T-bone steak was impressively huge and hugely impressive. Cooked medium rare, the beef was pink and packed with delicious flavour. Pity the poor vegetarians, I thought. With fresh asparagus, this mighty dish was a glimpse of Heaven for any carnivore worth the name. After this, I thought any pudding would be anti-climactic and, in any case, probably too much for me. But I gained my second wind, and was glad I did, for the crème caramel with fresh strawberries reminded me that I really like crème caramel and I really like fresh strawberries. (These four courses were 107€.)
The wine list is Italian, short and to the point. Prices go from 27€ for a Chianti Classico to 1,200€ for the 1997 vintage of Sassicaia. Cristal champagne is 250€. Other super-Tuscans I noted were 2004 Solaia (1,000€), 2005 Masseto (950€) and 2004 Luce (550€). I drank well, with a full-bodied Chianti Classico Riserva of the 2007 vintage (Poggio, San Felice).
It would be a scandal to go to Florence without trying, at least once, the Bistecca alla Fiorentina. And there is no better place to try it than at the Ristorante Buca Mario. In the city of excess, it is excessively good. Florence is, indeed, a city for the gourmand.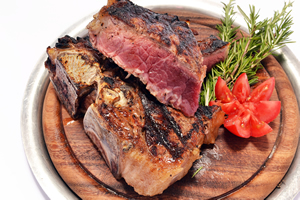 ---
ADDRESSES
RISTORANTE BUCA MARIO
Piazza degli Ottaviani 16/R, 50122 Florence, Italy.
Telephone +39 055 214 179
Fax +39 055 264 7336
Email: bucamario@bucamario.it
www.bucamario.it
Open for dinner only.