ITALY
FLORENCE
RISTORANTE BUCA MARIO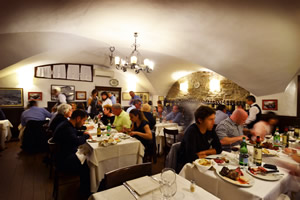 Everyone who goes to Florence knows that there is one dish which must be eaten. I suspect even vegetarians might sometimes be tempted to try it, just once. It is that enormous slab of prime beef which is called the Bistecca alla Fiorentina. And one the most famous places at which it can be found is the splendid Ristorante Buca Mario.
'Buca' means cellar. In this case, it is a 16th Century wine cellar, in a narrow street equidistant from the piazza della Repubblica and the piazza Ognissanti. In its collection of bright, vaulted rooms, by arches and exposed brickwork, waiters in black waistcoats and bow ties rush hither and thither each evening (the restaurant is open only in the evenings) with plates of the finest traditional food to be found in Florence. It has been pleasing men and women with huge appetites since it opened its doors in 1886. It is a bastion of good, old-fashioned, Florentine cuisine and it is preserved in all its proud glory by the Pasquetti family. Indeed, members of the family, both young and not so young, are very much in evidence throughout each service to ensure that all is well.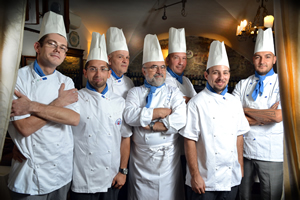 I sat at a table with white napery before me, looked at all the jolly diners and had the very strong feeling that I was going to enjoy myself. And enjoy myself I did. All was busy and buzzy.
Knowing that portions were large, I declined a first course and began with pasta – lovely cappellacci (similar to ravioli), filled with spinach and ricotta and served with butter and truffles. I sprinkled a bit of salt on top (truffles like salt) and tucked into a truly tasty dish.
Then it was time for the magnificent Bistecca alla Fiorentina. But it did not come, because I had devoured it on previous visits (and can therefore vouch for its excellence) and I wanted to try the fillet of beef with a sauce of cream and green peppers. This was absolutely splendid – and, I confess, more manageable for this fastidious trencherman. With it came roast potatoes and sautéed onions. Each part of this thoroughly enjoyable ensemble was tip-top. Then, having gained my second wind, I went for an old favourite: crème caramel with fresh strawberries. And I was reminded that I really like crème caramel and that I really like fresh strawberries. (These three courses were 105€.)
The wine list is Italian, short and to the point. Prices go from around 30€ up to 1,200€ for the 2010 vintage of Masseto. I noted also Cervaro della Sala (good value at 60€), 2010 Solaia (550€), 2012 Sassicaia (450€) and 2014 Tignanello (120€). I drank well – a bull-bodied 2015 red, Il Bruciato (60€).
It would be a scandal to go to Florence without having, at least once, the Bistecca alla Fiorentina. And there is no better place to eat it than the Ristorante Buca Mario. But the other dishes of beef there are just as good. You should try them.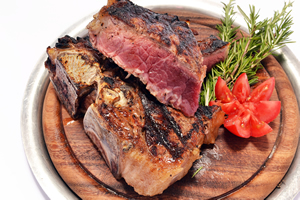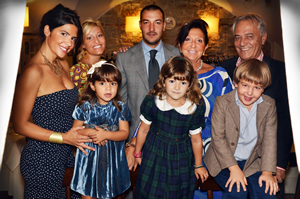 ---