SWITZERLAND
GENEVA
CAFÉ CALLA, MANDARIN ORIENTAL HOTEL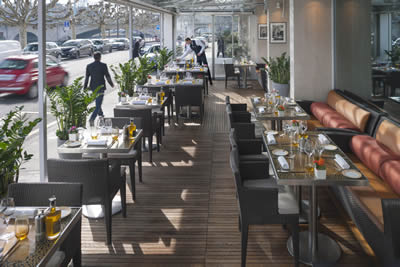 I would like to recommend to you a most pleasant restaurant in the heart of Geneva, overlooking the River Rhône. It is quite large – its terrace seats 120 guests – and it is given to canned music, but do not let either feature put you off, for the welcome is friendly, the service is courteous and the food is excellent. It is open for breakfast, lunch and dinner and serves as the main dining room of the city's modern Mandarin Oriental Hotel. (The Mandarin Oriental Hotel Group is a 'chain' which deserves its high reputation). It is called the Café Calla.
I settled myself at a glass-topped table on the heated and enclosed veranda, while the young waitresses – smart in their grey aprons – fussed about me most solicitously. I noted the good glassware, a mixture of Schott and Stölzle, and thought I would inspect the wine list. Although not of huge length (it has 142 offerings), it shows evidence of considerable expertise. Its prices run from 52CHF for a local gamay to 11,500CHF for that wonderful vintage, 1982, of Pétrus (which I tasted in California some years ago, and can still remember). I noticed other gems from France – like 1928 Haut Brion (2,750CHF) and 2005 Cos d'Estournel (680CHF) – as well as 1999 Vega Sicilia Unico from Spain (1,15CHF), 2008 Sassicaia from Italy (510CHF) and 2013 Cloudy Bay sauvignon blanc from New Zealand (130CHF).
For my own drinking, I selected a glass of fresh and grassy Alsatian sauvignon blanc (Villa Maria, 2014 – 16CHF, glass) and a most impressive Crozes Hermitage. This was of the 2012 vintage. It was full of enchanting ripeness, and its black fruit was structured in as elegant a manner as I could have wished (Domaine du Colombier – 85CHF). This was lovely drinking.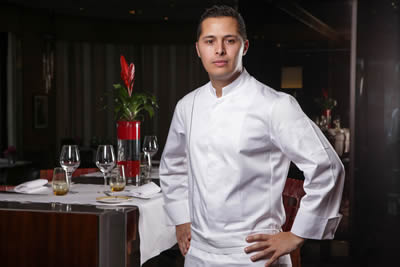 And my eating was pretty good, too. I had happened by chance upon the establishment's Moroccan Week, an event which allowed visitors to try the food of Chef Moha Fedal from Dar Moha Restaurant in Marrakesh. I thought it was therefore proper to make my first course four items from the cold salad selections (35CHF) of the special menu. I must say, I enjoyed all of them – including goat's cheese with chives and chicken breast with thyme – although my favourite by far was that which put pink onions with orange tree water. This was a captivating combination.
For the rest of my meal I stayed with the cooking of the resident chef, Nasser Jeffane (pictured), who offers "modern Swiss/French and health conscious cuisine". I think I probably avoided that last category, but my roasted fillet of beef (54CHF) was full of robust tastes and was made even more ravishing by its splendid vegetables, including Pont Neuf potatoes, and a well-judged thyme jus. I finished with a decent iced macaroon with meringue, gruyère cream and blueberry coulis (14CHF).
I walked away a happy fellow, having glimpsed the delights of Morocco, eaten some wonderful beef, drunk some splendid wine and having been looked after with great kindness in a comfortable environment. The Café Calla is, indeed, a most pleasant restaurant.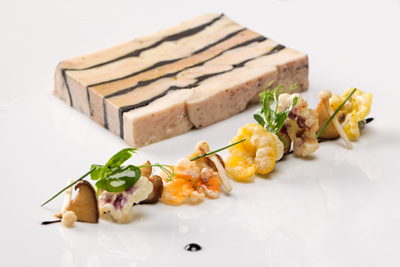 ---