Italy
PUNTA ALA (TUSCANY)
CALA DEL PORTO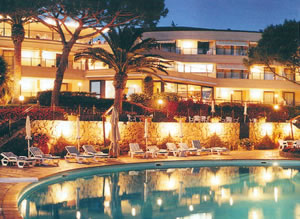 Too many of us neglect the coast of Tuscany. Captivated by the famous cities and the pretty vineyards, we tend to huddle away from the water. Yet the treasures of Sienna and Florence are easily reached by car from the seaside, and the coastline and its adjacent countryside offer delights which include the aspect of retreat from the more crowded inland attractions. Thus was I drawn to the resort of Punta Ala. And where should I stay? Everyone to whom I posed this important question replied with the same excamation: "At the Cala del Porto, of course!"
Punta Ala was first developed in the 1960s, when someone realised that the natural beauty of the Bay of Fallonica would be a good setting for a holiday village and marina for those with a penchant for yachting. It soon became fashionable, and a golf course (now highly regarded by those who swing the club) was established. If you are not yet familiar with this area, you will certainly know one of its former residents. For, on a clear day, you will see on the horizon the outline of an island. It is Elba, whither was banished that diminutive trouble-maker, Napoleon Bonaparte. Had he stayed there, a little town in Belgium would still be enjoying its obscurity. But, of course, the Corsican escaped from Elba and marched off to meet his Waterloo.
The Cala del Porto is long and low, and occupies a fine position, overlooking the port, the sea and the French Emperor's island prison. Its architecture is modern and its well-kept gardens are stocked with colourful flowers. Its scale is modest (there are just 41 rooms) and its setting is delightful. It is, in a word, inviting. I was greeted on my arrival by the smiling General Manager, Alessandro Fichera. (As the camera was to hand, I had a photograph taken of the two of us, and I reproduce it for you herewith.) Signor Fichera was, I am pleased to report, much in evidence throughout my stay. He heads a staff which I found to be both genuinely friendly and very keen to cater to my requirements. (Foremost among the latter, nowadays, is a soft bed, and I was grateful to the housekeeping department for going to considerable trouble to ensure that adequate softness was provided.)
Room 201 was on the 'ground' floor, along a corridor from the entrance lobby. (As the hotel is built on the hillside, there is a floor below the level of the Reception and one above. There is no guest lift.) It was classified as a Junior Suite (420-630 euros a night for two, according to season, or 540-750 euros a night for two, half-board). I found its colour scheme – white and cream, with beige fitted carpets – clean and orderly and its size comfortable. Its outer door entered straight into the sitting room, which I judged to be about 12 feet by nine. It contained two arm chairs, a glass-topped writing table, a standard lamp in the Art Déco style and, a pleasing touch, a vase of red roses. In the bedroom were fitted wardrobes behind mirrored sliding doors. Here was that most useful of amenities, a private safe. The bathroom was lined with white tiles and possessed two wash basins, a bidet and a bath tub of decent length.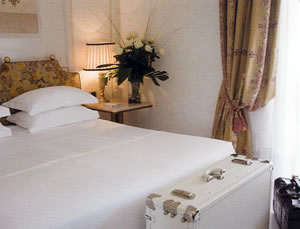 But by far the best aspect of this accommodation was outside: the terrace. You might be familiar with those television programmes in which couples are taken to see properties they might wish to purchase. I have observed that such folk, to signal their approval, are much given to uttering the exclamation, "Wow!" As far as I can remember, I have never used this word. But this terrace tempted me to do so. About 20 feet long, with plenty of space for a table and six chairs, and with a marvellous panorama (pictured) of the marina and of distant Elba, this was a wonderful spot for the celebration of that custom also much loved by the house-hunters: the evening glass of wine.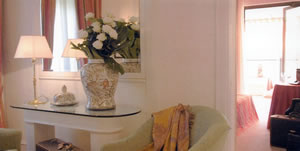 It would have been a lovely spot for breakfast, too, but I prefer the breaking of the fast to be done in a social context, so it is my custom 'to go down for brekkers'. I therefore encountered, on the dining room terrace, the excellent Stefano Simi, Assistant Restaurant Manager. This fine fellow ensured that, as I sat overlooking the swimming pool, I was supplied with silver pots of coffee and glasses of delicious, freshly squeezed orange juice. (The latter, as at most hotels in Italy, should be requested specifically. Ask for La Spremuta di Arancia.) From the buffet, I secured Corn Flakes, dishes of melon, pineapple and strawberry, slices of Madeira cake and plates of cheese and smoked salmon. All were of high quality. Frequently, members of staff – like the pleasant barman, Tiziano Orsini – would rush over to carry these dishes and plates to my table – a small courtesy for which I gave them high marks.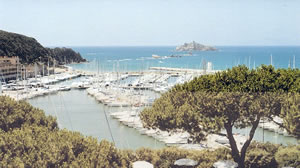 After breakfast my days were calm and restful. The Cala del Porto is, indeed, well placed for exploring Tuscany, but I confined my outings to a drive to a mediaeval hill-top village and a trip to the hotel's private beach. With thatched huts, lots of fine sand and facilities for a good lunch, this beach (situated about two miles from the hotel, and reached by the hotel's shuttle 'bus) is impressive – as is the Baglioni Residence Allelujah (pictured), a short walk from the same beach. This used to be the separate Hotel Allelujah, but is now part of the Cala del Porto complex. Surrounded by manicured gardens, its walls of Tuscan red contain a number of stylish suites, decorated in a sophisticated modern manner. I peeped into several of them and I liked what I saw. (Ask the hotel for details of the prices.)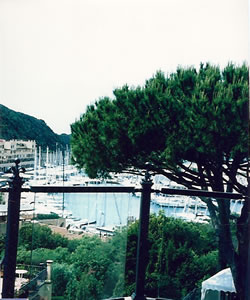 Back at the main property, it became my habit to break the afternoon with a stroll down to the marina for a dish of ice cream at one of the cafés. Then it was up the hill to prepare for dinner. These pre-prandial ablutions were full of happy anticipation, for the Cala del Porto has a good kitchen. Fausto Florindi is a talented chef, who ensures that his ingredients are of the highest quality. His careful, straightforward approach produces dishes which reveal clear, honest flavours. This was exactly the sort of food I wanted to eat by the seaside. From several enjoyable meals, let me recall the highlights: really tasty beef carpaccio with grated black truffle, the interesting combination of Le Culatello ham with red wine and pears, nourishing fettuccine with boar ragout, yielding tagliatelle with more black truffle (I am one for the truffles), tender lamb chops of exquisite flavour, pink beef (both entrecôte and chateaubriand) of the very best sort and puddings – like tiramisù and white chocolate mousse with mint – which provided the right degree of self-indulgence. (If you are not on the half-board arrangement, allow 75 euros for four courses.)
I ate these dishes while sitting in a wicker armchair and gazing out at the ever-present view of the sea. In more clement weather I would have been outside on the terrace, but it was no penance to be inside. The restaurant's light walls and dark green carpet were helped by candles in lanterns set about the floor to create an atmosphere of calm. The waiters, dressed in black, went about their business with smooth precision. On the tablecloth in front of me were decent glasses by Bormi, a company new to me. Franco Cardinali, the efficient Restaurant Manager, is a dapper gentleman with a real enthusiasm for those wines we call 'super Tuscans'. He introduced me to one of them, Il Bruciato – by Antinori – in its 2006 vintage, and I was grateful to him for the introduction. From the Borni glass, I quaffed this elegant, full-bodied confection of brambles and blackcurrants with real enthusiasm. And this bottle was only 50 euros. You will certainly do well if you rely on Signor Cardinali's recommendations.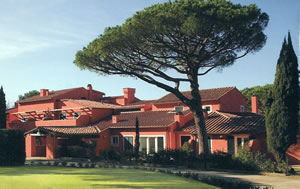 Apart from the champagnes (Krug Grande Cuvée is 240 euros), the list – of about 150 offerings – is Italian, with prices starting at 25 euros for a 2005 Chianti Classico (Maretima, Loaker). The most famous super Tusans are represented by the 2003 vintage – with Ornellaia at 190 euros, Solaia at 210 euros and Sassicaia at 240 euros. From the whites I tried, I recall best a vermentino of peaches, pears and melons for a modest 35 euros.
Signor Cardinali lent me a book, from which I discovered that the red super Tuscan with the lowest production – just 2,000 bottles a year – is Tzingana, from Monte Barnardi, made from 45% merlot, 28% cabernet sauvignon, 16% cabernet franc and 11% petit verdot. I must keep an eye out for it. I was pleased to learn about this. But I was even more pleased with something else I had learnt on this visit: that the Tuscan coast should not be neglected. It is beautiful, historically important and it contains some lovely hotels – like the Cala del Porto.
---
ADDRESSES
CALA DEL PORTO
Via del Pozzo, Punta Ala 58040, Italy.
Telephone +39 0564 922455
Fax +39 0564 920716
Email: delporto@relaischateaux.com
www.hotelcaladelportocom
Double rooms from 250-490 euros, according to season (half-pension – breakfast and dinner – is 60 euros per person)
Open April to September