United States
CALIFORNIA
SAN FRANCISCO
CAMPTON PLACE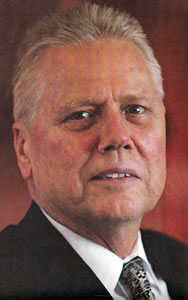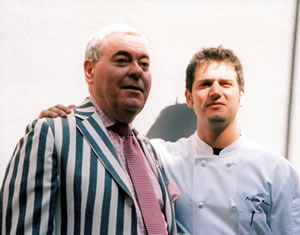 It is one of the (many) joys of visiting fine hotels that I meet people of talent and charm, who are dedicating their lives to that most worthwhile of objectives: giving pleasure to others. Such encounters over the years have taught me much – about food, about wine, about service and about the whole variety of endeavours we put together and call 'hospitality'. Sometimes it comes as a pleasant surprise to find a familiar face in a new context. And thus it was at Campton Place, the renowned hotel which resides half a dozen paces from one corner of San Francisco's Union Square. I first met Richard Dean (pictured) when he was a sommelier in New York; now he is in charge of the cellar here. And then there is the joy of making new acquaintances. The Sous Chef at Campton Place is a talented fellow from Spain, Perfecto Rocher Battalla. In the photograph I present to you of myself with this excellent gentleman, he is the slightly younger fellow on the right.
I like to mention people by name, for our experience of an hotel is to do less with the general and more with the particular. And this is especially true of an intimate, exclusive establishment like Campton Place. By merging two 20th century buildings, it has created 110 rooms, but it feels much smaller. I had the sense that its General Manager, the urbane Mr Vikram Singh, knows full well that the guests of Campton Place appreciate the hotel's high levels of both cosseting and privacy.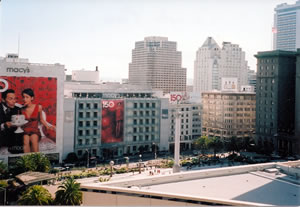 My quiet, air-conditioned room – number 1001 – was on the 10th floor and was a 'Deluxe King'. (During my stay, this was $340 a night – which was very good value indeed – but prices fluctuate considerably according to season, so you will need to check for the dates you require.) This was an apartment with a style I would describe as 'sophisticated modern', with a colour scheme of grey, off-white and brown. Clever use of mirrors created a sense of space in the bedroom, which was equipped with one easy chair, a window seat, a flat-screened television, a leather-topped writing table and bed linen of the very highest quality. The carpentry was impressive, and within the fitted wardrobes I found that necessity of modern travel – the private safe. Best of all, was the view of Union Square (pictured). There is something particularly pleasant about looking down on lots of people enjoying themselves in the Californian sunshine. It certainly gave me a warm feeling that all was right with the world.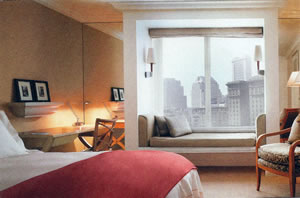 And I had warm feelings, too, in the bathroom – not just from the endless supply of hot water, but from my approval of the limestone walls and floor. True, there was only one wash basin, but the toiletries were by Molton Brown, so I was able to perform my ablutions with the style to which I have become accustomed. I wanted to look my best for dinner, for the restaurant at Campton Place is a place of some style.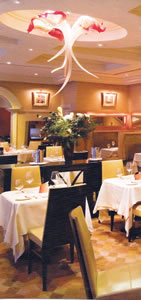 From the picture you will note the glass sculpture of giant red and white flower petals. It is the centrepiece of the softly-lit and comfortable dining room. There are booths for those who like to sit opposite their companions and large round tables for those who prefer to sit at an angle. My feeble hearing requires me to be a member of the latter party. I settled myself comfortably and noted the spotless white napery and the Riedel glassware, two sure signs that those in charge have set high standards. I was also pleased to observe that the napkins of those diners who left their places for a moment were replaced. Service – orchestrated by maitre d' Laurent Desbat, from Lyon – was courteous and professional, as I like it to be.
Executive Chef Srijith Gopinath offers a 5 course set meal for $85 and a 9 course tasting menu for $125. I had four courses from the carte, for which you should allow around $100. Chef Gopinath was away for my visit, so the stoves were under the command of the aforementioned Sous Chef, Perfecto Rocher Battalla.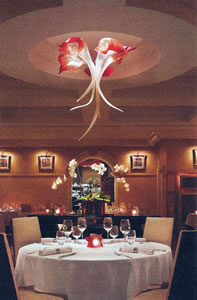 Ingredients always matter, and here I judged them to be of exceptionally high quality. And it was immediately clear that they were being handled with enormous skill and flair. The dishes were described in a straightforward manner, so I was not really prepared for the visual delights which came to my table. Presentation has a high priority at Campton Place. I began with 'Texture of summer tomatoes'. With its sorbet and jelly, this was a refreshing start, full of the sweet subtlety of a fruit we too often take for granted. Next came seared duck foie gras, exquisitely balanced with cocoa, port and fruit – luscious and caressing for my palate. This was a superb dish. And my main course was very nearly as good. This was beef so full of gorgeous, fatty flavour that it made me pity the vegetarians. Its description – 'Four Story Hills Farm Côte de Boeuf' – suggested once more that the kitchen really does care about the sourcing of its ingredients. Carved by the table, this succulent meat came with chanterelles, green beans and veal jus. And there must be an honourable mention for the truffled potaoes, which were of the best sort – covered with slices of truffle. I finished this truly enjoyable repast with a satisfying version of tarte tatin.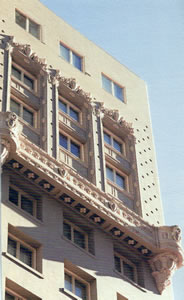 Prices for the 1,500 offerings on the wine list range from $37 for an Italian gamay to $7,800 for the 2005 DRC Montrachet. As you would expect of a cellar controlled by a true enthusiast like Richard Dean, here are good bottles from around the world, including about 30 German rieslings. It was good to see, too, more than 90 half-bottles. As I surveyed the list, the following bottles caught my eye: from California, 2001 Harlan Estate cabernet ($3,000); from New Zealand, 2004 Kumeu River chardonnay ($72); from Burgundy, 1999 Bonnes Mares, Comte de Vogüé ($800); from Bordeaux, 1959 Margaux ($3,000) and 1970 Cheval Blanc ($1,500); and from Italy, 1983 Sassicaia ($700). My own drinking comprised a delicate German riesling spätese, with a lovely petrol nose and just 7·5% alcohol (Zilliken, Saarburger Rausch, Mosel - $70) and a light-bodied red Chassagne-Montrachet with a farmyard nose from the difficult 2004 vintage (Ramonet - $80).
At the rising of the sun each day I returned to this dining room to break my fast. To my table – the tablecloth now, sadly, gone – the friendly waitress in a brown waistcoat brought glasses of excellent orange juice, bowls of Grape Nuts (a treat I have not encountered since the age of ten: it is a marvel that they are still with us), plates of sliced honeydew melon, rounds of wheat toast with sautéed mushrooms and pots of hot coffee. These were breakfasts over which I could linger, which is what one should do in the mornings.
Having a good breakfast is one of the delights of a fine hotel, as is meeting people of talent and charm. I had done both at Campton Place. That should be no surprise – for Campton Place is, indeed, a very fine hotel.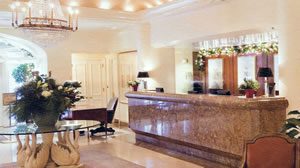 ---