FRANCE
FRENCH RIVIERA
CAP D'ANTIBES
CAP D'ANTIBES BEACH HOTEL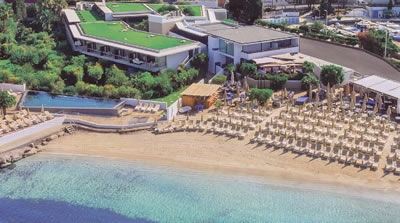 The Cap d'Antibes Beach Hotel occupies one of the most magical spots on the whole of the French Riviera. It is a temple of luxury and style (both of them of the modern, relaxed sort) in an area renowned for its beauty and its wealth. The Ferrante family transformed the property – at huge expense – and opened it to visitors in 2009. Now, those who are fortunate enough to stay in the 35 rooms within its low building can enjoy a private beach facing the Estérel Massif, an acclaimed restaurant and accommodation in which no modern convenience is lacking. For those who value both exclusivity and comfort and who wish to be right next to the sea, there can be few better destinations.
I am not one for swimming, but I do like to be by the sea, and here the experience was particularly pleasant. The canned music having been turned off for me, and the sunshades having been manoeuvred this way and that by Alex (one of many helpful members of staff I encountered, and a credit to his excellent General Manager, Mr Franck Farneti), I spent much time in total contentment – in an armchair by the gentle waves, shielded from the sun's bright rays and gazing out to the Lerins Islands.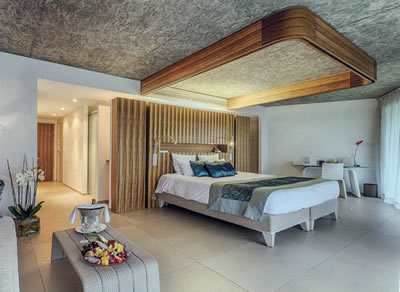 My apartment had a view which was nearly as good: across the hotel's lush gardens to the yachts in the adjacent marina, and then over the sparkling water to the hills opposite. Room 205 was a 'Suite Design' and therefore 1,500€-2,400€ a night for two, according to season, breakfast included. To describe the decor le mot juste would be 'swish', I think. Wood was much in evidence. One whole wall of the bed-sitting room was occupied by the painting of a fish, disappearing into the ceiling. Two vast plate glass windows slid back to give access to my private terrace with its table, chairs and sun-beds.
The large bed had been made wonderfully soft for my ailing back, a small kindness which I always appreciate. Within the bathroom were l'Occitane toiletries, a good tub, a walk-in shower and one of those long wash basins which can be used simultaneously by two people. The separate loo was off the hall. Also off the hall was the dressing area, with numerous drawers and plenty of hanging space.
The Maitre d' of the restaurant, Les Pêcheurs, Angelo Gelpi, and his team clearly take great pride in the cuisine of Chef Nicolas Rondelli (pictured). And so they should, for its quality has been recognised by the award of a Michelin star. I found it very much to my taste, and the famous view was even more delicious with distant lights winking in the darkness.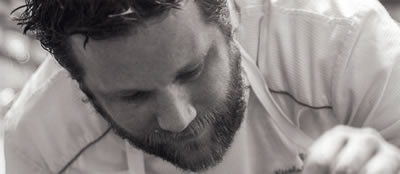 White napery, Bernardaud crockery and Riedel glasses spoke of high standards. Two tasting menus are offered, at 125€ and 150€. My four-course set menu was 85€. The best came first. This duck foie gras was mi-cuit, with figs, turnip ravioli and ginger. The combination of textures and tastes to be found on this square, white plate was life-enhancing. And the other three courses, even if less exciting, were still jolly good. Roasted duck breast was enhanced by plums, lemon and a pepper sauce. Goat's cheese presented itself with a splash of olive oil and a little salad. And the concluding lemon soufflé was a tremendous hymn to the wisdom of combining sweetness with acidity.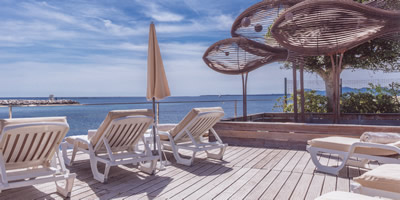 The wine list has 242 offerings, all of them French. Prices run from 45€ for a generic red burgundy (Dom. Fournier, 2013) to 15,000€ for the 1996 vintage of the greatest red burgundy of them all, Romanêe-Conti. Other DRC wines include 1988 La Tâche (4,000€) and 2007 Montrachet (2,400€). Those who like the grandest clarets from good years are well served, with 1989 Margaux (1,500€), 1990 Latour (2,000€), 1986 Lafite (3,400€), 1989 Haut Brion (3,000€) and 1990 Cheval Blanc (2,800€). I quaffed a local red, a Bellet, with plenty of red fruit and firm tannins (Constance & Clémentine, Dom. de Vinceline, 2014 – 85€).
I returned to the restaurant terrace for breakfast. From the buffet I secured good orange juice and fruit salad. But it was the brioche – brought to my table in a basket, along with the bread – which impressed me particularly. The croissants were magnificent. There is no other word for them. These crispy marvels were so light I quite expected them to drift away on the breeze. With such croissants every day would begin with a smile.
I certainly smiled a great deal here. And I was not alone. With its location, its views, its stylish comfort, its lovely food and its good service, the Cap d'Antibes Beach Hotel makes all its guest smile.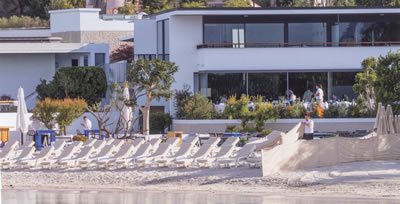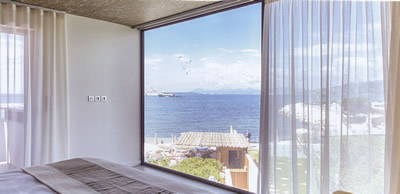 ---