ITALY

CAPRI

CAPRI TIBERIO PALACE HOTEL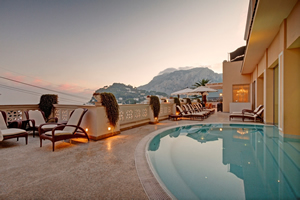 Staying at the Capri Tiberio Palace is rather like visiting the home of a well-read traveller with eclectic tastes: everywhere you look there is a book or an artefact which makes you exclaim, "What an interesting fellow my host is!" The hotel rests upon a little hill a few steps away from the Piazzetta – the pretty square which is the acknowledged centre of Capri town. Those few steps mean that it is away from the noise and the bustle, and is therefore a luxurious and stylish retreat from the crowds which often throng this most beautiful of islands. It is not surprising, then, that it attracts those who like their hostelries to be quiet, as well as to ooze modernity and sophistication. It also has a splendid General Manager.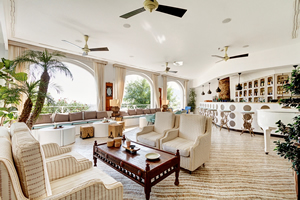 The hotel's design is the work of Giampiero Panepinto. The atmosphere he has achieved – by the use of a style which is very much of today, but which is also friendly and comfortable and has occasional references to Antiquity – imparts a sense of comfort which is both welcoming and uplifting. I was intrigued to discover that the hotel includes a bookshop. I peered into the various cabinets and discovered that I could have purchased – had I had both the pennies and the strength to lift it – a massive volume dedicated to the works of Michelangelo. Good taste was all around.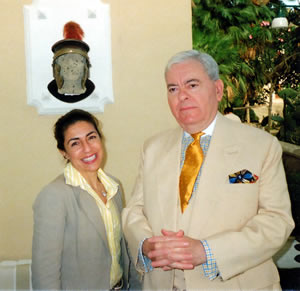 The General Manger to whom I have referred is Francesca Tozzi (pictured with your correspondent). She is a most splendid lady. Her efficiency and charm have blessed some of Italy's other fine hotels, which is why I knew her before my arrival here. She is also full of exciting new ideas. For example, she is planning to equip the Tiberio Palace with a kitchen – completely separate from the main kitchen – which will prepare kosher food, to the standard expected at a luxury hotel, for her Jewish guests. Francesca and her Manager (Simone Pampaloni) preside over a staff which I found to be smart, friendly and well-motivated.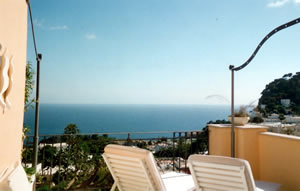 My room – number 321 – was a Capri Suite. (You will need to look at the hotel website to find the prices for specific dates, but you should think around 2,000€ a night, bed and breakfast for two, plus or minus.) This was a lovely apartment, full of those interesting items to which I have made reference – a violin and case, a stuffed crab, a toy motor car in tin plate, a model of a sailing ship, a porcelain parrot and books, including a volume to quicken the pulse of all you entomologists, Insects of Surinam. I entered into the blue-vaulted sitting room, opened the French window to the terrace, went out into the sunshine to enjoy the lovely view of the sea and the mountains, and listened. All I could hear was the bell of San Stefano's Church, above the Piazzetta, calling the faithful to Mass. Blissful.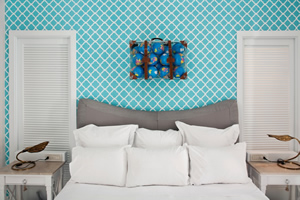 Back inside, I noted the black and white photographs on the wall. Most were of President John Kennedy. The sitting room easily accommodated a sofa and two easy chairs, to provide ample comfort while I listened to my cd of Elgar on the dvd player attached to the television. The whole apartment was, of course, efficiently air conditioned, but I still liked the ceiling fans, which imparted a hint of the Old South.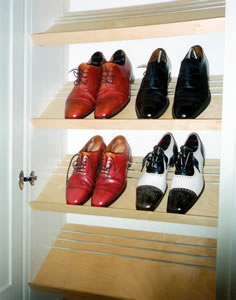 Through double doors was the bedroom, a spacious chamber in white, measuring about 18 feet by 11 feet. The commodious bed had been made wonderfully soft for me – for which kindness I awarded the Housekeeping Department a gold star. This bedroom had a wonderful facility I had never before encountered. I opened a door to find… a boot cupboard, fitted for the storage of 14 pairs of shoes. I liked it so much I took a photograph of it for your delectation. Other doors led to the large terrace and to a smaller balcony. A writing desk and two armchairs was joined by a make-up table with a surrounding of those 'film star' light bulbs which encourage us to indulge our fantasies of celluloid fame. And, for those who like to behave like thespians of the more liberal sort, shutters slid open to reveal a view of the tub in the bathroom. I say 'tub', but the bath was really more like a small swimming pool in stone. The bathroom also provided two wash basins, a walk-in shower, a separate loo with a bidet (and another picture of JFK) and enough fitted wardrobes for the most expansive guest.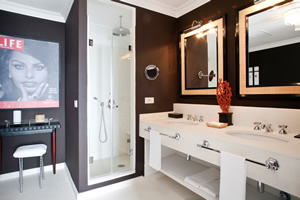 The hotel restaurant, Terrazza Tiberio, has – as its name declares – a terrace. It is a splendid one. As the weather was clement, it was thus entirely proper that I should dine al fresco. Members of staff in beige aprons – among whom were Antonio, the sommelier, and Costa – looked after me very well. Settled into a comfortable armchair, with white napery and Schott glassware before me, I knew that my evening would be enjoyable. And thus it was – not least because of the good, straightforward food of Chef Francesco de Simone. Cream of pea soup with creamed cod and fish dumplings proved a successful and tasty first course. The pasta was the best dish: this ravioli with local cheese and marjoram, served with cherry tomatoes and basil, was well-balanced and full of flavour. My main course was rabbit: the sirloin served with red onion and the leg served with broccoli. At this point I rather petered out, so I missed the pudding I had selected – meringue with raspberry and mint sorbet. (Allow around 85€ for four courses.)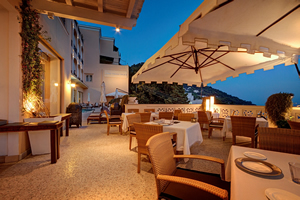 The wine list has around 80 offerings, all Italian apart from the champagne. Prices run from 22€ for a muscat from the Alto Adige region to 750€ for 2002 Cristal rosé. These bottles caught my eye: Krug Grande Cuvée (290€), Solaia 2006 (300€), Ornellaia 2007 (250€), Sassicaia 2007 (190€) and Gaja Barbaresco 2006 (210€). I drank a 2010 Feud di San Gregorio, Campanaro, of discreet melon, and a rich, earthy Pallagrellio Nero, full of the ripeness of damson and blackcurrant (Vestini Campagnano, 2009).
I returned to the restaurant to break my fast each morning. Here, on good Villeroy & Boch crockery, I assembled from the buffet comestibles of top quality, including cheese and tomatoes, slices of crusty bread, poached pears, slices of pineapple and melon, bowls of Corn Flakes and pots of panna cotta. And from the kitchen the waiters brought to me glasses of freshly squeezed orange juice, pots of hot coffee, dishes of ice cubes and – of course – my concluding cappuccini. Thus did my days start well.
The Emperor Tiberius made this island his main home for ten years. It is reported that, during that time, he indulged in activities upon which we ought not to dwell. The hotel which now bears his name is altogether more civilized. Indeed, the Capri Tiberio Palace, with its fine location, stylish interiors, excellent staff and admirable General Manager, is undoubtedly one of the best hotels on Capri.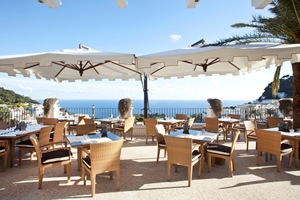 ---
ADDRESSES
CAPRI TIBERIO PALACE
Via Croce 11-15, 80073 Capri, Italy.
Telephone +39 081 97 87 111
Fax +39 081 83 74 493
Email: info@tiberiopalace.com
www.capritiberiopalace.it
Check the hotel website for the prices of rooms for specific dates