ITALY
MILAN
CARLTON HOTEL BAGLIONI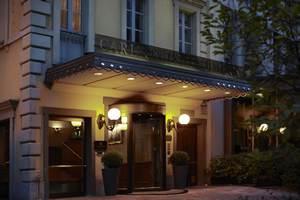 I have been wondering why I like Milan so much. There is the magnificent Gothic Cathedral, of course, and an abundance of art and architecture which includes one of the mankind's finest paintings – Leonardo's Last Supper. But it is something else, I think: the great city's obsession with clothes. For most Italians, dressing well is a daily routine. But for the Milanese it is a lifelong passion. I do not always share their taste, but I have to recognize that a Milanese without style is a glaring oxymoron. Indeed, many of the town's inhabitants are deeply involved in the business of buying and selling some of the most desirable garments in the world. And the epicentre of this activity is the famous Via della Spiga. Here are to be found the emporia with the names to make the ladies (and not a few gentlemen) swoon. And here, too, is one of Milan's best hotels, The Carlton Baglioni.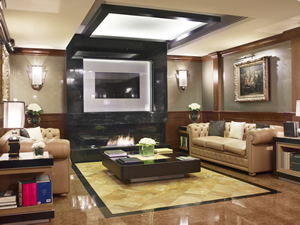 Actually, the main entrance is on the busy Via Senato, on the other side of the building. But it is the pedestrian entrance on the Via della Spiga which makes the location of this hotel so special. Still, whichever entrance I used, I found the abundance of marble, crystal and polished woodwork in the lobby area much to my liking. The feeling is of traditional comfort and luxury. This is a place which feels much older than its years, for it was opened only in 1962. Indeed, it possesses the stateliness of an establishment opened in 1862. (You will understand, of course, that I mean this to be a compliment.)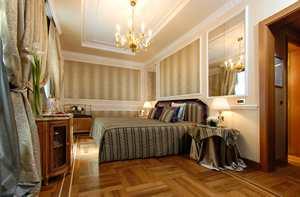 My room was on the third floor. Number 311 was a 'Deluxe Double'. As always nowadays, you must check the room rates for specific dates on the hotel's website. But you should think around 500 euros a night, bed and breakfast for two. In this expensive town (fashion is, after all, about conspicuous spending), this must be considered good value. In its small entrance hall were fitted wardrobes (with mirrored doors and a private safe) and the door to the bathroom. I judged the air-conditioned bedroom to measure about ten feet by fifteen feet. I approved of the two easy chairs upholstered with brown velvet and the impressive parquet floor.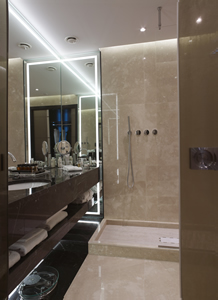 Lighting came from two table lamps, two wall lights, two flexible reading lights over the bed and a six-branch chandelier. Within the white tiled bathroom were two wash basins, a bidet, a loo and a large tub. The bed was made comfortably soft for me by the efficient Housekeeping Department.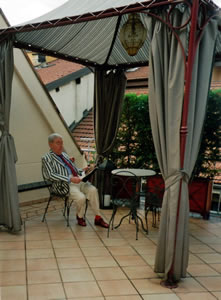 Most impressive about this accommodation, however, was what was outside. Through the French window was my very own terrace, fifteen feet square. Upon it was an exotic tent of the open sort, with awnings and with four armchairs in wrought iron. I present to you a photograph of your correspondent enjoying this facility. This would have been an ideal spot for having a bottle of bubbly after a fashion show, for the Via della Spiga was directly below. Quiet and sunny, it was certainly a convenient retreat for an hour of reading. (Incidentally, with regard to quietness, I do recommend that you ask for a room – like 311 – which is away from the traffic at the front of the hotel.)
Each morning I went down from this civilized retreat to the bright breakfast room, a glass construction at the front of the hotel, with black armchairs and purple napery. From the buffet I secured bowls of melon, of pineapple and of Corn Flakes, slices of apple tart and of crusty bread, croissants and plates of bacon, tomatoes and mushrooms. And to my table were brought pots of coffee, dishes of ice cubes, glasses of fresh orange juice and, as always, my concluding cappuccini. Thus did my days start well.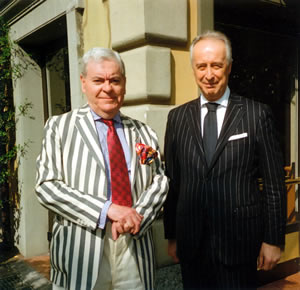 And one of them started even better, when I spied an old friend. The photograph shows me with him. He is the new General Manager of the Carlton Baglioni, Eugenio Rigo. I have known Mr Rigo for some years. He is a gentleman of great charm and impeccable taste. It was good to see him again, and it is good to know that the Carlton Baglioni is in such good hands.
The hotel has a dining room (also on the ground floor) which is highly regarded by local diners. Intriguingly, the restaurant Il Baretto was designed to suggest "an English clubhouse of the early 1900s". Over its fireplace is a map of London. Its décor is based upon the partnering of dark brown and dark green and there is much polished wood. Its armchairs are upholstered in leather. It sounds intimate and comfortable – 'clubby', in fact – and such it is. The restaurant is run by Lincenzo Lagaria and Ermano Taschero. Mr Lagaria, a suave and dapper gentleman, showed me to my table and caused the candle in the silver candlestick to be lit. In this atmosphere I expected traditional dishes, based on good ingredients and prepared with skill. And that is precisely what arrived.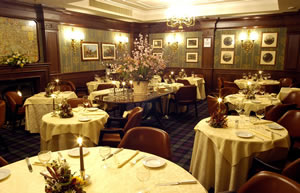 I therefore tucked in with gusto to culatello ham with melon, soft tagliatelle with asparagus and Taleggio cheese, really tasty lamb chops, with roast potatoes and peas, and a concluding tarte tatin with vanilla ice cream. Finger bowls were provided so that I could pick up the lamb bones, for I did not wish to leave any of the delicious meat. This was a most enjoyable dinner. (These four courses were 114 euros.)
There are 190 offerings on the wine list. Most are Italian, for which vintages are not given. Prices start at 36ε and go up to 750ε for 2001 Cheval Blanc and 800€ for Masseto. The following Tuscans caught my eye: Luce (160ε), Tignanello (120ε), Solaia (280ε), Ornellaia (280ε) and Sassicaia (300ε). For my own drinking, I tried one of the cheapest bottles of red – a typical chianti of bright fruit and decent structure (Chianti Peppoli, Antinori).
All of us who like elegance and style – not only in sartorial matters, but also in our whole lives – cannot help being drawn to Milan. And when we go there, it is good to know that the city has an hotel which embodies the elegant and stylish spirit of the Milanese. That hotel is The Carlton Baglioni.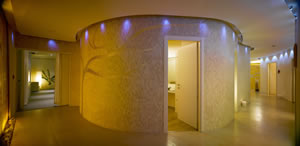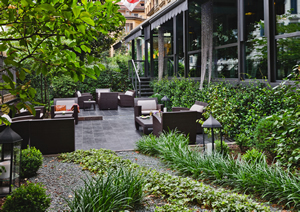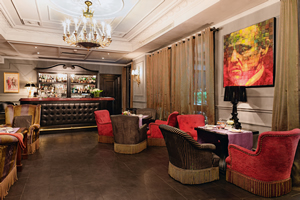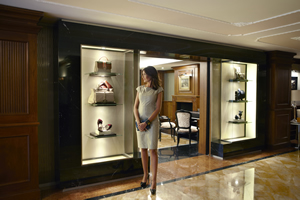 ---
ADDRESSES
CARLTON HOTEL BAGLIONI
Via Senato 5, Milan 20121, Italy.
Telephone +39 02 77077
Fax +39 02 783 300
Email: reservations.carltonmilano@baglionihotels.com
www.baglionihotels.com
Check the hotel website for the room rates for specific dates