Italy
SICILY
TAORMINA
CASA GRUGNO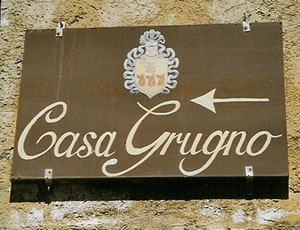 The best restaurant in Taormina is exactly where it should be: just a hop, skip and jump from the Duomo. So, having done your duties – whether religious or aesthetic – at the Cathedral, you will not be tired by your walk to the Ristorante. It must be noted, however, that this dining room is open only for dinner, so any prior Mass attendance will need to be at an evening celebration. Then you can walk down a few ancient steps, turn a corner and find yourself outside the handsome 16th century pile which is the Casa Grugno.
Taormina, perched high above the sea and with gorgeous views of Mount Etna, is full of substantial stone buildings. This one might well have been built for the Grugno family – hence the name of the restaurant. From the outside, the Renaissance windows and gothic portals impart that effortless sense of history one finds everywhere in Sicily. Inside, I expected to find traditional comfort and traditional food. I was in for a surprise.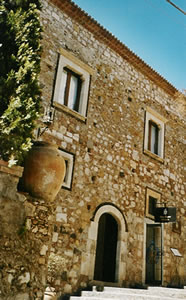 First, there was the décor. Someone has clearly had some fun with this place. Yellow is here, there and everywhere, including over the tables. And there is some clever trompe-l'œil: curtains of plaster, painted in coloured stripes, swooped down the wall behind my chair. They and I were reflected in mirrored walls. Because of these clever conceits, the small room (which seats only 36) appears open and spacious. Spotlights heighten the effect, and won my approval on this particular evening by making my diamond cuff-links sparkle. I judged this a good environment for eating.
And the eating was the second part of my surprise. Chef Andreas Zangerl is from Austria. His kitchen uses Sicilian ingredients and Sicilian recipes, but in a modern manner. This means that his technique is precise and disciplined and his presentation is visually very appealing. You will find no piles of food here; instead, you will receive dishes which are as good to look at as they are to eat. And that is very good indeed. Mr Zangerl has a Michelin star and he thoroughly deserves it.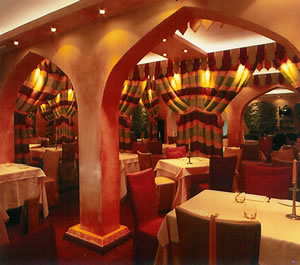 I began with an amuse-bouche of tuna tartare with asparagus – a dazzling opening shot, superbly done and wonderfully refreshing. Then it was more tuna, in a terrine with grilled peppers and mackerel – subtle and delicious. Tortelli stuffed with aubergine and ricotta looked beautiful on the plate, although I judged that it should have been served with more of the accompanying (and very well made) tomato coulis. My main course was loin of lamb, in a crust of black olives, with aubergine and couscous. This was tasty meat, pink and tender, beautifully balanced by the other ingredients. I concluded with a selection of desserts, from which I should mention the memorable parfait of chocolate and liquorice. (These courses cost around 80 euros. A 'surprise' of 7 courses is available for the same price, and two 5 course set menus can be had for 60 and 70 euros.)
Service from maitre d' Stefano Lo Giudice was courteous and attentive. My fellow diners appeared to be enjoying themselves, and the relaxed and friendly atmosphere of the room owed much, I think, to Stefano's professionalism.
Sommelier Giuseppe Privetera presides over a cellar with around 250 offerings. Many are in the 20 euros to 30 euros range. The non-Italian bottles, although small in number, offer a tempting selection – with 1994 Chateau Musar at 60 euros, 2000 Opus One at 300 euros and 1989 Vega Sicila Unico at 300 euros. But you will probably want to drink Italian wine here, particularly given the attractive prices. The 2000 Tignanello, a fine vintage of this famous super-Tuscan, is a modest 80 euros, and the always reliable Planeta wines from Sicily are represented by the 2004 chardonnay at 42 euros and the 2002 merlot at 35 euros.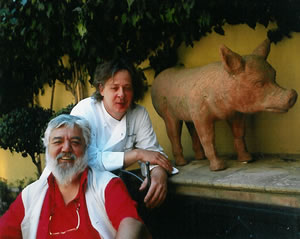 My two bottles – poured into decent glasses, made by Spiegelau and by Oberglas – were both Sicilian. From the Insolia grape, my white was robustly structured, with melon, vanilla and some nuttiness (Riflessi di Sole, Avide, 2002 – 30 euros). The red – from Nero d'Avola and Perricone grapes – was still tannic, coloured deep purple and laden with blackcurrant (Rosso del Conte, Tasca d'Almerita, 2001 – 40 euros).
After dinner, I headed back towards the Cathedral and the adjacent corso Umberto, thinking all would be quiet and deserted. Thus came my final surprise. For this main street of Taormina was packed with young people. Had I been in England, this would have caused me some alarm. But this was Sicily, and these young people were simply parading up and down, and doing it very well. No threatening behaviour, no loutish antics – just lots of decent young folk, enjoying each other's company.
I returned to my hotel, happy to have had my faith in human nature a little restored and happy to have eaten at the best restaurant in Taormina, the Casa Grugno.
---