UNITED KINGDOM
ENGLAND
SOMERSET
BATH
CASANIS BISTRO-RESTAURANT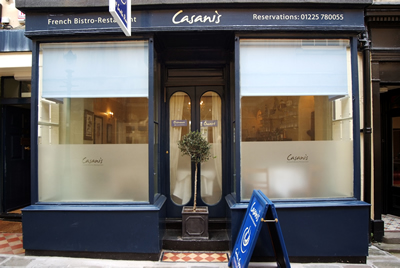 In a Georgian terrace near the Assembly Rooms in Bath is a little piece of provincial France. Casanis is a small restaurant with a big heart. Its attitude to food can be summed up thus: find the finest fresh ingredients, handle them with respect, turn them into simple, robust French dishes and serve them in generous portions. The approach has won Casanis many friends. And now I am one of them. For my meal here reminded me of why, decades ago, I so enjoyed my wanderings in the Gallic lands and of how exciting it was to find a simple restaurant in a modest town which would provide me with dish after dish of wonderful food.
Casanis – pronounced 'ca-za-neece' – is a brand of pastis from Marseille. I forgot to ask why the name was chosen, but I am sure Chef Laurent Couvreur and his wife Jill Couvreur had their reasons. Mr Couvreur worked with Jacques Chibois at the Gray d'Albion in Cannes (when the restaurant had two Michelin stars), and then cooked in New York, finally serving as Head Chef at The Ritz Club in London before opening Casanis. Mrs Couvreur, who runs the front-of-house, has on her own CV the professions of film-maker and saxophonist. Amidst the Provencal antiques which decorate the two floors of the restaurant, there is a great deal of talent.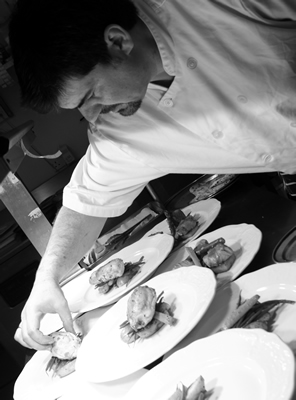 The lighting is discreet, with various bits of crystal twinkling here and there. Over the linen tablecloths are white paper cloths. The floors are boarded. I feared that the 'rustic' chairs might defeat my ailing back, but some of the many cushions which were about the place came to my aid and I managed to perch at the table in the window in a satisfactory manner. I did not like the canned music – this was in the evening, for I was having dinner – which was some sort of cacophonous 'pop'. I said to Mrs Couvreur: "Surely, we should have Edith Piaf or Charles Trenet!" A moment later the dulcet tones of the great chanteur were tripping from the loudspeakers, in his version of La Mer. That, I think, qualifies as good service. It certainly pleased me.
And so did Mr Couvreur's food. I began with one of the day's specials: asparagus, Parma ham and a poached egg, with a mild garlic dressing and shavings of Parmesan. This, of course, was a simple, classic dish. But the point was that each element of it was supremely good. It was therefore absolutely delicious. Then my second starter brought more lovely textures and carefully balanced tastes. This crisp parcel of goat's cheese was served very well indeed by the other items on the plate – pickled mushrooms and a sweet wine dressing.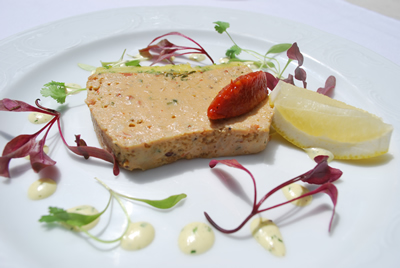 Since I was (spiritually, at least) in France, I thought my main course should be the French national dish – steak-frites. This was as good a version as I have encountered. The sirloin of beef was wonderfully tasty. The fried potatoes – made in the kitchen, of course – reminded me of why I cannot cure myself of my passion for home-made chips. And the green beans, the portobello mushrooms, the shallots and the herb butter were all exactly as they should have been. Every mouthful was a treat, of the naughty (and therefore best) kind. After this I needed a pudding to cleanse my palate, and the super iced nougat glacé with candied fruit and nuts was exactly right. (These four courses were £48.)
The wine list is very brief – just 31 offerings – but there are some well-chosen bottles. Prices run from £18∙50 for the house red and white (vins de pays Gascoigne) to £169 for the 2004 vintage of Dom Pérignon. Other offerings include a Petit Chablis (Domaine Colombier) for £36∙50 and a 2007 Margaux (Château Martinens) for £48∙50. I can heartily recommend the organic red from Languedoc-Roussillon which I tried (Domaine de-Prés Lasses, 2007 - £43∙50). Its carignan grapes yielded in the nose enticing perfume and in the mouth rich streams of spice and chocolate.
The little piece of provincial France which is Casanis is a delight. If you are going to Bath, do try it.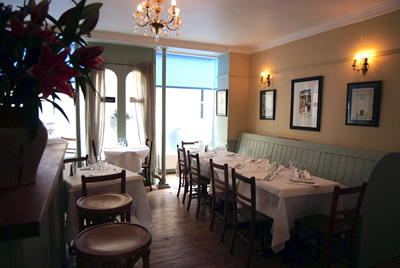 ---