Italy
MILAN
CHIC 'N QUICK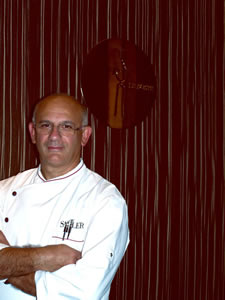 Although I yield to no-one in my love for the world's grandest restaurants, it is still true that – every so often – I like to make a point of visiting a dining room in which the food, the service and the surroundings are simpler than those offered by les temples gastronomique. On such occasions, I always investigate to see whether one of the great establishments has a modest offspring, for one can be fairly sure that the high standards of the progenitor will be maintained by the progeny. 'Like father, like son' might be the appropriate tag. I was therefore pleased to learn that one of my favourite Italian chefs, Claudio Sadler, had opened a trattoria moderna right next door to his famous eponymous restaurant in Milan. The original (see separate review) has two Michelin stars. I went along eagerly to sample Chic 'N Quick.
The via Ascanio Sforza is in that part of Milan which has many canals. It is now very popular with those who are both young and fashionable. (Around this city, of course, everyone is the latter.) In Italy – unlike, sadly, the case too often in dear old Blighty nowadays – the presence of many young people is a delight, for they are well-dressed and well-mannered. To have them about goes some way to restore my faith in human nature. Chic 'N Quick is certainly an ideal place for youthful diners, for it is informal and yet also stylish. The room is long and lit by many spotlights – the latter being excellent for making the diamonds in one's cuff-links sparkle. The chairs are white and the floor, of slate, is dark. The waiters – mine was the excellent Matteo Sciatà – wear brown shirts and black aprons. The glassware, by Spiegelau and Zafferano, is of good quality. As soon as the affable Restaurant Manager, Francesco Palumbo, showed me to my table, I felt the evening would go well.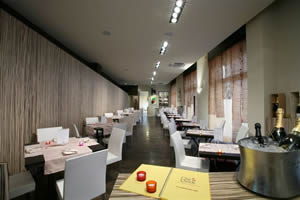 And go well it did. I have mentioned the good glasses. These are important, for this trattoria has a wine list with 400 offerings (most of which are Italian). You can drink very well here. But it is even better than that. You can drink very well here and take advantage of some very keen prices. A bottle of the famous Tuscan red, Tignanello (in its 2005 vintage)? Only 55 euros. And the brilliant Luce (2004)? Just 85 euros. Here are some of the other super-Tuscans: 2000 Sassicaia (125ε), 2001 Ornellaia (120ε) and 2001 Solaia (120ε). Even Mr Gaja's 1999 Barbaresco is only a relatively modest 170 euros. I do salute Claudio Sadler for this pricing policy: it will encourage the patrons of Chic 'N Quick to develop discerning palates.
My own drinking was absolutely splendid. Both my bottles were from the ever reliable Antinori stable, and both were thoroughbreds. My white was from Umbria and was possessed of a delightfully complex marriage of yeastiness and citrus (Cervaro della Sala, 2006 - 42ε), and my red was joyfully accessible, boldly structured and almost exploding with ripe black fruit (Bolgheri Superiore, Guado al Tasso, 2000 - 60ε).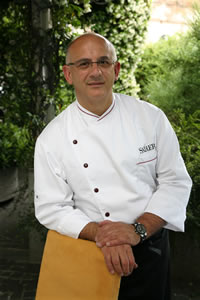 The food here, as you would expect, is much simpler than that offered next door. It is based upon the application of straightforward culinary techniques to the very finest ingredients. The results were clearly yielding much pleasure to the assembled diners, and they did to me. Carpaccio of Piedmontese beef, with crunchy celery and Salva cheese, came with an intriguing hint of truffle in the sauce. Served on a square glass plate, this was attractive to the eye and satisfying to eat. My next course came with a less usual presentation. Indeed, I had to ask my waiter what was in front of me. It turned out to be a cotton sack. Within was first class gnocchi with buffalo mozzarella and tomatoes. Delicious.
Shank of roasted lamb proved to be a superb piece of meat, which yielded suggestions of the thyme and the Vermentino white wine which had been used in its cooking. It came with sautéed potatoes and onions. It would have been even better with a little jus to add moisture, I thought. Six plated cheeses then appeared, including two brilliant Gorganzolas – one like a mature Stilton, the other like a ripe Brie. Tip-top. I finished with a bright and cleansing orange salad, with citrus sorbet and limoncello foam. (These five courses were 64 euros.) I left a happy man.
Chic 'N Quick seats 45 and is open for lunch and dinner from Tuesday to Saturday. This means that 450 men (and women) a week can eat here. I predict that they will all be happy, too. Mr Sadler, by opening his trattoria moderna, has done everyone who wishes to eat well in Milan a considerable service.
---
ADDRESSES
CHIC 'N QUICK
Via Ascanio Sforza 77, Milan 20141, Italy.
Telephone +39 02 89 503222
Fax +39 02 5811 2343
Email: sadler@sadler.it
www.sadler.it
Open for lunch and dinner
Closed: Sunday and Monday