United Kingdom
ENGLAND
BERKSHIRE
CLIVEDEN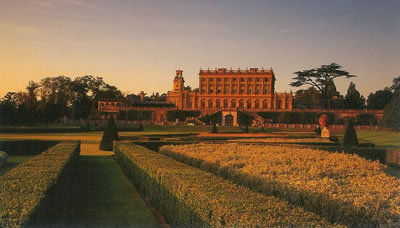 England's most famous country house hotel inhabits a property which was built for a Duke, gave tea to a Queen and played a decisive role in the major political scandal of the 1960s. Cliveden, indeed, is no ordinary place. The second Duke of Buckingham had the original Cliveden House built in 1666 as a hunting lodge and as somewhere for a bit of fun with his mistress. Queen Victoria liked to sail along the Thames from Windsor to Cliveden and pause to enjoy a pot of darjeeling with her neighbours, before returning to her castle. And by Cliveden's swimming pool, John Profumo, Member of Parliament and Secretary of State for War, first set eyes upon the pretty young woman who would be the cause of his downfall – Christine Keeler.
After a fire in 1850, the house was rebuilt by Sir Charles Barry, architect of the Houses of Parliament. His version of an Italianate palace is remarkably handsome. As I turned the Silver Cloud onto the long gravel drive which leads to the entrance, the exterior's classical symmetry appeared both impressive and welcoming.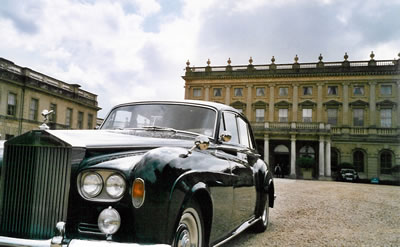 (You will note from the picture that the Royce looked at ease at Cliveden.) I manœuvred the old dear into a place between an Aston Martin and a Bentley and strode into the hotel through the porte-cochère. I was in the Great Hall – a long chamber of dark panelling and fine portraits. My eye was drawn at once to the large painting to the left of the 16th century fireplace. There was Nancy Astor, in the masterpiece created by John Singer Sargent. Having been given the house as a wedding present on the occasion of her marriage in 1905 to Waldorf Astor, she established Cliveden as one of the great political salons and entertained here the likes of President Roosevelt and Winston Churchill.
Now it was my turn to be entertained, so I settled into an armchair by Mrs Astor's likeness and had the waiter bring to me a pot of lapsang and a plate of fruit tartlets. (I am very partial to fruit tartlets, and these were exceptionally good.) I had some pleasing company. Monsieur Frederic Bedeau is the hotel's Food and Beverage Manager. He comes from Paris and is interested in motor cars – so, after the last tartlet, we went outside and I showed him the Royce.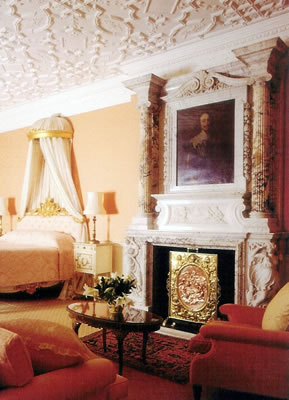 Then it was upstairs to my room. I liked the look of the monumental grand staircase (which leads to the first floor), but discretion won the day and I sailed up from the ground floor to the second floor in the little lift.
All the apartments have names. Mine was 'Blakeney' – a reference to Sir Peter Blakeney, The Scarlet Pimpernel, the fictional rescuer of French aristocrats from the guillotine, created by Baroness Orczy. This was a Partere Suite and therefore £960 a night. Why 'partere'? Well, you avid gardeners will know that a partere is a level area with flower beds. Cliveden has one of the loveliest parteres in Europe. It is vast, and must take up a goodly number of the Cliveden Estate's 376 acres (which are owned and administered by the National Trust). Beyond it and on a lower level, the River Thames meanders curvaceously into the distance. And all this I could survey from the two windows of my bed-sitting room. If the English countryside offers a lovelier view, I know it not.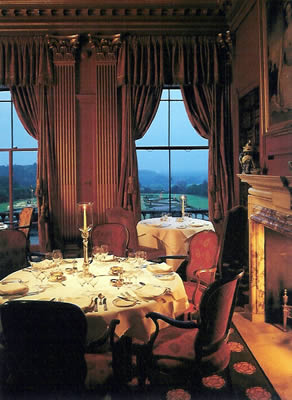 This room I judged to be about 20 feet by 18 feet. Its high ceiling, marble fireplace and white striped wallpaper made it feel spacious and well proportioned. With its fawn carpet on the floor, floral curtains at the windows, 18th century engravings on the walls and pieces of decent mahogany furniture, it was exactly the sort of room I would hope for as a guest in a private country house – which I regard as high praise. The reading matter on offer maintained the atmosphere, and included The Complete Book of Show Jumping, edited by Michael Clayton and William Steinkraus.
Lucky I would be, however, to find a guest room in a private house with so splendid a bathroom. Something about performing my ablutions in a really big bathroom makes me feel profoundly good about myself. (A psychiatrist would probably tell me that it boosts my 'self-esteem'.) Here, surrounded by soft white towels (each nearly six feet in length) and comforted by the presence of Floris toiletries and the clock upon the wall, I shaved and bathed and felt that Cliveden was most definitely my sort of place.
Dinner confirmed that feeling, for it was in a room of warm colours and Classical proportions. This was The Terrace Dining Room. (Cliveden has a smaller restaurant with a Michelin star, Waldo's, but this was closed on the days of my visit.) Originally the drawing room of the house, this lofty space – with its fluted pilasters, marble fireplaces, oil paintings and crystal chandeliers – makes an impressive setting for the tasty and carefully prepared food of Chef Daniel Galmiche.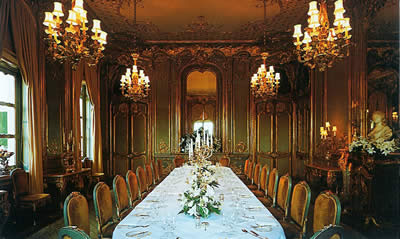 I settled myself at a corner table and noted, with approval, the white table linen, the Spiegelau glassware and the smart tailcoats of the waiting staff. (Throughout the hotel, I found members of staff friendly, courteous and efficient. They are a credit to the hotel's manager, Tim Pettifer.) £55 buys three courses at dinner, to which is added a £4 donation to the National Trust. Monsieur Galmiche's cuisine is described as 'modern classic French', and I am happy to assent to that description.
I began with marinated red mullet on top of a warm tomato tart, with a basil sabayon. Each element of this dish was prepared with precision and the combination and balance of the tastes and textures were first class. A triumphant start, in fact. Next, praline of foie gras, with pistachio and hazelnut, was served with smoked duck breast and a red cabbage salad – an interesting ensemble. My main course was canon of lamb, roasted with fresh liquorice and presented with ratatouille. This was wonderfully flavoursome meat – although, fuddy-duddy that I am, I would have preferred it on a round plate rather than on the oddly shaped piece of porcelain which was put in front of me. Then came a brilliant finale: a hot almond soufflé, with bitter chocolate crisp, apricot sauce and dark chocolate sorbet. Delicious.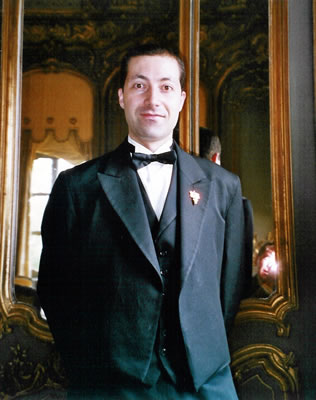 Head sommelier Arnaud Goubet (pictured) comes from Normandy. He presides over his cellar with charming expertise. In price, its 700 offerings run from £22 (for a white from the Savoie) to £4,500 (for the 1993 Romanée-Conti). France, as you would expect, dominates and impresses. Not many places nowadays can offer the finest clarets from the great 1959 vintage, but here you can choose between Latour, Margaux and Cheval Blanc (at £2,850, £2,575 and £2,200, respectively). But there are also many interesting bottles from the rest of the world. It is good, for example, to see 40 dry whites from Germany and Austria. Here are some of the other gems which caught my eye: from Italy, 1998 Ornellaia (£211); from Spain, 1989 Vega Sicilia Unico (£338); from California, 1995 Harlan Estate cabernet (£600); and from Australia, 1982 Penfolds Grange (£490). And those who like half bottles will not feel neglected – with the 1947 Latour at £677.
My own drinking took me to Austria for my whites and to Australia for my red. The dry Grüner Veltliner was elegant and full of sherbet, with a solid structure (Ried Lamm, Weingut Schloss Gobelsburg, 2005 - £29, half). With the foie gras, I went for another Grüner Veltliner, this time a sweet beerenauslese, which – although perhaps rather one-dimensional – proved an effective partner for the liver (Freie Weingärten Wachau, Dürnstein - £29, half). For my red, I asked Monsieur Goubet to recommend something from the New World with lots of ripe fruit and with the residual sweetness to which I am addicted. His choice was spot on: the brilliant 2004 Glaetzer, Bishop (£59), from the Barossa Valley – a massive paean of praise to the damson. Glorious. Monsieur Goubet is, clearly, a man who can be trusted.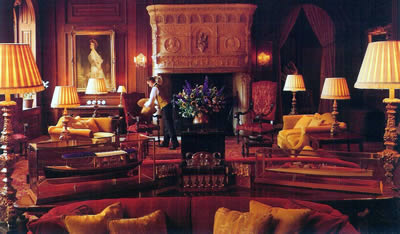 The following morning I was back at The Terrace for breakfast. The delicate early light, streaming in through the tall windows, had softened the room's formality. From plates of white and yellow (by Spode), I tucked into delicious smoked haddock and hot, buttered toast (brought from the kitchen). Then I went to the buffet and secured croissants, slices of seed cake and a dish of pineapple and raspberries – all of the highest quality.
Thus fortified, I regretted that it was time to depart. As the Royce carried me in its stately fashion down the drive, I remembered that the house I was leaving had been the site of the first performance of Thomas Arne's patriotic song, 'Rule Britannia'. With an establishment of this grandeur and importance, we can be proud that – in terms of country house hotels – Britain does, indeed, 'rule the waves'.
---
ADDRESSES
CLIVEDEN
Taplow, Berkshire SL6 0JF, England.
Telephone +44 (0)1628 668561
Fax +44 (0)1628 661837
Email: reservations@clivedenhouse.co.uk
www.clivedenhouse.co.uk
Double rooms from £265, including breakfast
Set lunch at The Terrace: £29.50