ITALY
SORRENTO
SANT 'AGATA SUI DUE GOLFI
DON ALFONSO 1890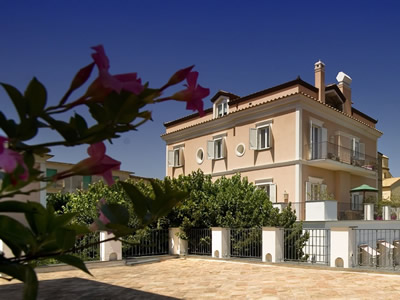 There is only one thing better than having dinner at Don Alfonso 1890 – and that is having dinner and then retiring to one of its charming bedrooms for the night. For the same care and attention which has gone into creating perhaps the most famous restaurant in Italy has also gone into creating a 'boutique' hotel for its discerning and sophisticated guests. I have just been among their number, and can report – if I might be permitted to change a little the famous saying of Julian of Norwich – "all was well, and all manner of things were well". This should not surprise anyone, for Don Alfonso 1890 is one of the most influential establishments in Italy. Many chefs of the better sort have learnt in its kitchens, and any chef who has done so will be versed in those disciplines of hard work and absolute dedication which are so evident at this gastronomic shrine (with two Michelin stars) in the heart of the Sorrento peninsular.
The origins go back to 1890, when Alfonso Iaccarino founded his modest hotel and dining room. But the current premises were opened in 1973 by Alfonso's grandson, another Alfonso, and his wife Livia. Now the team also includes their sons, Ernesto Iaccarino (in the kitchen) and Mario Iaccarino (in the front of house). This is a proper family business.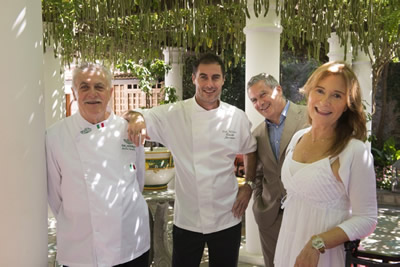 My taxi having brought me from Sorrento, I was soon within the handsome 19th century villa, an edifice in the Neapolitan style full of the cheerful tones of lilac, yellow, orange and pink. Pink was much in evidence, certainly, in the Verbena Suite on the first floor, for the glazed floor tiles were of my favourite colour. The sofa in the L-shaped sitting room was pink, too. Next to it were flowery easy chairs and an oval window with opaque glass. Throughout this apartment mirrors increased the sense of space and elegance. In the bathroom – as well as the usual wash basin, tub, separate shower, loo, bidet and good toiletries (by Lorenzo Villoresi of Florence) – were more eye-catching tiles and a crystal chandelier. The chandelier in the large bedroom was more startling: made, I think, from driftwood and having the appearance of a work of art at Tate Modern. Good modern oil paintings were on the walls and on the floor was a thick rug – in pink, of course.
In both the bedroom and the sitting room were French windows, opening onto my substantial 'wrap-around' terrace, where I could sit to admire the view over the pretty garden and out to the distant hills. Truly, this was comfortable and aesthetically pleasing accommodation, made all the more appealing – as is the whole hotel – by pieces from the family's collection of 18th and 19th Century furniture.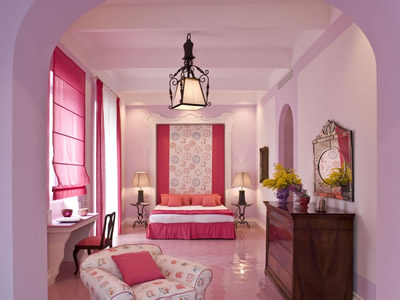 I was full of anticipation when I went downstairs and was shown into a dining room as bright as bright could be, and to a comfortable armchair at a table with crisp white napery and Riedel glassware. More good oil paintings were on the walls, an ancient stone fireplace imparted its dignity and an open window afforded a view of the many chefs at work in the kitchen. True, there was canned music (of which I am not a fan), but it was discreet and did not really detract from the atmosphere of easy elegance. Waiters in black aprons lifted silver domes as my fellow diners – many of them, particularly the ladies, beautifully dressed – smiled and conversed.
The cooking is marked by innovation, but the innovation is based on sound tradition, and all – including much of the produce used in the kitchen – is tied to the local land. The menu offers two set meals, the six course 'Tradition' at 150€ and the seven course 'Tasting' at 170€. From the carte, antipasta dishes are 36€, first course dishes are 34€, second courses dishes are 45€ and puddings are 26€. Cheese is 26€, sorbet is 16€ and ice cream is 16€. The menu notes the year in which each dish was created.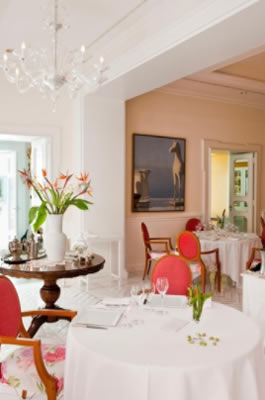 I began with a trumpet blast for 'terroir': a kaleidoscope of tastes and textures described as a 'Mediterranean dumpling'. This was like a raviolo, filled with organic vegetables from Don Alfonso's own farm, with the delightful conceit of ginger-flavoured red bean ice cream. This remarkable combination worked wonderfully well. Then I returned to traditional fare, with a charming version of cannelloni. But it was the main course which set my pulse racing. I am a serious fan of roasted lamb, and here it was magnificent. For my palate, there is scarcely another dish which can compete with the best roast lamb. And at Don Alfonso, as you would expect, it was the best – tender and full ravishing lusciousness, and set off well by a mince of herbs and an aioli emulsion. By this time I was beginning to feel that I had had enough, but I could not resists some wild strawberries. The wild strawberry is a delicacy I seem able to eat no matter how full I might be. The examples here were impressive.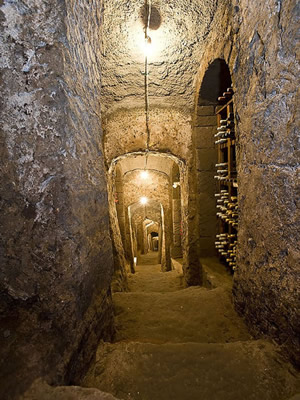 The cellar at Don Alfonso is renowned not only for the wine in its 25,000 bottles, but also for its pre-Roman architecture. Within this Etruscan tunnel are to be found some of the very best wines from Italy and from France. Prices start at 45€ (for a Moscato d'Asti and various other offerings) and go up to 22,000€ – for a magnum of 1988 Romanée-Conti. A sense of its splendour might be conveyed if I list the clarets available from the great 1982 vintage: Latour (4,500€), Haut Brion (1,800€), Cheval Blanc (3,000€), Margaux (3,000€), Lafite (3,000€), Mouton-Rothschild (3,200€) and Pétrus (12,000€). Super-Tuscans include 1987 Masseto (1,500€), 1988 Sassicaia (1,800€) and 1988 Solaia (1,400€). My favourite sparkling wine from Italy, the franciacorta Anna Maria Clementi, Ca' del Bosco, in its 2005 vintage, is 170€. My own drinking included the 2011 Montevetrano (110€), a blend of merlot, cabernet sauvignon and aglianico made near Salerno. Its firm tannins and depth of black fruit were ideal for the lamb. This is a wine with a great future.
I pondered whether to breakfast in the garden, but the sun was too fierce for me, so I returned to the sheltered indoors, where the excellent waiter, Cirò, looked after me with kind efficiency. There was no buffet – how I enjoy writing that! – so he brought to my table breads, brioche, jams, cheeses, orange juice and hams, all of the very highest quality, and the kitchen cooked specially for me a tip-top version of mushrooms on toast. And I could not resist another dish of those wild strawberries. This was a most enjoyable start to my day.
I left Don Alfonso 1890 full of pleasure at having partaken of its manifold delights: elegance, colour, friendliness, creativity, delicious food, fine wine, careful service, luxurious accommodation and that real sense of commitment to the local land and its abundant bounty. As the taxi trundled along, I felt tempted to break into the Te Deum - for God deserves to be praised for such a wonderful place.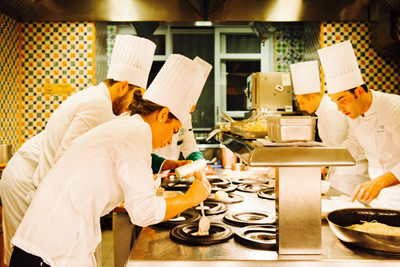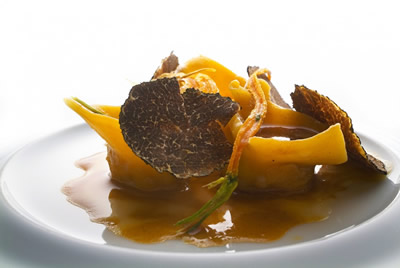 ---
ADDRESSES
DON ALFONSO 1890
Corso Sant 'Agata 11/13, 80064 Sant 'Agata Sui Due Golfi, Naples, Italy.
Telephone +39 081 878 00 26
Fax +39 081 533 02 26
Email: info@donalfonso.com
www.donalfonso.com
Closed: November 3 – March 24 Monday and Tuesday
Open for Tuesday lunch: 15 June – 15 September
Double rooms, including breakfast, from 500€