ITALY
SORRENTO
SANT 'AGATA SUI DUE GOLFI
DON ALFONSO 1890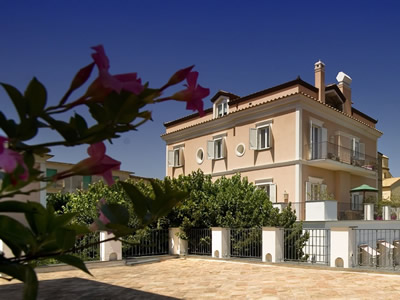 If you are going to the Sorrentine Peninsular, you simply have to go to Don Alfonso 1890. This is not because it is one of the most famous restaurants in the whole of Italy – although it most certainly is. Nor is it because anyone who is anyone has been there, or is planning to go there – although that, too, is undoubtedly true. No, the reason you must go, dear reader, is that it is so very, very good. In fact, I can think of only one thing better than having dinner at Don Alfonso 1890 – and that is having dinner and then retiring to one of its charming bedrooms for the night. For the same care and attention which has gone into creating the immaculate dining room has also gone into creating a 'boutique' hotel for its discerning and sophisticated guests. And it is not only such guests who make the pilgrimage to Sant 'Agata Sui Due Golfi. Legions of chefs of the better sort have learnt in its kitchens, and any chef who has done so will be versed in those disciplines of hard work and absolute dedication which are so evident at this gastronomic shrine with two Michelin stars.
The origins go back to 1890, when Alfonso Iaccarino founded his modest hotel and eatery. The current premises were opened in 1973 by Alfonso's grandson, another Alfonso, and his wife Livia. Now the team also includes their sons, Ernesto Iaccarino (in the kitchen) and Mario Iaccarino (in the front of house). This is a proper family business.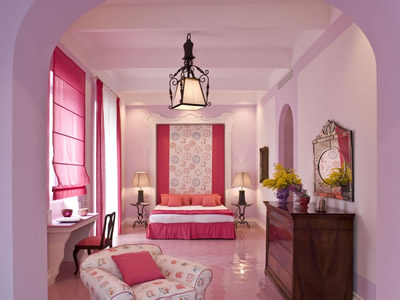 The car having brought me from Sorrento, I was soon within the handsome 19th century villa, an edifice in the Neapolitan style full of the cheerful tones of yellow, orange and pink. My bedroom – 'Rosmarino', on the second floor – was a welcoming chamber of lilac and green, with white glazed tiles on the floor. Spotlights shone down from the ceiling, oil paintings of musicians adorned the walls and an antique cabinet (from the family's collection of 18th and 19th Century furniture) nestled in the corner. There was plenty of space for the two armchairs. A French window opened on to my little balcony. A sliding door in the hallway led to the bathroom, with its proper bath tub, separate shower, two wash basins, loo and bidet. This was a comfortable billet.
I was full of anticipation when I went downstairs and was shown into a dining room as bright as bright could be, and to a comfortable armchair at a table with crisp white napery and Riedel glassware. More good oil paintings were on the walls, an ancient stone fireplace imparted its dignity and an open window afforded a view of the many chefs at work in the kitchen. The atmosphere was one of easy elegance. Waiters in black aprons lifted silver domes as my fellow diners – many of whom, particularly the ladies, were dressed beautifully – smiled and conversed.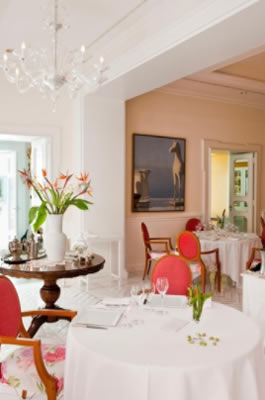 The cooking is marked by innovation, but the innovation is based on sound tradition, and all – including much of the produce used in the kitchen – is tied to the local land. The menu offers two set meals, the six course 'Tradition' at 155€ and the seven course 'Tasting' at 180€. From the carte, antipasta dishes are 38€, first course dishes are 36€, second courses dishes are 46€ and puddings are 28€. Cheese is 26€, sorbet is 16€ and ice cream is 16€. The menu notes the year in which each dish was created.
My meal was wonderful, and one of its four courses can only be described as magnificent. I began with spring vegetables from the establishment's own organic garden, set off by horseradish cream. This was a dazzling display of colour on the plate and was a most satisfying combination of tastes and textures in the mouth. Then it was fresh pasta, filled with red snapper and served with a spiced pumpkin broth and carrot sauce flavoured with ginger – a model of sensuous delicacy. My meat course was the star, for these lamb chops with Mediterranean herb mince and aioli were so tender and so delicious that I could not bear to leave the tiniest morsel of meat on the bones, and therefore had to pick up the little masterpieces. Of course, finger bowls were quickly produced, so that my digits could be restored to decency. I ended with a charming confection of orange, pistachio, buffalo ricotta and liquorice.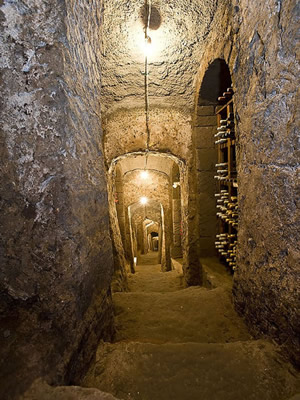 The cellar at Don Alfonso is renowned not only for the wine in its 25,000 bottles, but also for its pre-Roman architecture. Within this Etruscan tunnel are to be found some of the very best wines from Italy and from France. Prices start at 45€ (for a 2018 Greco di Tufo and many other offerings) and go up to 22,000€ – for a magnum of 1988 Romanée-Conti. A sense of its splendour might be conveyed if I list the clarets available from the great 1982 vintage: Latour (4,500€), Cheval Blanc (3,000€), Margaux (3,500€), Lafite (3,000€), Mouton-Rothschild (3,200€) and Pétrus (13,000€). What a memorable horizontal tasting could be had from those bottles. Super-Tuscans include 2014 Masseto (900€), 1998 Ornellaia (500€), 1997 Tignanello (300€) and 2015 Luce (200€). My own drinking included a fine local red, recommended by the knowledgeable Sommelier, Maurizio Cerio, of dry, intense black fruit (Aglianico Kapnios, Masseria Frattasi, 2015 – 125€).
I pondered whether to breakfast in the garden, but there was a chill in the air, so I returned to the sheltered indoors, where the excellent waiter, Antonio, looked after me with kind efficiency. There was no buffet, an absence which always lifts my spirits, so he brought to my table breads, brioche, jams, honey, orange juice, hams and buffalo ricotta cheese, all of the very highest quality. The kitchen cooked for me poached eggs, bacon and tomatoes. This was a lovely start to my day before I continued my Italian tour.
I hope by now that you will have some idea why I insist that, if you are going to the Sorrentine Penninsular, you must go to Don Alfonso 1890. No respectable traveller should be denied its manifold delights: elegance, colour, friendliness, creativity, delicious food, fine wine, careful service, comfortable accommodation and a real sense of commitment to the local land and its bounty. Go once, and you will be determined to return.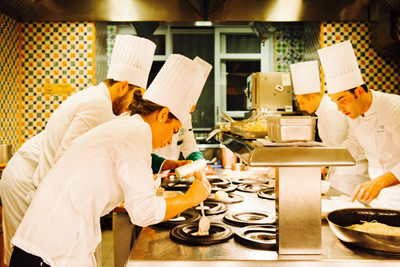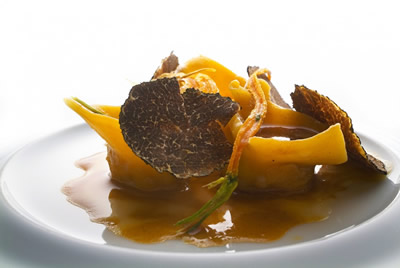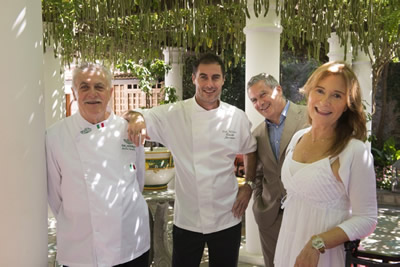 ---