ITALY
SORRENTO
SANT 'AGATA SUI DUE GOLFI
DON ALFONSO 1890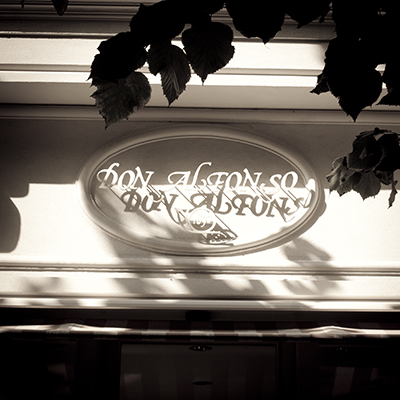 Don Alfonso 1890 is one of the most influential restaurants in Italy. Many chefs of the better sort have learnt in its kitchens, and any chef who has done so will be versed in those disciplines of hard work and absolute dedication which are so evident in the famous establishment in the heart of the Sorrento peninsular. Now Don Alfonso includes not only a restaurant, but also an hotel of the 'boutique' sort, a cooking school, a consultancy and a farm. The origins go back to 1890, when Alfonso Iaccarino founded his modest hotel and dining room. The current premises were opened in 1973 by Alfonso's grandson, another Alfonso, and his wife Livia. Now the team also includes their sons, Ernesto Iaccarino (in the kitchen) and Mario Iaccarino (in the front of house). Truly, this is a family business.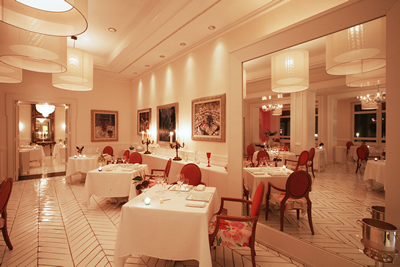 My taxi dropped me off for dinner a little early, so I meandered over to look at the nearby church. Sant 'Agata sui due Golfi is a busy little town, and its main church has a large and impressive façade. Sadly, it was open. I therefore feel obliged to warn those of an aesthetic sensibility that its interior has been ravaged by ecclesiastical modernism. I scuttled back as quickly as my elderly legs would carry me to the altogether warmer embrace of Don Alfonso, to be looked after with kindly solicitude by Maitre d' Paolo Gargiulo and Sommelier Maurizio Cerio.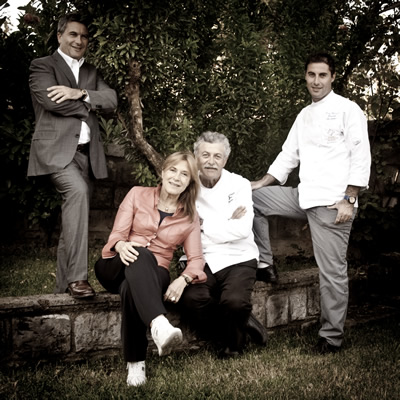 I was soon within the handsome 19th century villa, an edifice in the Neapolitan style, and surrounded by its cheerful colours of lilac, yellow, orange and pink. This might be regarded reverentially as a gastronomic shrine – above which a pair of Michelin stars twinkle – but it is a jolly one. I was shown into a dining room as bright as bright could be, and to a comfortable armchair at a table with crisp white napery and Riedel glassware. Good oil paintings hung on the walls, an ancient stone fireplace imparted its dignity and an open window afforded a view of the many chefs at work in the kitchen. True, there was canned music (of which I am not a fan), but it was muted and did not really detract from the atmosphere of easy elegance. Waiters in black uniforms lifted silver domes as my fellow diners – many of them, particularly the ladies, beautifully dressed – smiled and conversed.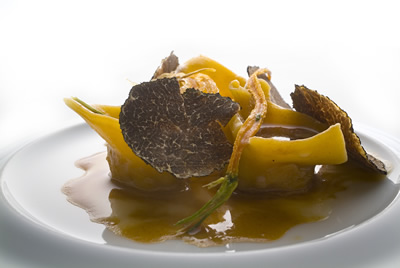 The cooking is marked by innovation, but the innovation is based on sound tradition, and all – including much of the produce used in the kitchen – is tied to the local land. The menu offers two set meals, the six course 'Tradition' at 145€ and the eight course 'Tasting' at 170€. From the carte, antipasta dishes are 36€, first course dishes are 34€, second courses dishes are 45€ and puddings are 26€. Cheese is 26€, sorbet is 16€ and ice cream is 16€. The menu notes the year in which each dish was created.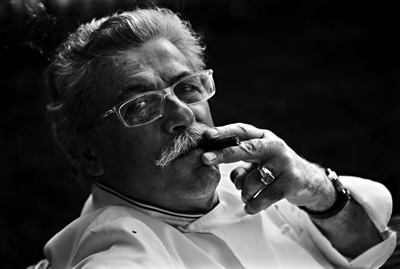 I began with a trumpet blast for 'terroir': organic vegetables (cooked 'al dente') from Don Alfonso's own farm, with the delightful conceit of horseradish ice cream. This was my first experience of horseradish ice cream. I hope it will not be my last. Cappelli pasta filled with 'over-cooked' free-range chicken, with onion sauce, Parmigiano cheese and black truffle was both delicate and delightful in its textures and its tastes. Deep fried lobster with orange sauce was a near-perfect wedding of shellfish and fruit. A flour and water gnoccho was perhaps slightly over-powered by its smoked scamorza for my palate, but I am not the greatest fan of smoked cheese. But I am a serious fan of roasted lamb, and here it was magnificent, tender and full ravishing lusciousness, and set off well by a mince of herbs and an aioli emulsion. Of my puddings, I loved the spiced honey ice cream which came with the pastiera soufflé (pastiera is a traditional Neapolitan cake), and I positively purred with pleasure at the brilliance of the rich and satisfying rum baba.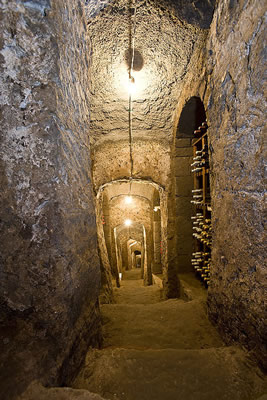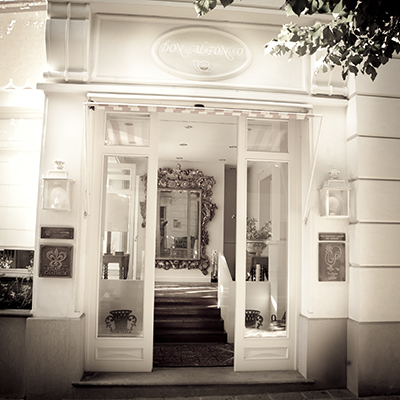 The cellar at Don Alfonso is renowned not only for the wine in its 25,000 bottles, but also for its pre-Roman architecture. Within this Etruscan tunnel are to be found some of the very best wines from Italy and from France. Prices go up to 14,000€ – for 1971 Romanée-Conti. A sense of its splendour might be conveyed if I list the clarets available from the great 1982 vintage: Haut Brion (1,800€), Cheval Blanc (3,000€), Margaux (3,000€), Lafite (3,000€), Mouton-Rothschild (3,200€) and Pétrus (12,000€). My own drinking included a lovely 2009 Taurasi with a firm structure, good tannins and a gorgeous depth of black fruit (Poliphemo, Luigi Tecce – 90€).
I left Don Alfonso 1890 full of pleasure at having partaken of its manifold delights: elegance, colour, friendliness, creativity, delicious food, fine wine, careful service and that real sense of commitment to the local land and its abundant bounty. Thank goodness Don Alfonso 1890 is one of the most influential restaurants in Italy.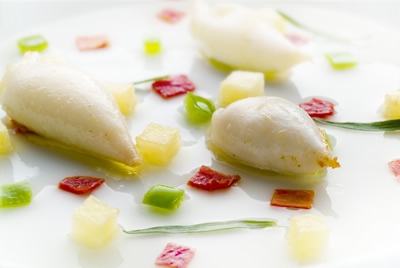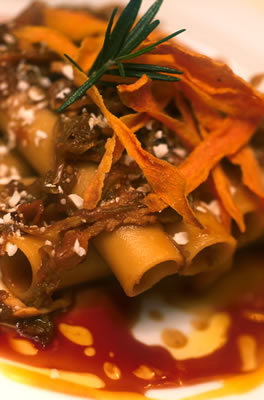 ---
ADDRESSES
DON ALFONSO 1890
Corso Sant 'Agata 11/13, 80064 Sant 'Agata Sui Due Golfi, Naples, Italy.
Telephone +39 081 878 00 26
Fax +39 081 533 02 26
Email: info@donalfonso.com
www.donalfonso.com
Closed: November 3 – March 24 Monday and Tuesday
Open for Tuesday lunch: 15 June – 15 September