United Kingdom
ESSEX
DOWN HALL COUNTRY HOUSE HOTEL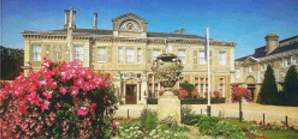 Concrete is an ugly word and its use has given us many ugly buildings. But I have just seen a different side of concrete's character. I have been to Down Hall Country House Hotel.
Close to Bishop's Stortford (and therefore an easy forty-minute trundle north-eastwards from London on the M11) is the pleasing village of Hatfield Heath. The Royce and I turned through an imposing gateway and meandered down a long drive. And there it was: one of the first examples in Britain of building with poured concrete. What a surprise… For what stood before us was not a high-rise slab, but a graceful Italianate mansion of the 1870s. If you did not know about the concrete, I would be surprised if you were to notice the Hall's claim to architectural fame – for everything about the exterior appears decent and seemly.
Inside, the public rooms and staircases are spacious and really quite grand. You will, however, need to get over the initial impression of a riot of reproductions (not only the furniture, but also the paintings on the walls). But you will find the effort worthwhile, for Down Hall offers comfort, friendly and attentive service and some seriously good food.
Up the wide staircase in the main house (there is a large, but sympathetically designed modern wing), I found room 102. Classified as a 'feature room', this was priced at £210 a night for two, breakfast extra (although you should ask about the special offers available). It took a moment to adjust to its bold patterns of yellow, black, red and pink, but I soon came to appreciate this handsome chamber. I particularly liked the three windows overlooking the lawns, the pond and the urns of the Hall's formal gardens. The lighting (4 table lamps and a spotlight) was decent, the space (enough for a sofa and a wing chair) was pleasing, the bed (a four-poster) was comfortable and the level of equipment (a safe is provided) was satisfactory. Only the bathroom let down the side a little, being small and tired.
I went down for tea, and settled myself in a wing chair next to a white marble fireplace. Here (for £11.75) I happily consumed the full version of England's afternoon diversion. Sandwiches with smoked salmon, egg and cress and cheese and chive, scones, fruitcake and a meringue in the form of a swan – all washed down with a pot of Earl Grey. A pleasing start to my eating at the Hall – and a sign that the Executive Chef, Chris Wheelden, is well able to maintain good standards.
There was more evidence of his expertise in the Downham restaurant. In this bright and cheerful room, with its light blue colours, crystal wall lights and French-style chairs, I ate both breakfast and lunch. The former included some excellent, old-fashioned sausages from the buffet, and – something I must mention – the provision of a most efficient machine for toasting bread, with a sort of conveyor belt mechanism. The latter comprised a straightforward duck salad, slices of good roast sirloin of beef – carved on the trolley by Simone Leardi, a smiling waiter from Milan – and a pretty, delicate mousse of champagne and wild berries. (£30 for three courses.)
At the hotel's other restaurant, Ibbetson's (named after a previous owner of the Hall), I zoomed up several steps of the gastronomic ladder. Past a fine 18th century long-case clock in the entrance hall (this time a genuine piece, by George Strigel of London), along a corridor, through a bar area and I was in a small, low room. This is the domain of chef David Faulkner. And an elegant domain it is, with Doric columns, red carpet, French windows and armchairs in a vaguely Biedermeier style. You sense immediately that a real effort is being made here. The glasses are Riedel; napkins are replaced if you venture from your table; and the young waitresses are discreet and efficient. (I liked the atmosphere here and in the Downham Restaurant. Gavin Wyeth – pronounced Wyatt – manages both.)
Chef Faulkner is a young and charming man from New Zealand. He is also talented. With my first course I noticed his liking for robust flavours. Indeed, I felt that the smoked pork belly slightly overpowered the pan seared sea scallops, with which it shared my plate. I ventured to suggest that a better balance might be achieved with un-smoked pork, but Mr Faulkner stuck to his guns. We had no disagreement, however, about the next course. Hot foie gras with apple is always a winning combination. This had the appearance of a slice through an enormous sausage, and was accompanied with crunchy pieces of fried bread and a 'sultana and mombaziac coulis'. (I take it this was monbazillac.) Beautifully conceived and finely executed, this was a ravishing mixture of tastes and textures, a rich and lovely triumph – certainly a Michelin one-star dish. Lamb fillet was tasty and pink and came with goat's cheese and roasted pumpkin purée. And a poached pear came with cinnamon syrup and raspberry coulis. A thoroughly enjoyable meal. (£56.75 for these four courses from the carte.)
Modest in length, but well-chosen, the wine list runs from a Chilean chardonnay at £16.50 to 1978 Latour at £320, with many bottles between in the £30-£50 price range. It is always good to see German eiswein on offer – here it is a half of Silvaner, Erich Bender, at £43. Each wine is described briefly and (to judge from my drinking) accurately. My New Zealand chardonnay (Vidal Estate Reserve, Hawkes Bay, 2000 - £32.50) was, indeed, "lime-citrus – oaky vanilla finish"; and my Argentinian blend of cabernet, merlot and shiraz (Dedicado, Finca Flichman, Mendoza, 1999 - £34) was truly possessed of a "long, sweet, toasty finish". It also had an earthy nose and was oozing damsons and alcohol. Fine drinking.
Thus this concrete hotel in Essex: an architectural curiosity where you will find helpful service and some excellent food.
---
ADDRESSES
DOWN HALL COUNTRY HOUSE HOTEL
Hatfield Heath, Bishop's Stortford, Essex CM22 7AS, England.
Telephone +44 (0)1279 731441
Fax +44 (0)1279 730416
Email: sales@downhall.co.uk
www.downhall.co.uk
Double rooms from £175. Ask about special offers.