United Kingdom
LONDON
DUKES HOTEL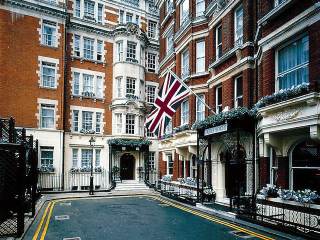 London is full of surprises. Even jaded old duffers like your correspondent, who pretend we know all there is to know about the city's more salubrious parts, are occasionally astonished by a new discovery. Thus it was with the Dukes Hotel.
As this particular hostelry first opened its doors in 1908, is it not rather fanciful to suppose it can be 'discovered'? But what do those lovely folk called estate agents keep chanting at us? Location, location, location. For the Dukes Hotel is so cleverly tucked away that few will ever stumble upon it unintentionally. It is in a courtyard, off a side street, off St James's Street. It is thus only a few steps from the bustle of Piccadilly. Yet it is in another world – a world of quiet, exclusive repose. This sense of other-worldliness is reinforced when you notice that the courtyard is still lit by its Edwardian gas lamps.
Whether it has always been so calm, I rather doubt. For this is the courtyard which, in the 17th century, led to the home of Barbara Villiers, Duchess of Cleveland. (Dear Barbara was one of the mistresses of Charles II and had a jolly old time, bearing her royal lover three sons. The King made each of them Dukes, thus providing our hotel with its name.) I managed to squeeze the Royce into this tiny space, but be warned that double yellow lines are all about – so motors can only be here for arriving and departing.
Walking into the entrance was a most pleasant experience, for the furnishings are sober and comfortable and the attendants are friendly and helpful. The mahogany long-case clock struck four o'clock. I could have been in a good country hotel. And what does one do at four o'clock in a country hotel? Have tea, of course. So off I went to the cosy drawing room, settled myself on a soft sofa in an alcove beneath a print of two hunting hounds (entitled 'In Reserve'), and tucked into toasted crumpets, scones with clotted cream, cucumber sandwiches, a slice of fruit cake and a chocolate éclair – all washed down with a pot of Darjeeling. (This was the set tea at £14.50, good value for nowadays in central London.)
Thus fortified, I allowed the lift to take me to the fifth floor and room 502. My chamber was classified as 'deluxe' and therefore priced at £260 a night for two, breakfast extra. Its size was modest (just large enough to accommodate a two-seater sofa), but the trees of Green Park could be glimpsed through the surrounding roofs and chimney pots and it possessed those features we expect of first class hotels – air conditioning, a private safe and a marble-clad bathroom. Three table lamps and five spotlights lit the cream and blue bedroom. Framed engravings of 18th century French persons about their courting and pieces of polished mahogany (a coffee table, a small writing desk and the doors of the fitted wardrobe) added to the civilized air. And I must commend two excellent features: the beds, which were supremely comfortable; and the bath tub, which was wonderfully long.
Back downstairs, two contrasting centres of pleasure were available. In the ground floor bar, a clubby and attractive cocoon of dark wood and leather, head barman Gilberto Preti stood ready to prepare one of his cognacs (some from the 18th century) or a glass of his famous dry Martini. In the basement the Dukes Health Club offered cosseting of a different kind. I will leave it to you, dear reader, to fathom which I chose…
Now it was time for dinner. The dining room is open only for residents and for private parties. With its light colours, white tablecloths and absence of canned music, it is a relaxing environment for eating. Chef Steve Robinson's food is straightforward in its preparation and presentation. I chose four courses from the carte: warm artichoke salad, foie gras, beef and pear and almond flan. The meat was easily the star – a tasty and tender piece of fillet on an excellent potato cake with a rich madeira sauce. (Expect to pay between £30 and £40 for three courses.) The wine list comprises a couple of dozen whites and the same number of reds, with most prices in the £20 to £50 range. However, those of you who like to spend on great clarets from good vintages will be interested in this trio: 1970 Lafite (£300), 1966 Margaux (£340) and 1966 La Mission Haut Brion (£370). My own drinking was less exalted, but still enjoyable. A 1999 Australian chardonnay was creamy, with hints of smoke and vanilla (Coonawarra, Riddoch Estate - £26) and a 1996 Californian zinfandel was smooth and fruity (BV Coastal, Beaulieu Vineyards - £22). I reckoned both bottles good value.
As I ate my poached haddock the following morning (brought to my table in the dining room, for – I am happy to report – there is no buffet arrangement for breakfast), I felt at ease with the world. The Dukes Hotel is modest, charming and – given its wonderful position – something of a bargain. London offers few surprises more sweet.
---