United Kingdom
ENGLAND
LONDON
DURRANTS HOTEL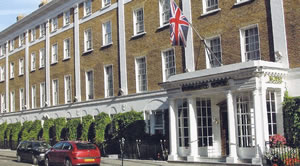 I used to love the market towns of England. As a young fellow, I would borrow the paternal Rover (first a '75', then a '100' – both P4s) and trundle in stately fashion around the lesser roads of our land to these quiet centres of decency. I rejoiced in their architecture – mediaeval Gothic for the parish church and Georgian, Victorian and Edwardian for the other buildings, domestic and civic. But, best of all, I delighted in their hotels. Sober, stoutly-furnished places they were, which looked to my tender eye as if they would remain unchanged for a hundred years. Thus was I guilty of the naïvety of youth. Very soon they were taken over by the 'chains' and the heart and character of one after another was ripped out with ruthless zeal – their dark, panelled restaurants turned into bright 'all-day bistros' with silly names. Fruitless is the search now for one of these hotels which has not been ruined. Yet wait. I have found one. And, mirabile dictu, it is not in a market town, but right in the centre of London. It is Durrants Hotel.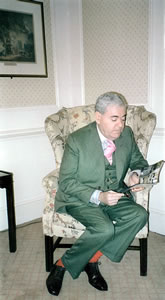 Its location is good: next door to a masterpiece of the 19th century Gothic Revival (the Church of St James, Spanish Place), round the corner from the interesting shops of Marylebone High Street, opposite one of the capital's most prestigious picture galleries (the Wallace Collection) and ten minutes by foot from the Plutocrats' Paradise (Bond Street). Remarkably, it also has one or two parking spaces for guests in its garage. I therefore took the Royce to the courtyard at the back of the building. The young porter who assisted as I manœuvred the old dear into what was a very tight space was still good-natured at the end of this forty-minute exercise, which I took as a tribute both to him and to the man who commands the hotel's excellent staff, General Manager Ian McIntosh. I, however, was exhausted, and went to one of the small, cosy sitting rooms on the ground floor to seek recovery over a pot of tea. I present to you a picture of myself, finding that recovery.
Then it was up in the lift to the third floor, and along a meandering corridor to room 319. The higgledy-piggledy nature of the corridors is one of the charms of the establishment – which opened, as all places like this should have done, in the 18th century (in 1790). During this progress, I noticed a door (locked), bearing an ancient plaque with the word 'Bathroom' – another reminder of former times, before the ubiquity of 'en-suite' arrangements.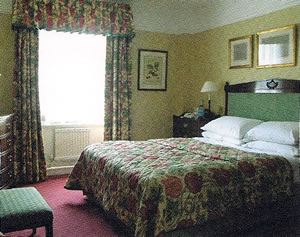 I opened the door into my billet and stepped back decades. The size of my room was modest, but adequate. In the corner was a freestanding Edwardian mahogany sideboard. The wallpaper was beige and striped; the carpet was fitted and pink; and on the wall between the two windows were the framed arms of 'Baron Sydney of Chesilhurst in Kent'. A writing table, a chest of drawers, a small television receiver, four table lamps and two upholstered chairs completed the ensemble. In my bathroom, lined with beige marble tiles, was a wash basin, a loo and a tub of usable size. Given the hotel's location, I thought this standard twin room, of unashamedly traditional character, was good value at £285 a night, bed and breakfast for two. With x-ray vision, I could have looked across the street, through the back wall of the Wallace Collection and straight at that famous example of painted portraiture, The Laughing Cavalier, by Frans Hals. I found this thought oddly pleasing.
Breakfast and Sunday lunch are the two meals at which the hotels of my memory always excelled. I tried both at Durrants, and both were excellent. They were had in the restaurant, called The Grill Room. This chamber lived up to my expectations: with polished panelling, 17th century portraits, banquettes in dark green leather, white damask napery, friendly waitresses and two maitre d's – Jose Puentes and Luis Barbero. (Both these gentlemen are from Spain; both have worked here for many years; both dress smartly in black tie; and both know how to offer proper, old-fashioned service.)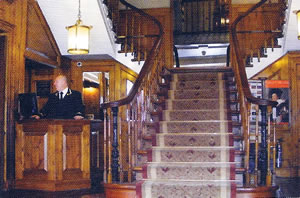 I am pleased to report that there is no buffet at breakfast (£17.50). Instead, I was looked after with exceptional care by a smiling young fellow, Takeshi Sasaki from Japan. I was thus able to sit back while my order was brought to the table. Soon I was tucking into fresh orange juice, porridge, hot coffee, smoked haddock with mushrooms (which attracted a £3.00 supplement), croissants, and brown toast with top quality, bitter marmalade from Galloway Lodge. And lunch was equally enjoyable. After a bit of Mozart next door (at St James's), I had a decent appetite. I did justice, I think, to smoked salmon with sourdough toast, slices of tasty roast beef (some rare, some well-done) from the domed silver trolley, with carrots, green beans and roasted potatoes, and the concluding scoops of orange and vanilla ice cream (£31.45).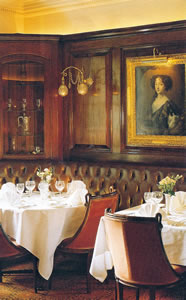 For these meals I sat at the corner table, next to the window into George Street. Its number is five, and I commend it to you. I returned to it in the evening. The dinner menu offered straightforward, attractive dishes – which turned out to be properly prepared and carefully presented. My first plate brought three large scallops, which had been accurately seared and which successfully combined with tomato confit and slices of crisp bacon. Then came a handsome portion of chicken liver and foie gras terrine – bold of flavour – with toasted brioche. My meat course was fillet steak, properly pink, with Béarnaise sauce, new potatoes and truly excellent carrots. As seemed appropriate, I ended with an indulgent treacle tart with vanilla ice cream. (These four courses were £49.00.)
The wine list has 120 bottles and 40 halves. Prices range from £22.50 for a 2005 AC Bordeaux to £685 for Lafite from the great 1982 vintage. Other clarets to catch my eye were 1982 Mouton Rothschild (£590), 1982 Haut Brion (£350), 1985 Palmer (£175) and 1986 Latour (£235). Non-French wines include Italy's 2001 Tignanello (£100) and New Zealand's 2005 Kumeu River chardonnay (£47). I tried several halves, and would direct your attention to two from Chile by the Santa Rita winery – a sauvignon blanc, with a gorgeous, grassy nose and lots of bright sherbet (2006 - £12, half), and a cabernet sauvignon, with dense, ripe black fruit and firm tannins (2006 - £12, half).
Durrants Hotel has been run since 1921 by the Miller family. It is one of the last privately-owned hotels in London. To those of us who used to love the hotels we found in the market towns of England, it offers an experience of former times, when the world seemed a less uniform, more interesting place. To younger folk, it offers relief from the bland homogeneity or downright vulgarity of so many modern hostelries. Long may it prosper.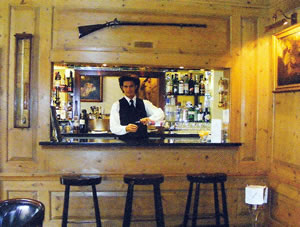 ---
ADDRESSES
DURRANTS HOTEL
26-32 George Street, London W1H 5BJ, England.
Telephone +44 (0)207 935 8131
Fax +44 (0)207 487 3510
Email: enquiries@durrantshotel.co.uk
www.durrantshotel.co.uk
Double rooms from £250, breakfast extra
Check for special offers