Switzerland
ASCONA, LAKE MAGGIORE
HOTEL EDEN ROC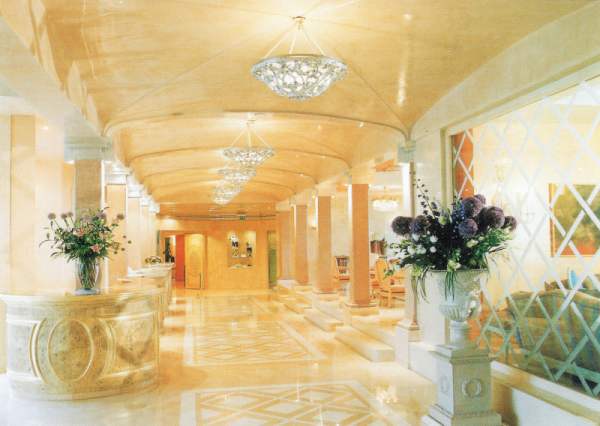 The Eden Roc is the sort of hotel from which I am tempted never to move. Which means, of course, that it has a ravishing setting, excellent accommodation, superlative levels of service, and food and drink of a high order.
Ascona is right at the top of Lake Maggiore. Its large neighbour, Locarno, is not of great interest, but Ascona itself is exquisite: a jewel box of art galleries and designer shops, sliding down a gentle hill towards the waters. And, this being Switzerland, everything is neat and immaculately clean. The Eden Roc is at one end of the village and, with its gardens running up to the edge of the Lake, is totally private. From the outside it looks rather like a block of flats from the 1960s. But, as I eased the hire car through the gates and up the short drive, the presence of sculptures lining my route hinted at something much grander.
And there it was, within. The public rooms at the Eden Roc cannot fail to lift the spirits of even the most tired of travellers. (And, having flown to the wrong airport – and therefore having had to endure the rush-hour traffic jams of Milan's ring road – this traveller was, indeed, both tired and grumpy.) Through the far windows was the lake and its surrounding mountains; gleaming marble, modern works of art and painted trompe l'oeil effects were all around; elegant furniture was carefully arranged; and – best of all, in hotel terms – there were members of staff everywhere. Nothing cheers me up more than the sense of having lots and lots of well-trained folk ready to cater to my every whim. The rest of my stay confirmed this initial impression. Daniel Ziegler, the Eden Roc's Managing Director (pictured below) – who seemed to be everywhere, at all times – clearly heads an efficient and highly motivated team.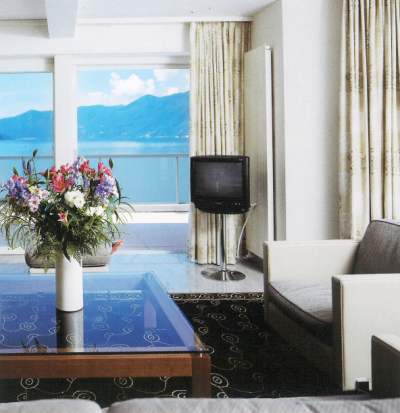 Apartment 162 (630 to 840 Swiss francs per night for two, including breakfast, according to season) was a suite of spotless white surfaces and sharp, clean lines. With the grey of its carpets and the brown of its fitted woodwork, it oozed modern sophistication. As the mood took me, here I could sprawl on the suede leather sofa in my sitting room or sit at my demi-lune desk in my office. Or I could wander out onto my L-shaped terrace, with its view over the lake, and listen to the birdsong. Of other sounds there was a most pleasing absence. After such tranquillity, it was time for the pre-prandial bath. In the bathroom were further evidences of care and attention: numerous well-placed shelves and bath towels 6 feet 6 inches in length. And so to dinner.
Two dining rooms are on offer, and I tried them both. Each has its own chef, which means that they are not only separate but also distinct. I began at La Brezza, with the 'light Mediterranean' cuisine of chef Rolf Krapf.
Theatrical entrances are, I believe, good for the soul. So it was a spiritual tonic to sweep through the two giant silver candlesticks which guard the entrance to this attractive room. The evening being clement, assistant maitre d' Giovanni Ferraris – who displayed much courtesy throughout the evening – took me out to a table on the terrace. Below was the swimming pool, surrounded by lawns and palm trees. Around were affluent, tanned guests. They clearly enjoyed themselves. As did I, particularly in the consumption of two super dishes. First, a quail breast with creamed spinach, summer truffles and a poached quail egg. Fine in conception and execution, this was well-balanced and possessed of clear flavours and contrasting textures. Excellent. And so was my pasta – spaghetti with tuna, herbs and sweet peppers – which also benefited from a lovely, painterly presentation. Courses three and four were perhaps more ordinary – fillet of venison with mushrooms and a chocolate terrine with strawberries. Prices here are determined on the straightforward basis of the number of courses: from 52 Swiss francs for 2 courses to 100 francs for 6 courses.
Sommelier Luca Tidone poured into the good quality glasses (a mixture of Schott and Spiegelau) a toasty, full-bodied white from Lombardy (Ca del Bosco, Erbusco, 2001 – 119 Swiss francs) and a Sardinian red, full of the aromas of a sinking oak barge (Terre Brune Carignano del Sulcis Superiore, Cagliari, 1996 – 110 Swiss francs). He recommended these fine bottles from a list which is shared with the Restaurant Eden Roc.
Here I encountered the kitchen of chef Heinz Wenger, which is more French in its approach. The weather's clemency having receded, this time I was indoors. But I endured no penance, for this is another handsome chamber. Under its silvered ceiling, to the sound of the pianist tinkling Tea for Two and La vie en rose, waiters in white jackets set upon my beige tablecloth some super dishes. And none was more super than the first – quite the best beef carpaccio ever to enter my mouth. Served with truffles and parmesan leaves and given a few spots of truffle oil at the table, this meat was so tender and so full of flavour that I was quite taken aback. But my poise returned for the veal-knuckle ravioli and then for the splendid main course, carefully cooked fillets of pork, beef and veal with, respectively, mushroom, red wine and béarnaise sauces. Feeling by this time thoroughly traditional, I ended with marvellous Crèpes Suzette, expertly prepared before me by assistant maitre d' Corrado Pellegrini. (Allow about 120 Swiss francs for 4 courses from the carte.)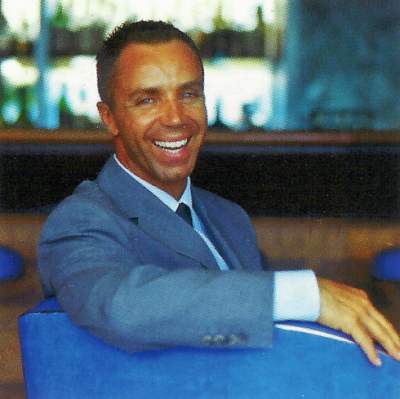 Most of the cellar's 300 offerings are from Italy and France (with some tempting clarets, like 1988 Latour [550 francs] and 1985 Margaux [700 francs]), but the rest of the world does get its foot into the door – so that you can drink the 1998 Pahlmeyer merlot from the Napa valley (275 francs) or the 1986 Vega Sicilia Unico from Spain (650 francs).
Following sommelier Sergio Bassi's advice, I stuck to Italy and drank very well indeed, with a big, buttery chardonnay from Piedmont (Piodilei, Pio Cesare, Alba, 2000 – 83 francs) and a decanted cabernet/merlot from Lombardy, which gradually began to yield a farmyard nose (Maurizio Zanella Rosso del Sebno, 1996 – 125 francs).
This restaurant and its terrace are also the settings for breakfast, another occasion at which I found the attentions of the numerous members of staff highly impressive. Indeed, it was at my final breakfast that it occurred to me that I ought to stay on here for a few weeks, or a few months, or a few years… The Eden Roc really is that good.
---