ITALY
FLORENCE
ENOTECA PINCHIORRI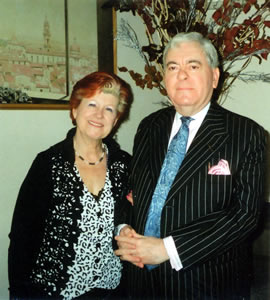 There is a dining room in Florence which reflects the Florentine craving for perfection so brilliantly that every gourmet worthy of the name longs to eat at its tables. It is famous and it deserves to be famous. It has given to me moments – indeed, whole evenings – of the purest pleasure. I always look forward to my visits with the keenest anticipation, and I can honestly say that not once in the years I have known it has it provided me with a scintilla of disappointment. It is an example of what humankind can achieve when intelligence, skill and dedication combine for the advancement of the culinary arts. It is, of course, the wonderful, the enchanting, the magnificent Enoteca Pinchorri.
Allow me to dwell on a little relevant history. The Enoteca Pinchiorri is located in the via Ghibellina, and this is a very significant street in the history of gastronomy. Here was the Benedictine convent of Le Murate, where Catherine de Medici, great-grand-daughter of Lorenzo, learnt to cook. When she married the Duke of Orléans (later Henry II of France), she took with her to the French court her chefs, her pastry cooks, her sommeliers and her family recipes. Thus was laid the foundation of great French cuisine. How appropriate, then, that at the Enoteca Pinchiorri one of the most talented of French chefs should come to Italy to apply the culinary techniques of France to the gastronomic culture of Tuscany.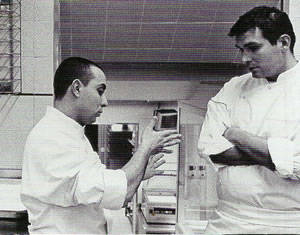 From Nice, her name is Annie Féolde. She is one of the most charming ladies ever to grace a restaurant, and I am delighted to be able to present to you a picture of her with your correspondent. She is also a splendid advertisement for haute couture, for I have never seen her dressed other than wonderfully. How can a chef be dressed wonderfully? Well, nowadays she is the creative force behind the food and the actual cooking is done by two exceptionally talented male chefs, Italo Bassi – on the right of the picture – and Riccardo Monco – on the left – and the fine pastry chef, Luca Lacalamita. Annie Féolde is thus able to spend time in the dining rooms, where she spreads happiness and good cheer to her guests and ensures that everything is exactly as it should be.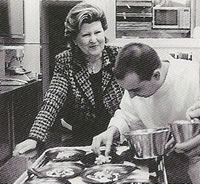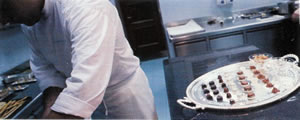 The establishment occupies the ground floor of an 18th century palazzo. As you would expect at a restaurant with three Michelin stars, the environment is a model of good taste and style. Tablecloths of the finest damask, gorgeous flower arrangements and some seriously desirable oil paintings create a setting which is both luxurious and welcoming. I certainly felt welcome as I was greeted by the delightful Maitre d'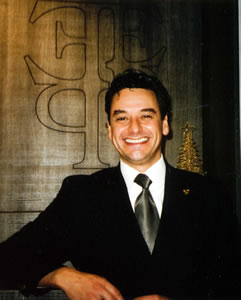 Alessandro Giagni (pictured) and taken past the statue of Apollo to my table. I was soon comfortably settled in one of the new grey armchairs, and happy that – of course – there was no canned music. In my battle to drive recorded music from dining rooms, it is astonishing how often I am told that restaurants must have this noise in the background. The very top places, such as the Enoteca Pinchiorri, consistently prove otherwise.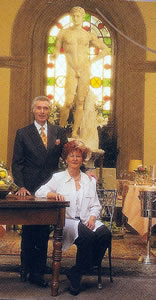 I was amused by the many items on the water menu. But my real interest was in the magnificent wine list. It is one of the most interesting you will ever see. If you have a couple of weeks to spare, you should study it. Giorgio Pinchiorri (the husband of Annie Féolde – my picture shows the two of them, next to Apollo) has built up a cellar full of liquid treasures. Of its 150,000 bottles, 50% are Italian, 40% are French and 10% are from the rest of the world. Ponder for a moment the legendary 1945 vintage in Bordeaux. Here you can choose from Pétrus (21,000ε), Mouton-Rothschild (18,000ε) and Lafite (9,500ε). These sorts of riches are repeated on page after page, although it is also possible to spend quite modest amounts on some of the carefully chosen cheaper wines. To my mind, the pinnacle comes with one of the pages of red burgundy. I always blink at the 17 bottles. These are not the usual bottles, but Methuselahs, each holding the equivalent of eight ordinary bottles. They include the most expensive bottle of wine I have ever encountered in a restaurant. On a tour of the cellar I have seen this legendary bottle. It is a Methuselah of 1985 Romanée-Conti and was the only Methuselah of Romanée-Conti made by the Domaine in that vintage. It is therefore irreplaceable. Years ago, when I made my first visit here, its price was 200,000€. When I enquired a year before this visit, it had risen to 700,000€. This time, I learnt that a gentleman, in an attempt to secure this ultimate prize in the world of wine, had offered for it over two million euros. The offer was politely declined. I think we can therefore conclude that the Methuselah of 1985 Romanée-Conti will remain safely in the cellar of the Enoteca Pinchiorri for the foreseeable future.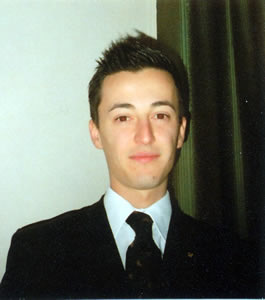 For my own imbibing, I placed myself in the hands of sommelier Andrea Salvatori, pictured. And I began with a shock. Annie Féolde was very anxious that I should try an unusual sparkling rosé discovered by her husband, and challenged me to identify it. It was very good indeed – bright, well-structured and with excellently balanced acidity. I could easily have taken it for a decent champagne. But no. It was, amazingly, a Lambrusco – made by the méthode champenoise, certainly, but entirely different from any Lambrusco I had ever tasted. How clever of Mr Pinchiorri to find it – and to buy the whole production, so that now the wine bears his name.
Mr Salvatori is a charming and friendly young fellow, and I was very happy to allow his knowledge and expertise to lead me to further good drinking. He suggested for my white another wine produced exclusively for the restaurant – a blend of chardonnay, trebbiano and gewurtztraminer (the last dominant, modified by the others) from Tuscany (Richiari, Poggio Scaletti, 2011 - 225€). This was very interesting indeed – both subtle and well-rounded – and was ideal for my first course. And then another Tuscan 'exclusive', this time red – the massive and magnificent 2009 Canperlaia (Argentiera di Bolgheri - 250€), bursting with ripe black fruit and yielding oodles of seductive residual sweetness.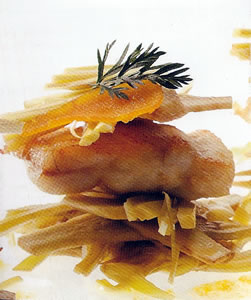 Thus we come to the food. Here I must make the confession I have made before. I love white truffles, especially those from Alba. And for those of us who are fungophiles there are few better places on earth during the white truffle's short season (from October to December) than the Enoteca Pinchiorri. Of course, the smelly dears are expensive – always. The prices of the restaurant's set meals – 200€ for 4 courses, 250€ for 8 courses and 250€ for 20 tasting courses – seem relatively modest when compared to those dishes which are blessed with the addition of the famous fungus. My own four course meal from the carte (with three of the dishes having truffle) came in at something over 300€. But this was a bargain in the light of the wonders it offered.
I began with with poached eggs, with anchovy butter, vegetables and white truffle, plus bread with apple cream on the side. This sounds fairly simple, so I must try to convey to you the brilliance of its execution. Here was subtlety, harmony and perfect balance on a plate. The combination shone a spotlight onto the truffle and the truffle responded by singing the song of the heavens. The deep colour of the yolks of the eggs was itself enough to make me weak at the knees. And my pasta course was equally brilliant. The potato tagliolini with Parmesan and, of course, more shavings of white truffle, was light, delicate, luscious, simple and thrillingly wonderful. Once again – for I have known the feeling before here – I began to feel that this food was almost too good to be true. But it was true; and each spoonful bore testimony to the Truth which results from the application of culinary genius to the bounty of the Earth. Then I returned to that earth (for one must not spend too long in the clouds) for an excellent, tender rack of lamb with mushrooms, onion fondue and crispy potatoes. And my finish took me back to the Truffle – this time, amusingly, with delicious ice cream.
Everyone knows that the Enoteca Pinchiorri is one of the best restaurants of the world. But it is more than that. It is a place of charm, friendliness and delight. To dine here is to have one's life enriched by a glimpse of the Divine. That is why I always long to return.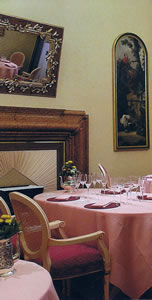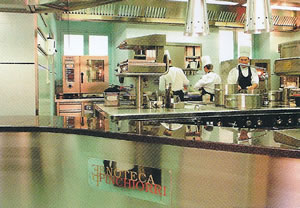 ---
ADDRESSES
ENOTECA PINCHIORRI
Via Ghibellina 87, 50122 Florence, Italy.
Telephone +39 055 242 777
Fax +39 055 244 983
Email: ristorante@enotecapinchiorri.com
www.enotecapinchiorri.com
Open for dinner only
Closed: Sunday and Monday