UNITED KINGDOM
NORTHERN IRELAND
BELFAST
EUROPA HOTEL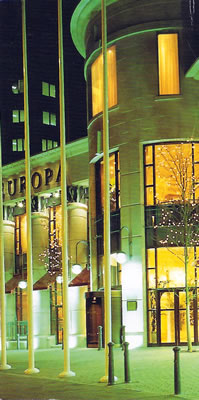 "It's the economy, stupid." Forgive me, dear reader, for introducing a vulgarism into these civilized pages. There is, however, method in my effrontery. If we substitute the word 'location' for 'economy', we have a pointer to perhaps the most important requirement for a city hotel. And there is a sharper relevance to my quotation. You will probably know that the speaker was William Jefferson Clinton, President of the United States. When he was doing sterling work in helping to bring peace to the troubled Province, he became the most famous guest of the hotel in Belfast I have myself now patronised. Its location is, indeed, exactly where it should be: in the centre of things, right next to the Grand Opera House and just round the corner from the vast and impressive City Hall. It is also the best known hotel in Northern Ireland: the Europa.
I am by nature a timid creature. I have therefore neglected Ulster for too long, put off by memories of 'the Troubles'. Now, thank goodness, they are firmly in the past. Indeed, the signs of this history are regarded today as tourist attractions. I was startled when the open-topped 'bus – on which I was enjoying a bracing introduction to the local sights – stopped outside my very own Europa Hotel – which, the guide informed us, had had seventy bombs planted within its walls, 37 of which had gone off.
The Europa, then, is a lady of some experience. She began her life as a tower block in the 1970s. Architecturally, that was not a good time to be born. But now she has an attractive new face, in the form of a large, post-Modern, classically-inspired entrance, complete with stone columns and sprouting capitals. Its handsome appearance and the jolly greeting from the splendid Concierge, Martin Mulholland (pictured), made me eager to see what was inside. And the entrance lobby is certainly impressive: light, spacious and elegant, with an open fire and some decent works of art. Hastings Hotels, which have owned the property since 1993 – under the chairmanship of Dr Billy Hastings (pictured) – have clearly spent a lot of money here.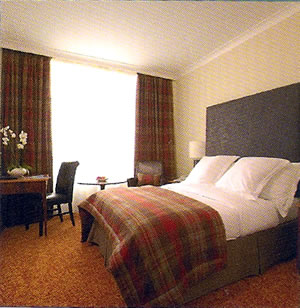 Soon I was up on the eighth floor in one of the hotel's 240 rooms. Number 832 is designated an 'executive double'. This was a rectangular apartment of warm colours (cream and burgundy), with sufficient space for two writing tables, an escritoire, a circular coffee table, two upright chairs and two easy chairs. The level of equipment was high. There was air-conditioning, of course, but also a flat-screen television (on which even I was able to find Radio Three for some classical music), a cd player, a personal safe and provisions for the making of tea and coffee. Within the fitted wardrobe were an iron and an ironing board – things which I always find in the USA, and which I like to find elsewhere. Over the good-sized tub in the grey marble bathroom was another item of which I approve: a clothes line. (I think I must have some strange devotion to the accoutrements of the wash-house.) Although of modest dimensions, the bathroom had a separate shower compartment. At £252 a night, bed and breakfast for two, I judged this bright, comfortable and quiet accommodation to be good value.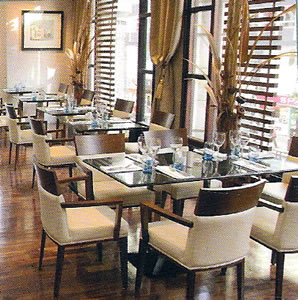 Indeed, I found good value to be a feature of the Europa. It was certainly there in the dining rooms. The hotel has two, and I tried them both. The Causerie (pictured) is on the ground floor, off the lobby, and describes itself as an all-day, contemporary bistro. Here, at granite-topped tables, beside plate glass windows and under a sky of spotlights (always good for bringing out the sparkle in your diamond cuff-links), I breakfasted each morning, securing from the buffet slices of water melon, ham, cheeses, mushrooms and good, old-fashioned sausages to give me a proper start to the day. I was pleased that the members of staff here – as throughout the hotel – were friendly and helpful. Indeed, they were a credit to the Europa's General Manager, James McGinn (pictured, with some of his colleagues).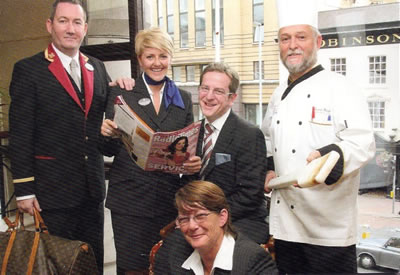 I also went to the Causerie for dinner, and was looked after very well by its Manager, Christopher Keenan. The menu and wine list are on one laminated card – not an arrangement for which I particularly care, although I suppose it has its advantages at busy periods. But I did care for Chef Kevin Osborne's food, which I found straightforward, properly prepared and full of taste. I tucked in with relish to really flavoursome chicken liver parfait with Cumberland jam and toasted brioche, a goat's cheese tartlet with apple chutney and mixed leaves, a sirloin steak with thick chips, super mushrooms and (at my special request) a Béarnaise sauce and a summer pudding with crème fraiche, looking pretty on a square glass plate. (These four courses were £31.)
Someone at the Europa is seriously interested in wine. There are only 21 wines on the Causerie list and only about 30 on the list for the other restaurant (which, unfortunately, does not give vintages), but all the bottles are well described, worth drinking and offered at modest mark-ups. Given the limited scope of the cellar, this is no mean achievement. At the Causerie I enjoyed a full-bodied South African sauvignon blanc, which was grassy and laden with gooseberries (Graham Beck, 2007 - £20). At first it lacked the cat's pee we sometimes find with this grape, but – with a rise in temperature – it too made an appearance. And the Argentinian malbec was even better: oozing with ripe damsons and blackcurrants, but with some firm tannins to maintain its structure (Dona Paula, 2005 - £21).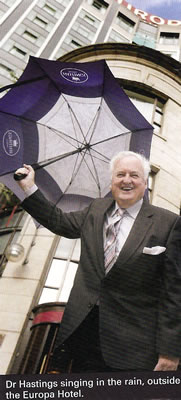 At the Piano Bar Restaurant on the first floor, I was shown to my table by the Restaurant Manager, Richard Adams – a fellow of some wit, who ensured that my evening progressed smoothly. I liked the brown leather armchairs, the decent glassware by Arcoroc, the polished wooden floor and the views across Great Victoria Street to the pretty Crown Inn opposite. I was not so keen on the raucous canned music, but Mr Adams changed it for me to the more acceptable sound of Mr Sinatra. There was no tablecloth on my table – which was a pity, for a space as good as this deserves the prestige of crisp white damask.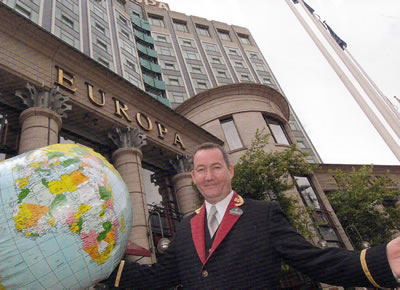 From Chef Frank Brennan's kitchen were brought some thoughtfully conceived dishes. I made a refreshing start with muscat-sweetened pears with walnuts, Parmesan and watercress. Then I moved on to a duo of melon and pineapple with minted lime and chilli syrup – a good dish which would have been even better without the chilli. Fillet of beef came with tomato and wild mushroom gratin and I finished with cocoa butter pudding with fudge sauce. (These four courses were £43.) My Australian sauvignon blanc was zesty and acidic, with layers of melon, lychee and gooseberry (Katnook Founder's Block, 2004 - £27), and my Tuscan blend of sangiovese, cabernet and merlot from the famous Tenuta dell'Ornellaia was the best wine I drank in Belfast – wonderfully open and welcoming, with basketfuls of sweet blackberries and blueberries (Le Volte, 2004 - £30).
Belfast is an interesting city and is well worth a visit. If you ask me where to stay, perhaps I can distort President Clinton's famous remark even further. It has to be the Europa, surely?

---
ADDRESSES
EUROPA HOTEL
Great Victoria Street, Belfast BT2 7AP, Northern Ireland.
Telephone +44 (0)28 9027 1066
Fax +44 (0)28 9032 7800
Email: res@eur.hastingshotels.com
www.hastingshotels.com
Double rooms from £200, breakfast extra. (Cooked breakfast: £16)
Ask about special offers