Italy
SICILY
CATANIA
EXCELSIOR GRAND HOTEL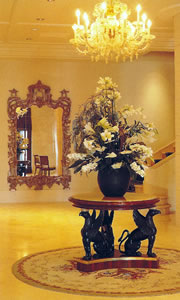 Sicily's second largest city was full of surprises. I had expected Catania to be a no-nonsense business town, full of office blocks. Instead, I found grand palaces and Baroque churches. Busy it most certainly is, but the bustle is friendly and interesting – particularly at night, when its charming piazzas are full of attractive (and unthreatening) young people. I was pleased to find that the prices these youngsters pay as they throng the open-air cafés are remarkably low. For the cost of the good life in Catania is modest. And, if all this is not enough to tempt you, there is another good reason for a visit: the Excelsior Grand Hotel.
Now, with the best will in the world, I cannot claim that the exterior of the Excelsior Grand is attractive. Unless you are a fanatical disciple of 1960s modernism, I think you will share my opinion that it does not manage to rise above the level of plain and uninteresting. On the other side of the square, the Palazzo di Giustizia is an impressive and distinguished building from the 1930s. The Excelsior Grand does not win any points in the comparison. But please do not be put off, for this is a seriously good hotel.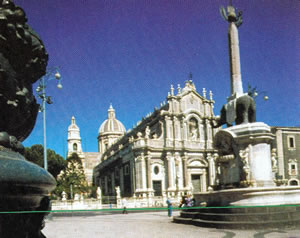 My taxi driver was a genius. Faced by a noisy log-jam of cars and buses on the way from the airport, he zigged and zagged and weaved and wove and ignored one-way signs and brought me to the entrance of the Excelsior in just over twenty minutes. After this, I was slightly breathless, but as soon as I set foot inside the Excelsior, my heartbeat resumed its regular rhythm. Airy, spacious and refined, the open-plan entrance hall exudes the sort of understated elegance which calms the agitated breast. My immediate impression of the people on the Reception desk was good: they were smart, friendly and efficient. They were to prove themselves so repeatedly during my stay, ensuring that my pillows were soft, replacing a wobbly chair at my desk and booking tables for me at local restaurants. Indeed, all the members of staff I encountered were keen and well-motivated – a tribute to the General Manager, Pietro Graziano.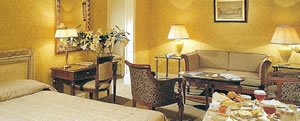 The cheapest of the hotel's 176 double rooms are 210 euros a night, bed and breakfast for two. This is remarkable value, for an establishment of this standard. But I advise you to spend 40 euros more and have – as I did – one of the corner Executive rooms. (Ask for the corners on the right hand side, as you face the building, to avoid the busy road which passes the left side.) Room 242, on the second floor, suited me very well indeed. Its large hallway contained, in its fitted wardrobes, plenty of hanging space and a safe. The bedroom, in light gold and white, was spacious and welcoming. Its air conditioning was effective and quiet, its two armchairs were comfortable and its lighting (from a wall bracket, a standard lamp and two table lamps) was pleasing. The chair at the small mahogany desk wobbled, but – as noted above – a solid chair was substituted for it in the blink of an eye. Through the sliding glass door was a covered terrace, overlooking the square.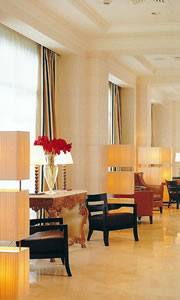 It was the bathroom, however, which most appealed to me. In my travels I am obliged frequently to reconcile myself to small bathrooms. Of course, I perform my ablutions in these confined spaces, but I do so without much pleasure. They make me long to be able to walk, not lean, from one side of the bathroom to the other, and to be able to swirl the bath towel without fear of sending all my toiletries to the floor. So the bathroom of room 242 was bliss – for its sheer size. With spotlights, beige marble, a long tub, a bidet and a separate shower, this would have been ablutionary heaven, if there had been a second wash basin. So I had to settle for ablutionary paradise instead.
Eating at the Excelsior is done in the Ristorante Le Zagare (a name which, I believe, refers to the blood-red oranges of Sicily). I had already made an excursion to look at this room, before dinner. I therefore knew that it was in the manner of the rest of the hotel – large, light, airy and furnished in a refined manner. It looked like a place for well-dressed diners. I therefore did my best to maintain sartorial standards, with a white suit, brown Oxfords and a starched collar. I was rewarded, as I entered the dining room, by a shower of compliments from the maitre d', Salvatore Sammartano. I liked Mr Sammartano, and not only because of this charming opening salvo. I observed during the course of the evening that the restaurant was popular with local families with something to celebrate, like a son's Confirmation. Yet, despite the arrival of several large parties, Mr Sammartano somehow managed to ensure that the service for my table (from waiters in black jackets with gold epaulettes) did not miss a beat. I admire such professionalism.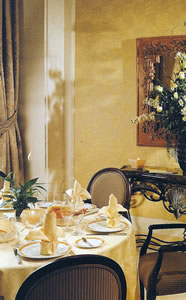 The kitchen offers a seven course tasting menu for 60 euros. I chose 4 courses from the carte (51 euros). Chef Claudio Lo Stucco likes careful and attractive presentation. He uses good ingredients, cooks them with skill and is not afraid to add a surprising twist to his dishes. I began with cornets, made of dry salted beef and filled with ricotta cheese and chives and served around a tiny flower arrangement. Good to look at and to eat. My pasta course came under a silver dome – maccheroncini, stuffed with lamb stew, with a lamb chop. An authentic taste of lamb. The beef fillet came with a cocoa sauce and was not quite to my taste, for I find it difficult to cope with beef and sweetness. I could have had it grilled simply: it was my own fault for not doing so. It was certainly a good and tasty piece of meat. The crème brûlée was exactly as it should have been, and was therefore delicious.
Most of the wines on the list are in the 25-70 euros price range. Many, quite properly, are from Sicily – like the 2002 Syrah (39 euros), the 2003 Mille e una notte, Nero d'Avola, Donnafugata (70 euros) and the 2002 Deliella, Nero d'Avola, Principe di Butera (90 euros). The friendliness of the prices can be judged by the fact that our old chum from Tuscany, Tignanello, in its 1999 vintage, is only 68 euros. Both my wines were Sicilian. I began with one of my favourites. The 2005 vintage of the Planeta chardonnay was lovely: full-bodied with tons of vanilla and butter (remarkably, only 24 euros). My red was hot and full of accessible black fruit (Sedara, Donnafugata, 2004 – 13 euros, half).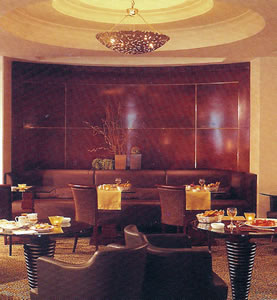 Each morning I returned to this dining room for a leisurely breakfast. Cappuccinos were brought by smiling waiters (now in white jackets) and I took from the buffet fresh orange juice, corn-flakes, fruit salad, bacon with baby tomatoes and croissants – all of good quality.
I will certainly look forward to a return visit to this city. I know that I have yet to see properly many of its finest buildings, for I glimpsed them as I trundled around the bumpy streets on the tiny tourist 'train'. (I always make a bee-line for these jolly facilities, and am disappointed when told that a town does not have one. The one here sets off from in front of the cathedral.) I might even try the magnificent Opera House again. (On this visit, for the ballet, the local orchestra had downed instruments, and the poor Russian dancers had to jump and twirl to a gramophone record.)
And now I know that there is also the Excelsior Grand Hotel – offering comfortable and spacious accommodation, good food, a high level of service and excellent value. Yes, Catania, I will see you again.


---
ADDRESSES
EXCELSIOR GRAND HOTEL
Piazza Giovanni Verga 39, 95129 Catania, Sicily, Italy.
Telephone +39 095 747 611
Fax +39 095 537 015
Email: excelsior-catania@thi.it
www.excelsiorcatania.thi.it
Double rooms from 210 euros
Ask about offers