UNITED STATES
CALIFORNIA
SAN FRANCISCO
FLEUR DE LYS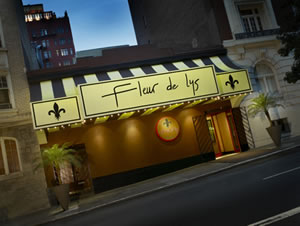 Eating in so many restaurants, occasionally I long for a rest from endless novelty. At times I yearn for a really good, old-fashioned restaurant – where the food is based on sound French technique, where the kitchen is not afraid of the hard work needed to produce complex dishes, where the service is proper, where the wine list is vast and where the wine man really knows his cellar. Sadly, such places can nowadays be hard to find. Fad and fashion are the order of the day, and they usually produce the slick, the transitory and the noisy. To produce the sort of restaurant I have in mind takes time, huge amounts of skill and much hard work. Fortunate, then, is San Francisco. For it has Fleur de Lys. This is no 'restaurant of the moment', where folk scream and shout at each other, while they queue for the privilege of eating with the crowd. There is no cacophony with the cassoulet here. No, this is a place for the civilized and the discerning – for those whose idea of the good life is to do with beauty, proportion and good taste, enjoyed in quiet calm. Let me therefore assure you that one of the very best restaurants in San Fancisco is one of the quietest. This is not because it is unpopular and empty – far from it. Rather, it is because it has a magic cure for noise. Fleur de Lys is a tent.
I do not mean that it is a structure of canvas, temporarily erected on a piece of open ground. Rather, I mean that within number 777 Sutter Street – more or less half way between Union Square and Nob Hill – is an elegant chamber draped with hundreds of yards of fine red brocade, which swoops up to a point, from which hangs a gigantic chandelier of white crystal. It is the effect, I imagine, one would find in the parlour of the grandest of Bedouin sheikhs. Together with a clever use of mirrored glass, this faux-tent creates a dining room which is impressive, welcoming and – because so much sound is absorbed by the folds of silk – astonishingly quiet. I congratulate whoever came up with this brilliant design.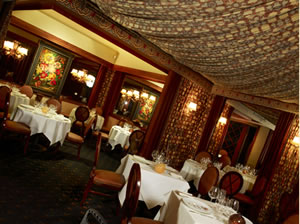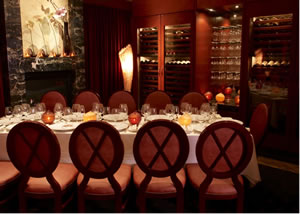 Not, I think, that the visitors to Fleur de Lys tend to be a particularly boisterous lot. On the evening of my visit, they looked both respectable and well-dressed. Indeed, I was delighted to see that several of the gentlemen even had jackets and ties – although not in the dark colours sported by members of staff. Certainly, everyone seemed to be having a jolly good time.
And so they might, for this restaurant exudes enjoyment from its every pore. Chef Hubert Keller came here in 1986, having worked in some of the grandest kitchens in his native France, including that of Paul Bocuse. In San Francisco he joined restaurateur Maurice Rouas to create what quickly became (and remains) one of the city's most famous dining rooms. Now Fleur de Lys has a Michelin star and Chef Keller appears on the television and has several other restaurants. But we may infer from the fact that his charming wife, Chantal Keller, controls its front of house, that Fleur de Lys is still the closest to his heart.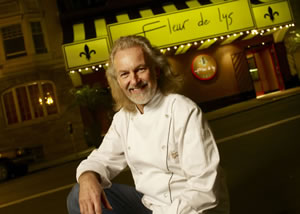 The Wine Director is Marcus Garcia. Mr Garcia is a charming fellow. He is local, and I am told that he is an accomplished performer of jazz and blues music. His evident knowledge of wine is certainly useful here, for he has charge of a prestigious cellar. Of the one thousand offerings on the list, many are French and many are of the stuff of the wine lover's dreams. How often nowadays do you see clarets from the legendary 1961 vintage? Yet here we have the greatest chateaux: Lafite ($3,100), Haut Brion ($3,600), Mouton Rothschild ($3,600) and Pétrus ($10,000). There is even the 1945 Lafite ($8,000), a bottle of which I had the privilege of holding (but not, alas! drinking) at the Four Seasons Restaurant in New York many years ago. Those of you with a sweet tooth might also relish the prospect of quaffing a Methuselah (6 litres) of d'Yquem for the modest sum of $20,000.
Now I am not normally one for wine pairings. My usual preference is for whole bottles, so that I can appreciate the changes in a wine over an evening. But at Fleur de Lys I was happy to make an exception. I was looked after by Boris Tobar, an admirable chap who poured into my gasses – a mixture of Riedel and JC – some excellent wines from France and from California. The rosé from Provence (Dom de la Fouquette, 2011) was so full of bright sunshine that I thought for a moment that I was back in St-Tropez. Then a pinot noir from the Russian River brought to my nose intense perfume and to my mouth red cherries (Scherrer, 2008). For boldness and breadth the Rhone competed against Bordeaux and Caifornia's Central Coast, in the form of a fine Chateauneuf-du-Pape (Dom de Nalys, 2009), an elegant St Emilion (Ch Franc la Rose, 2009) and a densely thrilling zinfandel (Turley, Dusi Vineyard, 2010). And the winner was... surprisingly (for me), the zinfandel.
With these liquid delights came French food which was a joy for both the eye and the palate. Three, four and five courses can be ordered from the carte, at $75, $85 and $98. Given the quality of the service, the surroundings and the cuisine, these prices seemed exceptionally friendly. The price for my five courses, given one supplement, was $102. Wine pairings can be had for $55, $65 and $75 (for three, four and five courses.)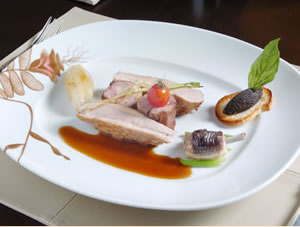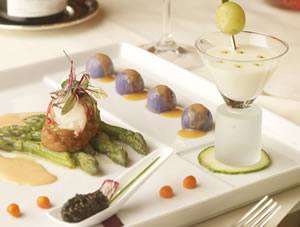 I think there was not a dish on the menu which I could not happily have ordered. I began with chilled red beet Borscht, with Kobe beef cheek, horseradish, smoked salmon, caviar and dill crème fraiche. This was a gorgeous opening, with the sweetness of the beetroot exquisitely counter-balanced by the asperity of the caviar. Then it was rye crusted salmon – lovely fish from Scotland, with radishes, pickled mustard seed and caraway jus. Again, the flavours were complex and satisfying – although I found that the accompanying buttered rye toast was irrelevant. My meat course was splendid: roasted loin of venison of the finest quality, with a red wine reduction. It would never have occurred to me to put chorizo on this plate, but it worked exceptionally well. The cheeses included an immensely enjoyable Époisses. I finished as one should in a great French restaurant, with a big and indulgent soufflé. This one was of amaretto – a cracking end to a really enjoyable meal. For this dinner my thanks are therefore due to the Chef de Cuisine, Rick Richardson, and to the Pastry Chef, Gilberto Villarreal.
As the evening ended, I concluded that a good meal in relaxed surroundings constitutes one of the privileges of a civilized society. And I had not been obliged to raise my voice once. Here was the bliss of a quiet dinner, enjoyed in a tent, surrounded by the relaxing murmur of contented diners. If you, too, sometimes long for a rest from endless novelty and yearn for a really good, old-fashioned restaurant, head for Fleur de Lys.
---
ADDRESSES
FLEUR DE LYS
777 Sutter Street, San Francisco, California 94109, U.S.A.
Telephone +1 415 673 7779
Fax +1 415 673 4619
www.fleurdelyssf.com