United States
CALIFORNIA
BEVERLY HILLS
FOUR SEASONS HOTEL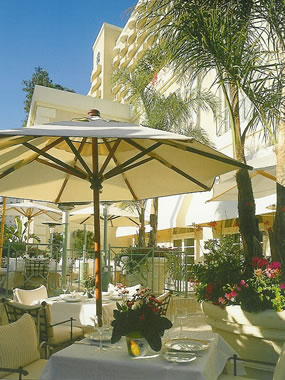 Like the Ladies Who Shop on Rodeo Drive, the Four Seasons Hotel in Beverly Hills is manicured and coiffured to perfection. Much hard work goes into the appearance of both, and I salute all those good folk responsible. But I particularly admire the dedicated staff at the Four Seasons.
Few hotels in the world can boast the level of efficient, prompt service to be found here. As soon as I turned my hired gas-guzzler into the drive in front of its 16 stories, I sensed the purpose and dedication which has earned this place its high reputation among those seasoned travellers who are used to the best. Porters almost sprang towards me in their smiling determination to ensure that I did not have the slightest chance to open a door or touch a suitcase for myself. It was the same at the Reception desk and at the concierges' station – the latter one of the most impressive I have ever encountered. It was always, 'Yes, sir, it will be done'. And it always was done, quickly and without fuss. General Manager Mehdi Eftekari can be proud of his team.
Externally, the building – opened in 1987 – is not a masterpiece, although its modern lines are softened by luxuriant gardens of tropical foliage. Internally, it is a shimmering confection of marble, fine furniture and sumptuous fabrics. This is just what a luxury hotel in Beverly Hills should be: a temple of comfort and tasteful elegance.
There are 285 rooms. Mine was on the 6th floor and was in the 'superior' category ($450 a night for two, breakfast extra). Number 621 was not large, but a lot had been packed into its moderate space. All around were evidences of that attention to detail for which the Four Seasons hotels are famous. A television was provided in the bathroom, the ice bucket was full for my arrival and in the drawer of the bedside table was a torch for emergencies. As you would also expect at a Four Seasons, this air-conditioned billet of beige and yellow was in immaculate condition. I stowed my papers in the safe, dimmed the table lamp and stood on my small balcony to look at the palm trees and over the roof-tops of some of America's most expensive real estate. The light was fading and it was time for dinner.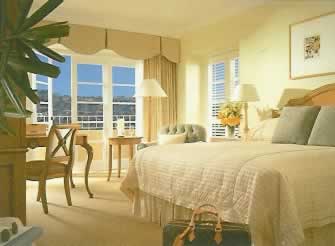 To reach the dining room I had to walk through the bar. I think Beverly Hills must have some of the most animated and excitable drinkers in the world. The level of noise they make is a phenomenon I have noticed on previous visits to Los Angeles. Perhaps they are all on the verge of lucrative film deals and cannot contain themselves. If you like raised voices with your martini, this will be heaven. For myself, it was a relief to find that my destination so complete a contrast.
In the Gardens Restaurant all was blissfully quiet. This was my idea of a civilized environment for eating. Fine Bernardau porcelain, good Spiegelau glasses, white damask tablecoths, soft lighting from overhead spotlights, large tables properly spaced and substantial armchairs upholstered in red. Its rooms are said to be decorated in a 'Florentine' manner, but I thought mine nodded more in the direction of a French chateau, circa 1800. Still, whatever the historical precedents, these surroundings deserved some good food. And they got it.
Chef Ressul Rassallat is a very talented young man. (His name comes from Iran.). As soon as the first course arrived from the kitchen, it was clear that he is blessed not only with enormous skill but also with a fine palate. Mediterranean langoustine with Vermicelli pasta and cinnamon sauce was soft, delicate and sweet – a superbly judged and beautifully presented dish. Beef fillet with red wine, sautéed forest mushrooms and foie gras cannelloni was just as good, with mouth caressing combinations of textures and tastes. Then, to finish, steamed chocolate espresso 'Decadence' (i.e. foam), with white chocolate ice cream and orange sauce, was as pleasing as it was clever, both light and very rich. ($72 for these three courses.) I confess that I had not expected the food here to be this good. But it was splendid – so I offer my congratulations to Chef Rassallat and to Executive Chef Conny Andersson.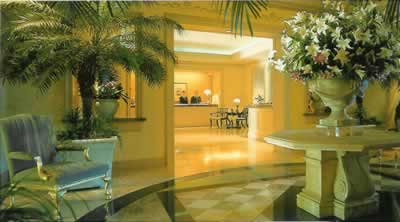 This bounty was brought to me by Dale, my courteous and knowledgeable waiter. Maitre d' Pete Alles provided his own expertise to help me choose my wine. The list has about 700 bottles, with some tempting clarets from good vintages (like 1982 Palmer at $425, 1982 Haut Brion at $895 and 1970 Lafite at $800) and fine bottles from Australia (1996 Grange is $350) and Italy (1988 Sassicaia is $395). Those bottles judged to offer 'exceptional quality and value' are marked by 'zzz'. This looks slightly odd to English eyes, which are accustomed to the use of this repetition in comics to indicate sleep. Still, I can vouchsafe for its accuracy here, for it was next to my 1999 Napa Valley cabernet, Del Bondio – a liquid with the sweet lusciousness of ripe black fruit in the nose and the taste of a beautifully structured, grown-up wine in the mouth ($76). My white, also from the Napa, was more austere, with intimations of stewed apple and a long aftertaste (Cake Bread, 2002 - $79). This was good drinking.
I left as I had arrived: surrounded by members of staff, eager to cater to my every whim. As I walked out through the entrance hall, young gentlemen were busy with their flower arrangements. Manicured and coiffured by experts, the Four Seasons at Beverly Hills is truly as elegant as the Ladies Who Shop on Rodeo Drive.
---
ADDRESSES
FOUR SEASONS HOTEL LOS ANGELES at BEVERLY HILLS
300 South Doheny Drive (at Burton Way), Los Angeles, California 90048, U.S.A.
Telephone +1 310 273 2222
Fax +1 001 310 859 3824
www.fourseasons.com
Double rooms from $450, breakfast extra.