United Kingdom
LONDON
FOUR SEASONS HOTEL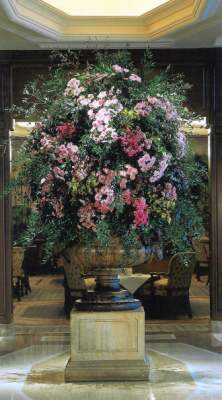 You can always rely on a Four Seasons Hotel for friendliness, efficiency and style. And thus it is in London. Just off Park Lane, near Piccadilly, in 1970 Princess Alexandra opened what was then the Inn On The Park. Now it is the Four Seasons. And it is a very good hotel.
The Silver Cloud and I turned into the driveway on Hamilton Place and found ourselves in a family gathering of motor cars. A new Phantom was to my right; a Silver Spirit was ahead; and a Bentley Arnage was to my left. As the doorman welcomed me, it was clear that I had arrived at an establishment for folk of taste and discernment. They must like the famous Four Seasons service. As do I. Within minutes of walking into the lovely confection of marble and flowers which is the lobby, members of staff had begun to address me by my name. This shows skill and application, and I like it.
Room 705 was on the 7th floor and was a 'superior twin' (£423 a night for two, including tax). This is the basic category, but it was still very spacious and very well equipped. Pale lemon walls, grey carpeting, four table lamps and mahogany furniture (in a vaguely Empire style) created a pleasingly restful atmosphere. I looked from the balcony over the rooftops of Mayfair and down to the grey Gothic stone of Christ Church, Down Street (for the ecclesiologists among you: designed by F. & H. Francis in 1865), and felt that this was a good place to be. It was also quiet, an important consideration in central London. And the small marks of civilization for which I always check were all present and correct: plenty of hanging space, a safe, a shoe horn, an umbrella, comfortable beds and a (filled) ice bucket.
With the air conditioning adjusted to my desired level, I relaxed in one of the two easy chairs, selected a fine-looking peach from the bowl of fruit and switched on the plasma screen of the wall-mounted television. On came a Promenade concert and a spirited rendition of Handel's great Coronation anthem, My Heart Is Inditing. Sidney Smith said that Heaven was eating pâté de foie gras to the sound of trumpets: eating a peach to the sound of great choral music is nearly as good.
Soon it was time to prepare for dinner. With the bathroom's control switch for the television sound turned up, I was able to bathe amidst beige marble and striped wallpaper to the strains of the Bach double violin concerto. Spotlights and Floris toiletries assisted with these prolonged ablutions, during which I discovered (since I sometimes peruse hotel literature during my soaking) that the Four Seasons offers etiquette classes for 6 to 12 year olds (telephone Cecilia Hangen on 0207 907 5367). This remarkable intelligence encouraged me to suppose that, in the dining room, I would find table after table of the most exquisitely mannered young diners.
I did not, of course. But I did find some seriously good food. Executive Chef Bernhard Meyer has worked in Hong Kong and Jakarta and so, unsurprisingly, has introduced some Oriental touches to the menu. But they are modest, and easy to avoid if they do not appeal. A set menu of the day is offered at £33.50, but I decided to choose from the carte. I began with steamed asparagus with hollandaise sauce – and you cannot get much more traditional than that. Then a slice of super foie gras terrine. Its accompanying balsamic cherries for me worked less well than the plate's parsnip crisps. The liver without the cherries and with more of those crisps would make a terrific dish. Pan-fried veal sirloin with seared foie gras and cucuber-apple pickle was quite brilliant – beautifully balanced, with each high quality constituent expertly prepared. The concluding baked almond and rhubarb tart with strawberries and frozen sour cream showed similar intelligence in conception and skill in execution (for which thanks to the pastry chef Roberto Molleman).
All this was consumed in the first-floor Lanes Restaurant, an attractive chamber of dark colours, enlivened by pink tablecloths and by displays of glass artwork by Canadian artists. Assistant Restaurant Manager Antonio Bloise looked after me with great aplomb, assisted by smart waiters in green waistcoats – like Jose Vega and Michael Pechlof. (You will gather from the names that this is a cosmopolitan team.) To my table was brought both salted and unsalted butter – always a sign that a proper effort is being made. Piano music also came, piped in from the bar. The pianist's repertoire included Dave Brubeck's Take Five. After dinner – conversing in the bar with some most delightful Canadian visitors, who were planning, despite my protestations, to waste the following day on a trip to Stonehenge – I persuaded him to play a little Chopin, which he did with some panache.<
It was good to see on the wine list 15 wines by the glass, including that splendid merlot from South Australia, Katnook Estate (£10.20). Bottles range in price from a Spanish white at £18 (Viña Esmeralda, Miguel Torres, 2000) to 1990 Cheval Blanc at £700. (Better value for those who desire the finest claret, however, might be the 1982 Haut Brion at £550.) Some of the burgundies tempt, like the 1998 Musigny, Vieilles Vignes, de Vögué, at £340. But I went for two enjoyable New World efforts. From New Zealand, the 2000 Marlborough Reserve chardonnay (Seresin - £46) yielded vanilla on the nose and lemon in the mouth; and from Chile, the 2000 Rapel Valley Cuvée Alexandre merlot (Casa Lapostolle - £42) had a bold structure and lots of lovely residual sweetness.
I returned to the same black leather sofa at the same corner table (now with its marble top revealed) for breakfast (about £23). This is a meal to which I always look forward, and here my hopes were not disappointed. Everything on the buffet was of top quality, including the raspberries. (One should always begin the hotel day with a dish of raspberries.) My mushrooms on toast were washed down with good coffee and tip-top grapefruit juice, and I strode out of the restaurant a man restored.
Never a chap to skip afternoon tea, here I had serious cause to partake of this most English of institutions. For the Four Seasons has a reputation to maintain. In 2003 its afternoon tea was voted Best In London by the British Tea Council. So, at four o'clock, on the dot, I was easing myself onto the plump cushions of a settee in the lounge. In this elegant room, with its panelling, its Murano crystal chandeliers and its fauteuils upholstered in green silk, I tried – such is my devotion to duty – both the 'ordinary' set tea (£21.50) and the seasonally-changing champagne tea (£32.50). The latter began with a truly delicious warm tomato and goats' cheese tart with prawn – a savoury partner for a glass of bubbly which earned 10 marks out of ten from this judge.
The sandwiches were fresh, well-filled and of the right temperature (having them brought straight from the 'fridge spoils many a tea). My favourites, to my own surprise, were those of chicken with mango chutney. All the scones were deliciously fluffy and sweet. I was particularly impressed by the enthusiasm of my smiling waitress for ensuring that my pot of lapsang was piping hot. This meant that the pot, together with my cup and my tea strainer, were replaced not just once, but twice. I congratulate the Lounge Manager, Michael Farquhar, on running such a tight ship.
And I congratulate the General Manager, John Strauss, on the level of hospitality offered throughout his hotel. The Four Seasons is friendly, efficient and stylish – just as it should be.
---