ITALY
SORRENTO
GRAND HOTEL AMINTA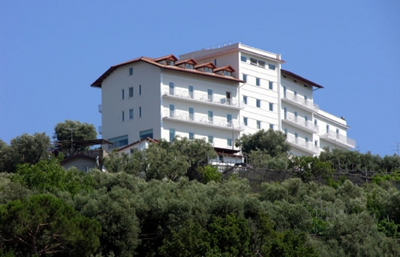 The Grand Hotel Aminta is a well-run, comfortable, four-star hotel which enjoys an enviable panoramic view over Sorrento, Mount Vesuvius, Naples and the island of Ischia. As such, it is understandably popular both with British visitors and with those who wish to celebrate their nuptials in this delightful part of bella Italia. From its kitchen went the food to feed Pope John Paul II, when the pontiff was visiting Pompeii, along the coast. 'Aminta' is the name of the eponymous hero of a 16th Century work by Sorrento's most famous poet, Torquato Tasso. The General Manager of the hotel is also its owner, Gianfranco Acampora, and he is much in evidence, ensuring that everything at his property is as it should be.
Surrounded by groves of lemons and of olives, this white modern building is not difficult to spot from a distance. Its high location gives it the lovely views, but it means that it is some distance out of town. But the (free) shuttle 'bus whisks guests to and from the centre of Sorrento in a few minutes, and it was a joy to be able to sit in a shaded corner of the hotel terrace and gaze out over the bay of Naples. There are plenty of indoor public areas, too, decorated in light colours and furnished with brown sofas. But my fellow guests rightly preferred the fresh air, particularly around the swimming pool.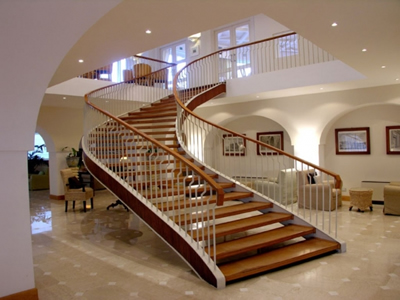 My modestly-sized room, number 302, was on the third floor. On its balcony were two chairs, so I could sit in privacy and contemplate the panorama. Inside, all was light and bright and spick and span. Ceramic tiles – which feature prominently on the Sorrentine Peninsular – covered the floor, and there was enough space for a writing desk and a sofa bed, as well as the bed proper. I was pleased that there was a cd player, so that I could be soothed by the Elgar which accompanies me on my travels. Lighting was from three table lamps. In the bathroom I found one wash basin, a tub with a shower above, a loo and a bidet.
Dining at the Aminta is done in a large, semi-circular restaurant (yes, with the view again), where there are the accoutrements required for a civilised experience. The napery and the waiters' jackets are white, silver domes are lifted, the glassware is by Bormioli and the seats are wicker chairs with green seats. The olive oil – which is splendid – is made from olives grown in the surrounding groves. The service, orchestrated by the maitre d', Michele – smart in black tie – is friendly and proper.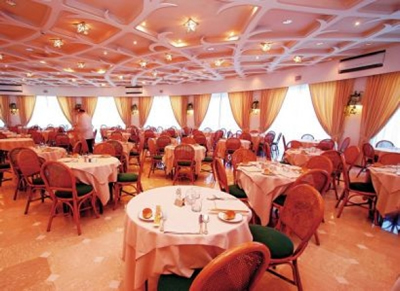 The carte has some tempting dishes, like chateaubriand, but I was on the half-board arrangement and therefore chose from a restricted menu. Still, I enjoyed dishes like old-fashioned vegetable soup, roasted leg of lamb with herbs and strawberry tart. I am pleased to report that there is no canned music. But on Sundays there is entertainment. The lady and gentleman (and guitar) of 'The Neapolitan Evening' performed popular ballads to general approval, and then there was a touch of theatre, as The Vesuvio Cake (similar to tiramisù) was paraded through the dining room with its top adorned by a crackling sparkler.
The wine list has 197 offerings, all from Italy apart from the champagnes. Prices run from 20€ for a local white to 651€ for a 1995 Barolo (Cerequio, Michele Chiarlo). Those wines awarded three 'glasses' by the Gambero Rosso guide are noted. My favourite Italian bubbly, Franciacorta Anna Maria Clementi, Ca'del Bosco, is 160€. Super-Tuscans include the 1999 vintage of Sassicaia (399€) and of Ornellaia (380€). My drinking included a local red aglianico, well-structured and full of ripe back fruit, for just 30€ (Falerno del Massico, Villa Matilde, 2011).
I returned each morning to the restaurant to break my fast. From the buffet I secured good bacon, cakes and bread and some exceptionally fine croissants (some of the best I have had in Italy). There was a slight absence of tempting fruit, but the excellent Assistant Maitre d', Nando, brought to me a pretty plate of pineapple and other delicacies from the kitchen, so I was kept happy – even if the linen napkins of the evening had been replaced by their morning (paper) cousins.
My impression was that my fellow guests were all enjoying their time at the Grand Hotel Aminta. I enjoyed my time there, too.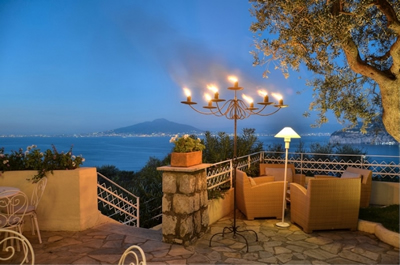 ---