FRANCE
CANNES
THE GRAND HOTEL & RESTAURANT LE PARK 45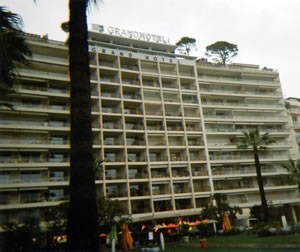 For those who like the style and architecture of the 1960s, there is really only one place to stay in Cannes. In 1963 the old Grand Hotel (pictured) was replaced by the new Grand Hotel (pictured). Its eleven floors now rise in shining self-confidence behind the only proper garden on the Croisette – that most famous of promenades on the French Riviera.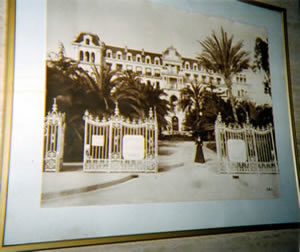 All the characteristics of the 60s are present: size, solidity, sculptural form and unashamed modernity. Of course, the location is ideal. From the front, guests have immediate access to the seafront. From the rear, there is the shortest of walks to the town's main shopping streets. Sun, sea and shopping are what Cannes is about, after all.
My apartment was on the 6th floor and, from its balcony, I could enjoy a delicious view (pictured) across the greenery and the palm trees, past the neighbouring Villa Malmaison, and out to the Mediterranean. Room 663 was a 'Prestige Double' and was therefore 190€-700€ a night, according to season. (You should be aware that the highest prices for rooms in Cannes are always charged for those occasions when the town is taken over by special events, like the Film Festival.)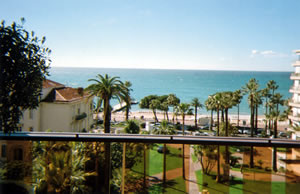 As you would expect, this was a billet of straight lines and subdued colours. The corridor hall led into an air-conditioned bedroom which measured about 15 feet by 12 feet. Its fitted writing desk was illuminated by lamps in a Modernist style. Within the fitted wardrobes I found not only a private safe but also those most useful of items – if, like your correspondent, you cannot tolerate creased shirts – a good iron and an ironing board. The bathroom was small, but the tub (with a shower over) was an acceptable size and the toiletries were of the best sort – by Bulgari.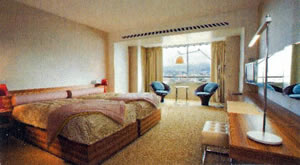 The Grand is blessed with a very good restaurant – Le Park 45. Chef Sébastien Broda (pictured) is a considerable culinary talent, a fact which has been recognised by the award of a Michelin star. He is widely admired for a cuisine which displays subtle complexity and beautiful presentation. The latter is important, for, as the French say: "On mange avec les yeux." The dining room is on the ground floor, shares the view out to sea and is decked out as it should be: with fine white napery, good Spiegelau glassware and decent armchairs. The waiters and waitresses – including the excellent Norman, who looked after me – provide efficient and friendly service. When I arrived for dinner, I certainly thought at once that this was a place in which I would eat well.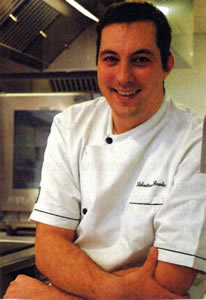 Several set meals are offered, including one for 45€ and a 6 course tasting menu at 120€. My four courses from the carte were 128€. My starter was a dish which showed an interest in the East and which had clearly involved a great deal of work. Langoustines came both roasted (in vermicelli batter with avocado and coriander) and marinated (with Kombu seaweed, Daikon radish, cherry vinegar and Tobiko wasabi). The flavours and textures were carefully balanced. Duck foie gras – mi-cuit and served with sweet onion, ginger, cooked and raw asparagus and a crisp biscuit – proved equally flattering to my taste buds.
My meat course again involved an intriguing variety of ingredients. Young pigeon was glazed with bacon, poached and roasted with rosemary and sent forth with butternut squash, truffle, sweet onion, salted butter and hazelnut. It sounds rich and satisfying and it was rich and satisfying. I concluded with a 'deconstructed' tart of raw and coked pears with sorbet.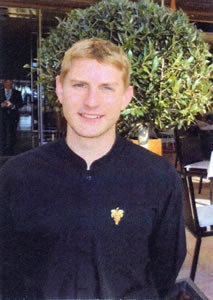 Sommelier Florent Champany (pictured) presides over an impressive cellar. Apart from ten 'foreigners', its bottles are all French, and include 43 half-bottles and 27 magnums. Prices run from 39€ for a 2012 rosé to 3,000€ for the 2003 vintage of Pétrus. Drinkers of claret will find many grand wines from good years, including 1999 Lynch Bages (350€), 1999 Latour (800€), 1990 Lafite (1,500€), 1989 Margaux (900€) and 1999 Haut Brion (1,100€). I was pleased, too, to spot an example of that wonderful red from the Languedoc, Grange des Pères (2009 – 160€). My own drinking included a damson-flavoured Rhone, which still needs a few years (Crozes-Hermitage, Vieilles Vignes Les Croix, Les Bruyères, Reynaud, 2011 – 55€).
I returned to Le Park 45 for breakfast each morning, to be looked after by more members of the helpful staff, including the waiter Vincent. Everything I tried from the morning buffet was of exceptional quality – the apple tart, the apple compote, the pain aux raisins, the bacon, the veal sausages, the Parma ham, the pineapple, the strawberries and the Corn Flakes. All these excellent comestibles were washed down with pots of the best French coffee. Such starts to my days must be applauded, and I applaud them. I even came to like the crockery, and found that I could make a most pleasing pattern on my large round table with the square plates, some of red glass and some of green glass.
That crockery, of course, spoke of the Swinging Sixties. And that is the style of The Grand Hotel Cannes. I liked it.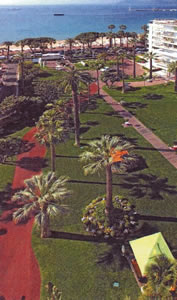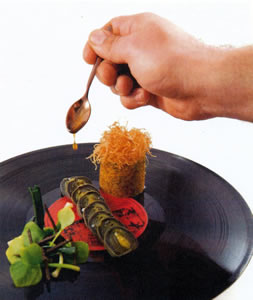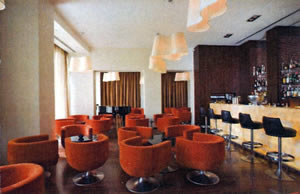 ---
ADDRESSES
THE GRAND HOTEL CANNES
45 la Croisette, BP 263 Cannes, France.
Telephone +33 (0)4 93 38 15 45
Fax +33 (0)4 93 68 97 45
Email: info@grand-hotel-cannes.com
www.grand-hotel-cannes.com
Double rooms from 140€-500€, according to season, breakfast extra (34€)
Check the hotel website for the rates for specific dates and for special offers