FRANCE
FRENCH RIVIERA
CANNES
THE GRAND HOTEL & RESTAURANT LE PARK 45
In 1963 the old Grand Hotel in Cannes (pictured) was replaced by the new Grand Hotel (pictured). Its eleven floors of Modernity now rise in shining self-confidence behind the only proper garden on the Croisette – that most famous of promenades on the French Riviera. All the characteristics of the '60s are present: size, solidity and bold sculptural form. Of course, the location is ideal. From the front, guests have immediate access to the seafront. From the rear, there is the shortest of walks to the town's main shopping streets. Sun, sea and shopping are what Cannes is about, after all.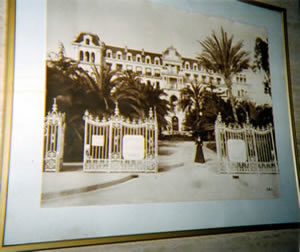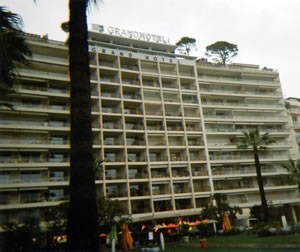 My apartment was on the 6th floor and, from its balcony, I could enjoy a delicious view across the greenery and the palm trees, past the neighbouring Villa Malmaison, and out to the Mediterranean. Room 663 was a 'Prestige Double' and was therefore 190€-980€ a night, according to season. (You should be aware that the highest prices for rooms in Cannes are always charged for those occasions when the town is taken over by special events, like the Film Festival, so you will save many pennies if you avoid those 'peaks'.)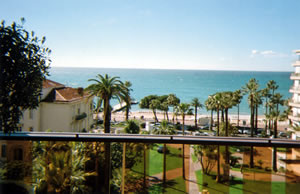 As you would expect, this was a billet of straight lines and subdued colours. The corridor hall led into an air-conditioned bedroom which measured about 15 feet by 12 feet. Its fitted writing desk was illuminated by lamps in a Modernist style. Within the fitted wardrobes I found not only a private safe but also those most useful of items – if, like your correspondent, you cannot tolerate creased shirts – a good iron and an ironing board. The bathroom was small, but the tub (with a shower over) was an acceptable size and the toiletries were of the best sort – by Bulgari.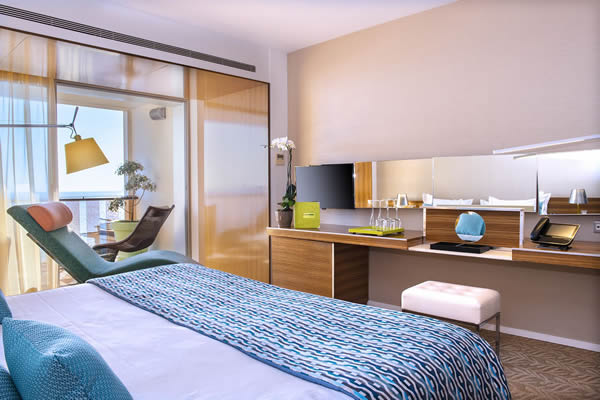 The Grand is blessed with a very good restaurant – Le Park 45. Chef Hervé Busson (pictured) is a considerable culinary talent. Clearly, he adheres to that excellent maxim, "On mange avec les yeux", for his plates delight the eye as well as the palate. The dining room is on the ground floor, shares the view out to sea and is decked out as it should be: with fine napery, good Spiegelau glassware and decent armchairs. I was able to sit on the terrace next to the garden, where each table was illuminated by a battery-driven lamp – a simple but effective means of avoiding electric cables when dining al fresco. The waiters and waitresses provided charming and efficient service. When I arrived for dinner, I certainly thought at once that this was a place in which I would eat well.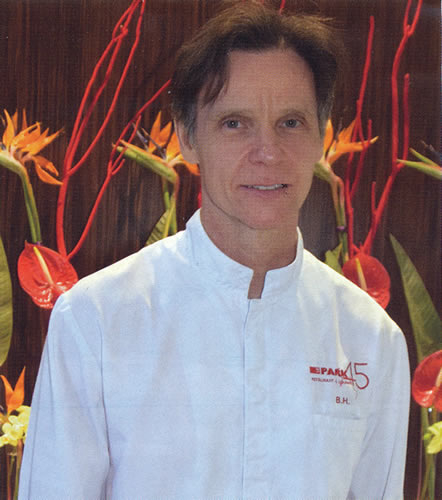 Three set meals are offered, at 65€, 85€ and 125€. My three courses from the carte were 94€. I began with spiny lobster, presented on a large black plate, together with minestrone of seafood juices and pesto. This pretty dish was a proper start to a meal next to the Mediterranean. Then came the gastronomic highlight of the evening – rib and rack of Sisteron lamb, cooked with rosemary. This tender, pink and delicious meat was set off beautifully with aubergine confit, sweet peppers and olives. This dish on its own was worth the journey to Cannes. I ended with another painterly display: mountain fruits with preserved violets, violet sorbet and crisp shortbread.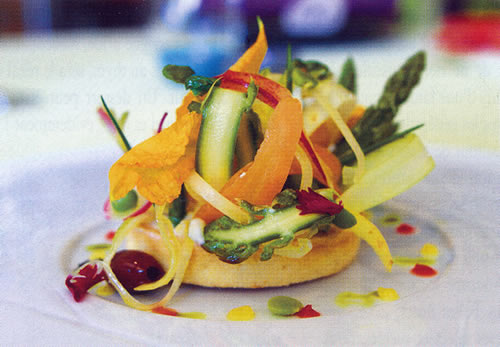 Sommelier Nicolas Fretard presides over an impressive cellar. The wine list has 518 offerings. Apart from ten 'foreigners', all are French. 25 wines are available by the glass, including 1990 Yquem (88€ for 12cl.). Prices run from 39€ for a 2013 white burgundy aligoté to 2,526€ for the 2000 vintage of Krug Clos d'Ambonnay champagne. Drinkers of claret will find many grand bottles from decent years, including 2009 Mouton-Rothschild (1,200€), 1989 Margaux (720€) and 2003 Pétrus (2,291€). But the real strength comes from Burgundy, with 20 Meursaults, 14 Puligny Montrachets, 7 wines from the Domaine de la Romanée-Conti, and so on. I was pleased, too, to spot an example of that wonderful red from the Languedoc, Grange des Pères (2011 – 223€). My own drinking included a well-balanced red burgundy with a tiny hint of farmyard on the nose (Chassagne Montrachet, Henri Germain et Fils, 2012 – 69€).
I returned to Le Park 45 for breakfast, to be looked after by more members of the helpful staff, including the fine barman called Giovanni – who ensured that my croissants were warm each morning. Everything I tried from the morning buffet was of exceptional quality – the cheeses, meats, fruit tarts and fresh pineapple, strawberries, blackberries and raspberries. An omelette station also stood ready. All these excellent comestibles were washed down with the best French coffee, poured from my white porcelain pot. Such starts to my days must be applauded, and I applaud them.
If you like the style of the Sixties, together with fine food and friendly service, the Grand Hotel in Cannes is the place to be.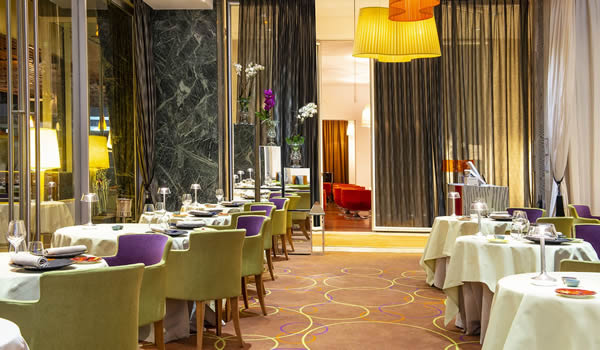 ---