FRANCE
ST. JEAN-CAP-FERRAT
GRAND HÔTEL DU CAP FERRAT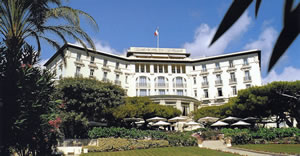 There is something about Cap Ferrat which I find irresistible. It could be the location, for this jewel is set along that blessed stretch of coast between Cannes and Nice. It could be the weather, which usually manages to be warm and sunny (although on this visit there was some beastly rain). But, if I am honest, I must admit that I am attracted by the immense wealth. For there can be few places on earth more densely populated by the seriously-moneyed than this immaculately-tended little peninsular. That is why, for the past twenty years or so, the Royce and I have been making that sharp turning off the coastal highway and trundling along to the very end of the boulevard Général de Gaulle. At first our destination was the Hôtel Bel-Air. Then the name was changed. So now we draw up outside Le Grand Hôtel du Cap Ferrat.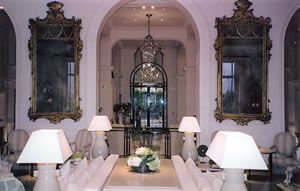 And a mighty fine drawing-up it is, for this gorgeous Belle Époque palace – opened in 1908 – is white and beautiful and pristine. Indeed, I believe that the hotel is now better than it has ever been in my experience. The interior has been re-designed by Pierre-Yves Rochon, and he has done a fine job. Subtle shades of white and beige – with much use of marble, linen and silk – are set off by occasional splashes of silver and gold. The style of the furniture is traditional, which means it is comfortable. Thank goodness for that. (I am getting rather fed up of those modernistic chairs and sofas which are intended to impress the eye rather than support the body.) Afternoon tea in the Rotunda can therefore be recommended as a most civilized occasion. Indeed, the whole effect of the public areas is very appealing, for they manage to be both light and sumptuous. If this place were a pudding, it would be a Grand Marnier soufflé – and I do like my Grand Marnier soufflés.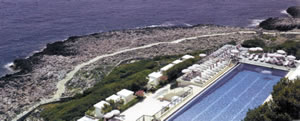 The improvements have been continued outside. The hotel has always had magnificent gardens. The effort which has gone into maintaining so perfectly these manicured 17 acres has impressed me on every visit. Yet I have to confess that I was not a great fan of the modern sculptures which, in recent years, used to decorate – some, less kind than myself, thought 'litter' a more appropriate term – the gently sloping lawns. Now they have gone, and the virginal splendour of carefully tended Nature has returned.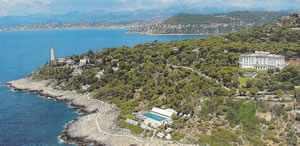 Readers will know that I am neither a Spa nor a Swimming Pool person. Even I, however, have to admit that these facilities at the Grand Hôtel du Cap Ferrat are remarkable. The former is new, and is part of a complex – which includes a large garage (wherein rested the Royce) – which has been so sensitively designed and so expertly positioned that it detracts not at all from the grandeur of the main building. Architecturally, it is well worth a look inside, even if you do mean to partake of its massages and treatments. The swimming pool (part of the Club Dauphin) is reached by a swish funicular railway down the cliff, and is a place of legend – not for its fine lunches (although they are fine), but for Pierre Gruneberg, its swimming instructor. By his own particular method, he has taught to swim, in this very place, many of the most famous people in the world.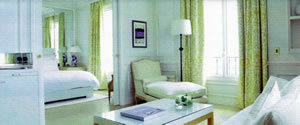 Having stowed the Silver Cloud in its own swish billet, I took the quaint little lift up to my own. I nearly said, 'up to my own cabin', for room 402 had a nautical air. At the top of the building, on the fourth floor, this 'Superior Room with Terrace' (620 – 1,640 euros a night, bed and breakfast for two, according to season) had an extensive terrace, looking straight out at the Mediterranean. And it was this, plus the Art Déco railings, which made me fancy for a moment that I was on an ocean liner of the grander sort. Within, the room was about 15 feet square and decorated in soft tones of brown and grey, with light wood used for the desk and for the pedestal tea table. Textured cloth covered the walls and access to the terrace was through sliding doors of plate glass. Happily, I can report that the bed was very soft and very comfortable. I judged this was stylish accommodation.
I did have some difficulty with the lighting, for the controls – which, doubtless, would have posed no problem for a computer-wise six-year-old – were too complicated for me. Still, I persevered and eventually found that I could create the restful atmosphere I needed. This was important, for lighting is one of the most significant features of any hotel room. Within the green marble bathroom I found another essential part of life in a luxury hotel: top-class toiletries. These were by Bulgari. There were also two wash basins and a tub, with the shower and loo in a separate compartment.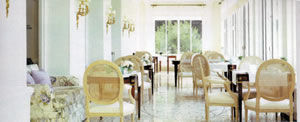 The hotel has three dining rooms. That at the Club Dauphin is for the swimmers and sun bathers. Off the main entrance hall is La Véranda, which offers food throughout the day. This is where I breakfasted – and breakfasted very well. Its mosaic floor, spotlights and views over pine trees to the sea stimulated my appetite. To my table the kindly waiters and waitresses, in beige uniforms, brought to me a vacuum pot of coffee, a glass of fresh orange juice and a plate of bacon, poached eggs, sausages and mushrooms. From the buffet I obtained bowls of strawberries, blackberries, raspberries and stewed plums. All these comestibles were of the highest quality, but they were surpassed by the brioche and pastries – which were truly exceptional. After the canned music, at my request, had been extinguished, I sat back in my charming fauteuil, supported by a cushion of fine silk, surveyed the Empire style mahogany table in front of me, whereon was set out my chosen breakfast, and thought life was good.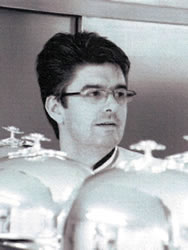 And that sense of well-being was reinforced by dinner at the third restaurant, Le Cap. This serves dinner only. It is where Chef Didier Aniès has been awarded a Michelin star. Outside it has a delightful terrace, but the inclement weather obliged me to experience the charms of the demi-lune dining room. It is certainly a sophisticated space, with a large mural in the style of Jean Cocteau. Here lights shone down upon my white tablecloth, and upon the Spiegelau glassware and the specially designed Limoges porcelain. Here, too, waiters in suits of beige lifted silver domes to reveal some splendid dishes.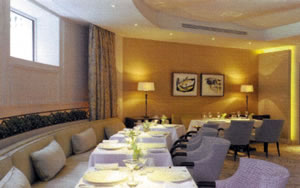 A set meal of five courses is available for 158 euros. My four courses from the carte were about 200 euros. First came fresh vegetables, caramelized, with olive oil, olives, Parmesan and – at my suggestion – shavings of black truffle. This alone was enough to convince me of the brilliance of this kitchen. Each ingredient, and there were many, was precisely cooked and the overall balance of flavours was quite thrilling. My second plate was even better. Fried duck foie gras, with confit of wild figs and orange, sounds quite straightforward, but there was genius in the execution. The richness caressed my palate and the combination of contrasting tastes and textures was little short of perfection. After the main course of Wagyu beef, with maize and crunchy vegetables, I felt rather full and so abandoned my plans for a soufflé of red fruits, in favour of a dish of vanilla and blueberry ice cream.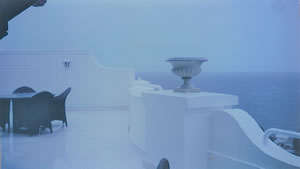 At the Grand Hôtel du Cap Ferrat you can drink like an Emperor. Its Salon des Collections has bottles of Lafite going back to 1799 and 141 vintages of Yquem, starting with the 1854. You will need an Emperor's purse, though, for these rarities. To satisfy your sweet tooth with the 1893 Yquem will cost you 30,000 euros, and to treat your claret-loving friends to an Impériale (6 litres) of 1982 Lafite you will have to spend 55,000 euros. But the wine list, under the control of sommelier Joël Rolland, has much to offer to those of less imperial ambitions, beginning with a white from the Loire for 50 euros. My own red burgundy, still firmly tannic, stood up well to the beef (Pernand-Vergelesses, 'Les Vergelesses', Mongeard-Mugneret, 2005 - 85ε).
Oscar Wilde told us that he could resist everything except temptation. My confession is more specific. I can resist everything except Cap Ferrat – and its magnificent Grand Hôtel.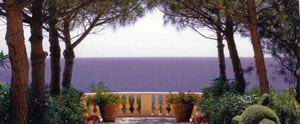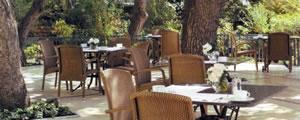 ---