Italy
MILAN
GRAND HOTEL ET DE MILAN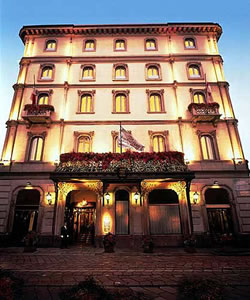 It pleases me to think that famous people have stayed in those hotels in which I choose to stay myself. It suggests that I might have at least one attribute in common with those who have attracted acclaim: good taste. Many hotels keep a 'Golden Book', in the pages of which the great and the good have inscribed their signatures. But the names to be found in these tomes can be startling. Sometimes history turns fame into infamy. In Milan I found the perfect answer to this delicate problem. The hotel has made a selection from its legions of well-known former guests and has published a book about them. From its pages I particularly liked a photograph of the metaphysical painter, Giorgio de Chirico, taken at the hotel in 1967. This publishing enterprise must have presented some difficult choices, because – since it opened its doors in 1863 – anyone who could claim to be anyone has checked into The Grand Hotel et De Milan.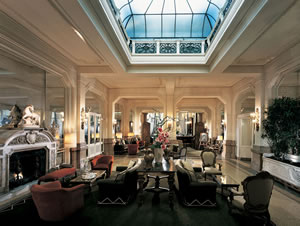 Indeed, Giuseppe Verdi liked it so much that he stayed here for 20 years, and breathed his last breath in the suite which is now named after him. The length of the maestro's visit, doubtless, also had something to do with the hotel's location, which is but a few steps from La Scala. In this most highly regarded of opera houses, many of the composer's operas were (and are) performed. But I am sure that Mr Verdi found the establishment comfortable, too. I certainly did. Indeed, as soon as I stepped from the heat and the traffic of the via Moanzoni into the air-conditioned elegance of the entrance hall, I felt that I was being very well looked after. Potted palms, columns, marble, bronze statues, antique furniture, oil paintings (including one of Verdi himself) – these things, which fill the spacious salons near the entrance, made me feel welcome. And, of course, it was pleasant to be greeted by the courteous and friendly members of staff at the Reception desk.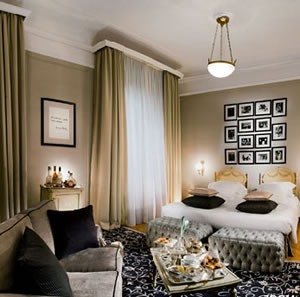 Soon I was in room number 404, on the fourth floor (a Deluxe Double, and therefore from 506ε a night for two, breakfast extra). This was a sober and respectable apartment for sober and respectable people. Being such a person myself, I felt at home. In the hallway was an item which is found too seldom in hotels nowadays – a hat stand. The walnut doors of the fitted wardrobes in this hallway struck me as being particularly fine. Within them was that essential convenience, the private safe. The walls and ceiling were cream, green carpets were on the parquet floor and black and white photographs of Capri hung on the walls. Four wall lights, two table lamps and a standard lamp provided the light and a television with a flat screen was available to provide entertainment. I judged the sitting area, with a writing desk and a two-seat sofa in green velvet, to be about 12 feet by 9 feet, and the sleeping area to be of the same dimensions.
Beige and brown marble adorned the bathroom, which had sufficient space for two wash basins, a bidet, a loo and a tub of decent length. In the corner was that device which always murmurs J'accuse – a pair of scales. I noted, with approval, that the shaving mirror had been sited properly. Unusually, for a hotel bathroom, the lighting was too subdued.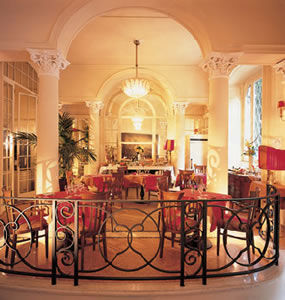 In the Caruso Restaurant (pictured), a chamber of white columns, are served breakfast and lunch. Abstemious for once, I forewent breakfast, and instead turned my attentions to the Restaurant Don Carlos, which opens for dinner only. On the ground floor, with its own street entrance, this is a place of small, intimate rooms, decorated with lots of framed pictures to do with La Sacala. (Don Carlos is, of course, one of Verdi's operas.) I sat at table number 8, and liked my surroundings. The napery was white and crisp, the glassware was good (by Spiegelau), a silver candlestick on my table held a tall, tapered candle and even the canned music (by Puccini and Verdi) was acceptable. I found myself looking forward with eager anticipation to the meal which would be brought to me by Simone, the smart waiter in black from Venice.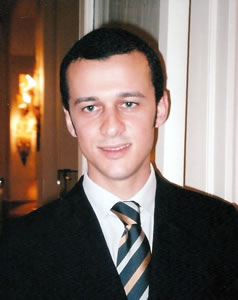 Chef Angelo Gangemi sends from his kitchen plates with straightforward, carefully cooked food. His ingredients are good and his technique is sure. I doubt that anyone has ever found one of his meals less than enjoyable. I began with scallops, prettily served on a white plate. Precisely cooked, with slightly caramelized surfaces, and accompanied with pancetta, pistaccio nuts and porcini mushrooms, these made a splendid first course. Then came oxtail ravioli with butter and parmesan. I really do like my pasta to be translucent, and that is what it was. My main course made it clear that diners do not leave this restaurant feeling hungry. This was a piece of top quality entrecote of veal, and it was enormous. Try as I might – and I did try, because it was so tasty – I simply could not finish it. Still, I was glad I had left enough room for the pudding, a jolly good peach 'tarte tatin' with lemon and basil ice cream. (These four courses were 104 euros.)
The wine list offers 250 choices, and helpfully gives both grape varieties and alcohol levels. Prices range from 25ε for a Sicilian inzolia to 760ε for the 1999 Cheval Blanc. Most of the bottles are Italian, and include 2005 Barbaresco, Gaja (250ε), 2006 Tignanllo (180ε) and 1977 Taurasi Riserva, Mastroberardino (230ε). From California, I spotted 1999 Opus One (450ε) and Mondavi's 2000 chardonnay (72ε). My own wines were recommended by the young and charming Restaurant Manager, Piero Vitale (pictured). The white cataratto from Sicily had notes of orange, melon and pineapple (Shiara, Castello Miano - 38ε), but it was the red which really impressed – dense, luscious and with a wonderful farmyard nose (Taurasi, Terredora, 1999 - 72ε).
After dinner Mr Vitale took me down below the restaurant and showed to me the Roman walls which had recently been uncovered. They date from the 3rd century A.D. The Grand Hotel et de Milan therefore stands on ancient foundations. This seems only right. Clearly, this spot has always attracted people of good taste: the centurions of the Roman Empire, the rich and famous of the last 150 years and now… me.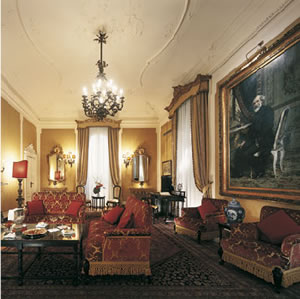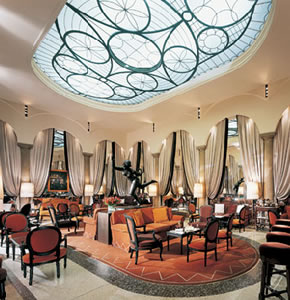 ---
ADDRESSES
THE GRAND HOTEL ET DE MILAN
Via Moanzoni 29, Milan 20121, Italy.
Telephone +39 02 72 31 41
Fax +39 02 8646 0861
Email: infos@grandhoteletdemilan.it
www.grandhoteletdemilan.it
Double rooms from 418 euros, breakfast extra
Check rates for specific dates on the internet
The Restaurant Don Carlos is closed in August