RUSSIA
ST PETERSBURG
GRAND HOTEL EUROPE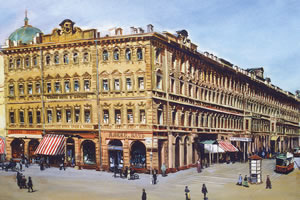 If you have ever hesitated – as, I confess, I have hesitated – about visiting Russia, I have good news for you. Gentle reader, you and I both know that one of the very best reasons for going anywhere is the presence of a really, really good hotel. I mean not just any old (or new) five-star hotel, for there are plenty of those which fail to please the ranks of the discerning to which we belong. No, I mean the sort of establishment which combines style and elegance with faultless service and unashamed luxury, and which – whenever we recall our stay – brings a smile to our lips, because so many extra miles have been run to ensure our absolute contentment. Allow me therefore to introduce you to one of the Great Hotels. It is in the glorious city of St Petersburg and it has provided me with one of the most enjoyable hotel visits of my life. It is The Grand Hotel Europe.
Having opened its doors in 1875, this regal lady has graciously bestowed her hospitality on the Great and the Good for so long that she has herself joined their number. Not that all the recipients of her kindness have been either great or good. Tchaikovsky spent his honeymoon here and George Bernard Shaw dined here with Maxim Gorky, and no-one will question their pedestals in the Pantheon. But Grigory Rasputin was also seen on the premises, and no-one has a good word to say about him. Mercifully, his ghost has never had the temerity to return. Mad monks are no longer welcome in these 300 rooms.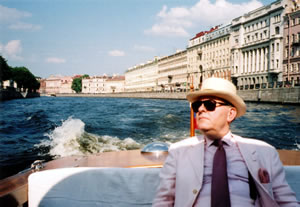 But I felt very welcome indeed. In fact, as soon as I arrived at the airport and stepped into one of the hotel's BMW Series 7 motor cars, I knew that I was staying with those who knew how to treat their guests. The chauffeur was Alexander, an excellent man who was to take me hither and thither in air-conditioned comfort over the next few days – including on an excursion to Pushkin to see Catherine The Great's astonishingly beautiful (and beautifully restored) Summer Palace, with its famous amber room. And then there was the hotel boat, Katarina, which took me on a tour of the city's canals, so that I could glide past the palace in which Prince Yossoupoff poisoned and shot the wretched Rasputin, before heaving his body into the very canal on which I was sailing. I have taken the liberty of including a photograph of myself on the Katarina. By the time of the picture I had consumed several glasses of fizz, for bubbly is one of the delights of a voyage on this charming vessel.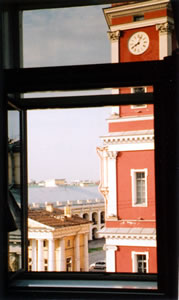 This, for sure, is a champagne hotel. Even my apartment included champagne yellow in its colour scheme. Room 359, a junior suite – or, in the charming terminology employed here, a 'Belle Chambre' – was 26,000 roubles a night, bed and breakfast for two. I reached its front door down long, spacious corridors. Its two windows had a pleasing view (pictured) over Nevsky Prospect. (Surprisingly, the tower is not that of a church and the handsome building below is actually a shopping arcade.) Nevsky Prospect is one of the main thoroughfares of the city and can be noisy. But so effective was the double (triple?) glazing that not a sound penetrated my billet, which remained blissfully calm throughout day and night.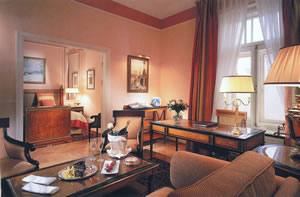 The style of the décor was what I call 'sumptuous traditional'. In the proper hall, which had both coat hooks and an umbrella, was the door to the bathroom – a decent chamber of beige marble, spotlights, 2 wash basins, a big tub, a loo, a separate shower and Lanvin toiletries. In the large bed-sitting room (about 24 feet by 12 feet), the air conditioning purred, the television rose up electrically from a handsome cabinet and the 5 picture lights, 5 table lamps, 2 wall lights and the crystal chandelier enabled me to create a restful atmosphere. The furniture, like the writing desk, had a touch of the Empire style. On the cd player I was able to play some Rachmaninov, as I decided whether to relax in one of the three armchairs or on the sofa. My bed, at my request, had been made deliciously soft and welcoming.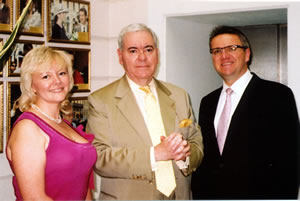 'At my request' is a phrase I could use repeatedly (and approvingly) in describing my stay. The Daily Telegraph also springs to mind. I requested it, but learnt that it is not available in St Petersburg. It was therefore printed out by the hotel (from the internet?) page by page and presented to me as a substantial volume each morning. That is real service. And, in truth, so many of the kindnesses I received were not requested, but were anticipated by the staff. I am therefore delighted to bring before you a picture of myself with two important personages.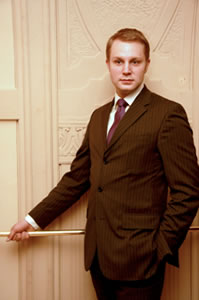 On my left is Ian Jones, the Canadian gentleman who is the Managing Director of the hotel, and on my right is the charming and vivacious Irina Khlopova, the Public Relations Manager. To these paragons and their colleagues must go the credit for the high standards of The Grand Hotel Europe.
Those high standards certainly apply to the cuisine, so I make no apology for bringing you also a picture of the Food & Beverage Manager, Andreas Magnus, a fellow of keen wit and clear ability. I dined at four of the hotel's restaurants, and enjoyed them all.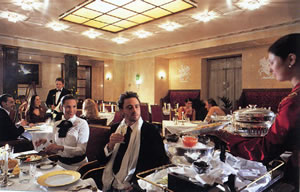 In Russia one must have caviar. So, in the Caviar Bar & Restaurant, I did precisely that. This small, stylish place with much marble (pictured) seemed just right: the waiters (apart from the Head Waiter, Konstantin, who sported black tie) were in red silk costumes, the musicians (a violinist, a guitarist and a lady singer) performed passionately, the Riedel glasses sparkled and the white damask napkins were replaced when diners left the table for a moment. The 'Egg in Egg' was superb: three egg shells filled with truffled scrambled egg and topped with Sevruga, Osetra and Beluga caviar. It was simple, expertly done and quite wonderful. Inevitably, the culinary excitement lessened thereafter, but the borsch (beetroot soup) was comforting and the polar venison in pastry with dried fruits and blackcurrant sauce was as good to eat as it was to behold on its white, oval plate. (These three dishes were 4,850 roubles.)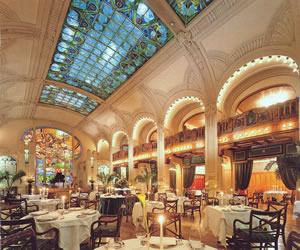 Eschewing the 35 vodkas on offer, I found that a bottle of Russian sparkling wine (Romanov – 4,700R) had the fierce acidity to stand up to the caviar, and an Italian red from Puglia (Megroamaro, Paololeo, Orfeo, 2005 – 4,000R) had the black cherries to make an ideal partner for the venison.
I have mentioned the music at the Caviar Bar. There was more at the hotel's most prestigious restaurant, L'Europe. Here, Friday night is Tchaikovsky Night. So it was on a Friday that I settled into my armchair in this impressive Art Nouveau chamber (pictured), not knowing quite what to expect. In the stained glass over the stage, Apollo looked highly pleased with himself in his chariot. Svetlana Sukhoukova, a most elegant lady, brought me a cushion for my back and told me that L'Europe had been the first restaurant in the city to have electric lights. Now they were dimmed, and the 9 piece orchestra began its expert progress through a progamme of Mr Tchaikovsky's melodies. At one point two dancers, from what we used to call the Kirov Ballet, appeared and did some twirls. The whole entertainment was enchanting.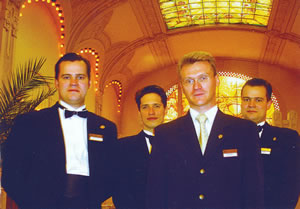 And it was made even more pleasurable by the fact that, while it was going on, some very good food was being brought to me by waiters in black tie, under the supervision of the suave and accomplished Restaurant Manager, Dmitry Zakharchenko (pictured, with some of his team). The hotel's Head Chef is Marco Alban. I found his food at L'Europe just what was needed in such a grand setting. He takes ingredients of the highest quality and handles them in a straightforward manner, with respect and intelligence. The resulting dishes are therefore full of clear, appealing flavours.
White and green asparagus came prettily presented on a square white plate with Alicante sauce. Chilean sea bass was pan-fried, and was served with shallots and a beetroot emulsion. This was well-balanced and delicious. My meat – pan-fried tenderloin of beef, with mushrooms, thyme and Masandra sauce – was even better, wonderfully tender and superbly tasty. I finished this fine meal with chestnut mousse and ginger ice cream. (These four courses were 4,100R.)
The wine list comprises about 350 entries. It spans the world, but is strongest in French and Italian offerings. Prices run from 1,800R for an Australian chardonnay (Kangaroo Ridge, 2008) to 130,000R for 1988 Lafleur. Other bottles to catch my eye were: 1986 Haut Brion (75,700R), 1988 Lafite (90,000R), 1999 Sassicaia (85,000R) and 1998 Vega Sicilia Unico (74,000R). I enjoyed that always reliable Californian, the Beringer Fumé Blanc (2006 – 4,000R), and then, as the list has some interesting Bordeaux, I asked Mr Zakharchenko to recommend a claret. He suggested a cru bourgeois from the Médoc, which turned out to be accessible and well-structured, with good black fruit and some pleasing residual sweetness (Ch. Greysac, 2004 – 4,500R).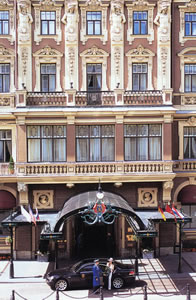 I returned to L'Europe each morning for breakfast, and was well looked after by waiter Egor, who even managed – such was his patience and affability – to teach me a few words of Russian. Now the music came from a harpist, who strummed away enthusiastically while I tucked into fresh orange juice (for which you need to ask), onion omelettes, pots of coffee (with my usual dish of ice cubes) and various pastries and fruits from the extensive buffet. When the lady paused in her plucking, canned music appeared, which the staff kindly extinguished for me.
In the Italian restaurant, Rossi's, I found beige tablecloths, a marble floor, a high ceiling, Spiegelau glasses and pleasant waitresses in purple blouses. Here Chef Vincenzo Squarciafico provided me with beef carpaccio with rocket, spaghetti with basil and pesto, roasted lamb chops and puff pastry with white chocolate cream and strawberries. (Allow about 3,500R for four courses.)
Across the road from the hotel is the Philharmonia building and the Noble Assembly. Here the Imperia Restaurant is also run by The Grand Hotel Europe. Somehow, I suppose because it was apart from the main building, I had not expected much of this gastronomic outpost. But it provided me with a good, simple dinner and a fine evening. Its two rooms are decorated in warm colours and are full of polished mahogany furniture. I sat next to an open window and looked over at the handsome 19th Century Baroque of the hotel façade. On the walls around me were photographs of composers.
The pleasant young waiter, Vitaly, in shirt and tie, looked after me very well indeed. I began with the Troika salad – lots of greenery and sautéed chicken, with a raspberry dressing and sweet soy sauce. This combination was remarkably successful. Then came tomato soup, which was certainly full of the taste of tomatoes. The fillet of beef (from Australia) was tip-top, and came with decent béarnaise sauce, rosemary potatoes and steamed vegetables. I finished with cheesecake with berry sauce. No, it does not sound particularly exciting, but it was quite one of the best cheesecakes I have ever encountered. (These four courses were 2,550R.) The wine list is short – only 8 reds, 8 whites and 10 champagnes. But it does include the excellent Capannelle chardonnay from Tuscany (2006 – 5,500R). So that it what I had. It was just what I wanted – round, fat and full of vanilla. Yes, this was a good evening.
And The Grand Hotel Europe provided me with so many good things: old-fashioned courtesy, kind attention, luxurious comfort, stylish surroundings, good food, splendid wine and delightful music. For sheer, unadulterated enjoyment, I have not found a better hotel in all my travels. I have said it before, and I will say it again: The Grand Hotel Europe in St Petersburg is one of The Great Hotels.
---