ITALY
SORRENTO
THE GRAND HOTEL EXCELSIOR VITTORIA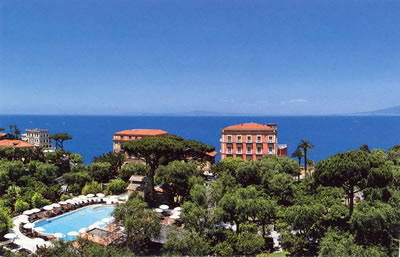 Glorious buildings, magnificent interiors, traditions of elaborate service – travellers who care about such things have long headed for The Grand Hotel Excelsior Vittoria in Sorrento. It is one of Italy's most famous hotels, and its fame rests upon its ability to maintain the highest standards – always. For those of us who love grand hotels, it is a treasure trove of all we cherish and desire. It is thrilling to find that it goes from strength to strength, with its Michelin-starred restaurant, swish new spa and surely one of the loveliest breakfast rooms in Europe.
Since it was first opened in 1834 the Excelsior Vittoria has been owned and managed by the Fiorentino family – indeed, the General Manager today is Mr Guido Fiorentino. Of course, its buildings have been renewed and expanded in the last 180 years. But I believe that the aura of grandeur has been constant. That is why it has always attracted the sort of artistic folk who know what real luxury is all about – people of the stature of Richard Wagner and Enrico Caruso. It is the grand hotel par excellence of Sorrento. Small wonder, then, that there has to be a gentleman at the gate to decline entry to the many sightseers who – understandably – want to wander through the hotel's 20,000 square metres of luscious gardens to look at one of the best views on the Italian coast.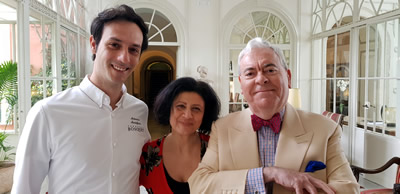 The hotel is right in the centre of town, but the gardens keep the hustle and the bustle well away. And, on the other side, there is the sheer drop of the cliff and then the sea. Should you wish to get close to the water, the hotel's private lift will waft you right down to sea level. But I usually prefer to remain on the terrace, shaded from the sun and with a pot of Earl Grey at my side. Tea is my normal afternoon ritual, and there can be few places in Christendom more charming for its enactment than the terrace of The Grand Hotel Excelsior Vittoria (especially after one of the kind waiters or waitresses has turned off the canned music). To reach it requires a meander through some of the sitting rooms, which I find so delightfully old-fashioned and so exquisitely furnished that sometimes I wonder if I have wandered onto the set of a film about the Edwardian nobility. Typically, the chairs in the Winter Garden are originals, designed in the Liberty style by the great Ernesto Basile (1857-1932).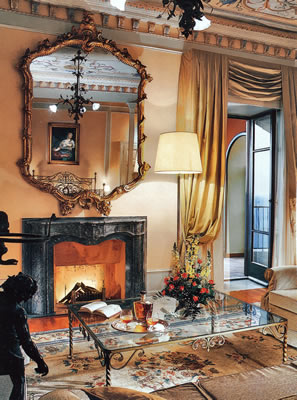 The service throughout the hotel is properly traditional, too, and the smart and courteous members of staff on this visit, as previously, were careful to use my name – a tribute, I think, to the high standards maintained by the vivacious and charming lady Manager, Tiziana Laterza (pictured, with your correspondent and the Executive Chef). She ensures that hers is one of those rare establishments where simply nothing is too much trouble for the guests. Did I need a golf buggy to transport me to the end of the hotel drive? It was there.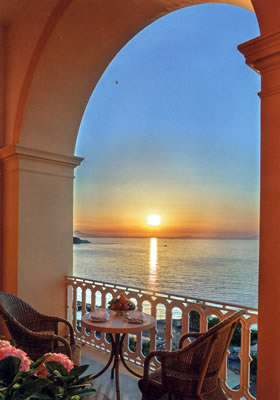 My accommodation was my favourite Junior Suite, number 248 (Deluxe Junior Suite Sea View from 1000€ a night). High ceilings, walls with painted vine leaves, polished wooden furniture, swagged and tailed curtains of satin silk, crystal chandeliers – all was exactly as I wanted it. The bed had been made wonderfully soft for my ailing back, and the armchairs and the sofa also afforded me proper support and comfort. There were two televisions, of course, for the sleeping and sitting areas, and behind the fitted doors was plenty of hanging space, as well as a private safe. Best of all, beyond the French windows was my own long terrace, with a gorgeous view of the Bay of Naples - to the left, the island of Ischia; to the right, Mount Vesuvius; and straight ahead, the sprawling city of Naples itself. Hard of heart would be the person who failed to be captivated by this panorama.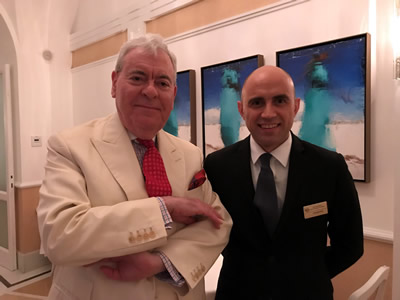 From this charming apartment, I set out for dinner. The hotel's restaurant is called the Terrazza Bosquet. It has the all-important Michelin star and is regarded very highly indeed for its food. Here I settled myself at table number 73, next to a large window which afforded me the view I had enjoyed from my terrace. As you would expect, the service was exemplary – orchestrated by the splendid maitre d' Giuseppe Sorrentino (photographed, with your correspondent). Stefano, my waiter, was particularly solicitous. Riedel glasses stood on the white tablecloth, and napkins were replaced when guests left their places. From the moment a slice of locally baked, gorgeous, crusty bread was cut on the bread trolley which had been brought to my table, I knew that this was going to be a very, very good meal.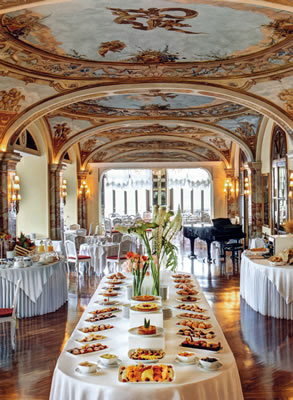 Executive Chef Antonino Montefusco is a brilliant fellow. Each plate which came to me from his kitchen was impressive, and one achieved the summit of culinary endeavour. Mr Montefusco likes complexity and elaborate presentation, and – the crucial part – he handles both with flair, wit and intelligence. Needless to say, his cuisine is based upon the finest ingredients.
Two set menus are offered for dinner – at 120€ and 150€. My four courses from the carte were 128€. I began with delicate red mullet 'Tortiera style', with marinated red onions and green beans. Prettily served in a white bowl, this was a light and delicious beginning. Subtlety and balance also marked the dish of translucent pasta – ravioli filled with peas, served with pork cheeks, ricotta cheese and pea sprouts. And then came the star of the evening: a rare pigeon breast of remarkable tenderness, caressed into perfection by orange and cocoa bean and a reduction with Taurasi wine. For such a dish does one travel the world. I ended with another pretty confection – of white chocolate mousse, pear and pepper.
The wine list has hundreds of offerings. Most are from Italy and France, but the rest of the world appears, not least in 17 wines from Germany. Prices are reasonable, and run from 35€ for a local white to 3,500€ for the 2015 vintage of Pétrus. Other bottles to catch my eye included the following: 2017 Cloudy Bay sauvignon blanc (50€), Krug Grande Cuvée (260€), 2013 Gaja barbaresco (250€) and a trio of 2014 super-Tuscans: Luce (170€), Sassicaia (300€) and Ornellaia (300€). If you share my enthusiasm for the big, fruit-laden red wines of Puglia, I would point you to the excellent Primitivo di Manduria, Sassantanni – here in its 2013 vintage for 60€.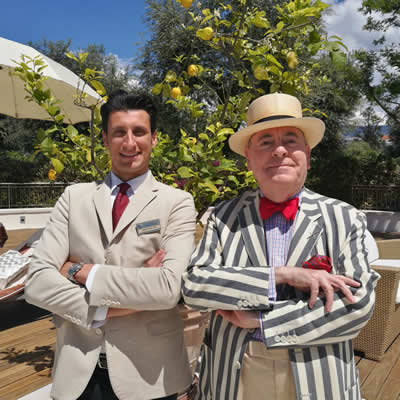 I have already mentioned the loveliness of the breakfast surroundings. The Vittoria Room has not only painted ceilings and magnificent views, but also a lady who plays jolly melodies on a grand piano. There are few more pleasing experiences than breaking the fast to the sound of good music, properly performed. And the service – from fine fellows like maitre d' Raffaele Rispoli (pictured with myself in the garden – hence my Panama), who went to great pains to spoon out passion fruit onto my plate of melon and strawberries – lifts the whole occasion onto a high plane.
The buffet is always extensive and always laden with food of top quality. From it I obtained slices of apple tart and crusty bread, bowls of magnificent marmalade and dishes of fresh fruit. From the omelette station came freshly cooked eggs and from the juice station came freshly-squeezed green apple juice. Brought to me were silver pots of coffee and buckets of ice. I also tucked into 'grandfather's breakfast' – porridge made with water (not milk), brown bread and butter and sliced raw onion. You will gather that I did not leave the breakfast room hungry. Rather, I was thoroughly and happily satisfied.
Glorious buildings, magnificent interiors and traditions of elaborate service – The Grand Hotel Excelsior Vittoria stands as a monument to all that is best in the world of hospitality.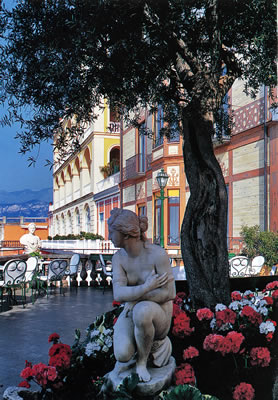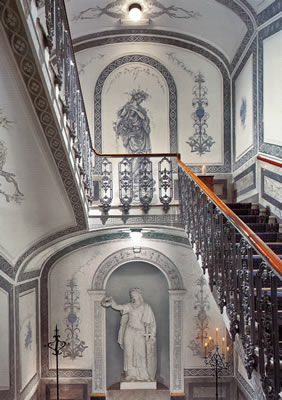 ---