ITALY
SORRENTO
THE GRAND HOTEL EXCELSIOR VITTORIA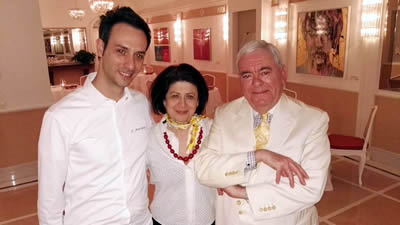 Lucius Cary, the second Viscount Falkland, was a wise man. He it was who, in 1641, uttered to the English Parliament some of the wisest words ever spoken in our language. "Where it is not necessary to change, it is necessary not to change." In my judgement, this should be the motto of every hotelier in the world. Glorious buildings, magnificent interiors, traditions of elaborate service – these need to be cherished and preserved, not tossed aside at the whim of the latest fashionable 'designer'. Let us therefore sing a mighty Te Deum for The Grand Hotel Excelsior Vittoria in Sorrento, one of Italy's most famous hotels and one of its most glorious bastions of tradition. I love it.
Since it was first opened in 1834 the Excelsior Vittoria has been owned and managed by the Fiorentino family – indeed, the General Manager today is Mr Guido Fiorentino. Of course, its buildings have been renewed and expanded in the last 180 years. But I believe that the aura of grandeur has been constant. That is why it has always attracted the sort of artistic folk who know what real luxury is all about – people of the stature of Richard Wagner and Enrico Caruso. It is the grand hotel par excellence of Sorrento. Small wonder, then, that there has to be a gentleman at the gate to decline entry to the many sightseers who – understandably – want to wander through the hotel's 20,000 square metres of luscious gardens to look at one of the best views on the Italian coast.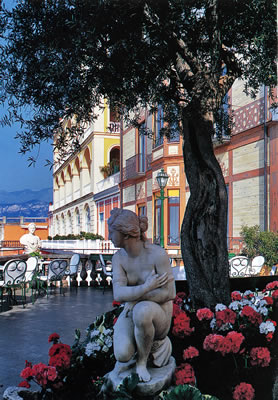 The hotel is right in the centre of town, but the gardens keep the hustle and the bustle well away. And, on the other side, there is the sheer drop of the cliff and then the sea. Should you wish to get close to the water, the hotel's private lift will waft you right down to sea level. But I usually prefer to remain on the terrace, shaded from the sun and with a pot of Earl Grey at my side. Tea is my normal afternoon ritual, and there can be few places in Christendom more charming for its enactment than the terrace of The Grand Hotel Excelsior Vittoria (especially after one of the kind waiters or waitresses has turned off the canned music). To reach it requires a meander through some of the sitting rooms, which I find so delightfully old-fashioned and so exquisitely furnished that sometimes I wonder if I have wandered onto the set of a film about the Edwardian nobility.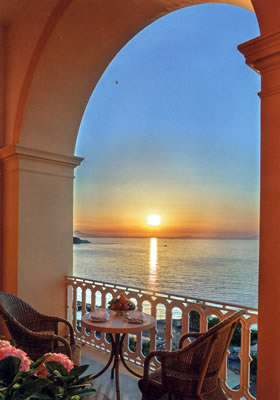 The service throughout the hotel is properly traditional, too, and the smart and courteous members of staff on this visit, as previously, were careful to use my name – a tribute, I think, to the high standards maintained by the vivacious and charming lady Manager, Tiziana Laterza (pictured, with your correspondent and the Executive Chef). She ensures that hers is one of those rare establishments where simply nothing is too much trouble for the guests. Did I need a golf buggy to transport me to the end of the hotel drive? It was there. Did I feel a rug might be convenient by my bed? It appeared. Did the idea of an electric fan in my bedroom appeal? It was soon on hand.
That bedroom, number 243, was a 'Double Deluxe Sea View'. I can thoroughly recommend this category of accommodation (you will need to check on the hotel website to find out the rates for specific dates), for it provides elegance, space and, of course, the wonderful view. From the corridor I entered a hallway with the bathroom door to the left and the bedroom door ahead. The place of ablutions was clad in green tiles and beige marble, and provided one wash basin, a bath with a shower over, a loo and a bidet. The place of relaxation and sleeping was a pristine vaulted chamber in white and pale green, with efficient and quiet air-conditioning and lit not only by walls lights and table lamps but also by two chandeliers in the Art Déco style. The bed was exceptionally comfortable, there was plenty of hanging space and an easy chair and a sofa provided good seating. Nor had the small (but important) details been neglected: I liked particularly the presence of a working carriage clock.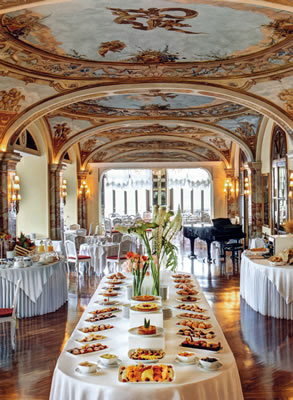 But, of course, best of all was the view. Through the French window was my own balustraded balcony. There I could (and often did) sit in one of the wicker armchairs and gaze out over the Mediterranean – to my left, at the island of Ischia; to my right, at Mount Vesuvius; and straight ahead, to the sprawling city of Naples. Hard of heart would be the person who failed to be captivated by this panorama.
Rested and suitably attired – suit, starched collar, polished shoes etc. – I set out for dinner. The hotel's restaurant is called the Terrazza Bosquet. It has a Michelin star and is regarded very highly indeed for its food. Here I settled myself in the cushions of a wrought iron armchair with cushions at a table on the outside terrace. In front of me the sun subsided majestically on the horizon, between the mainland and the island of Procida. Riedel glasses stood on the white tablecloth. The service – orchestrated by the admirable Assistant Restaurant Manager, Giuseppe Sorrentino – was elaborate and proper, with napkins replaced when guests left their places. From the moment a slice of locally baked, gorgeous, crusty bread was cut on the bread trolley which had been brought to my table, I knew that this was going to be a very, very good meal.
Executive Chef Antonino Montefusco is a brilliant young man. I say this because I gave to every plate which came to me from his kitchen exceptionally high marks. For one, or possibly two, of an evening's dishes to achieve such a level is admirable. For all to do so is extremely unusual. Mr Montefusco likes complexity and elaborate presentation, and – the crucial part – he handles both with flair, ability and intelligence. At only one moment did I judge the elaboration went Over The Top, and that was with the theatrical amuse-bouches.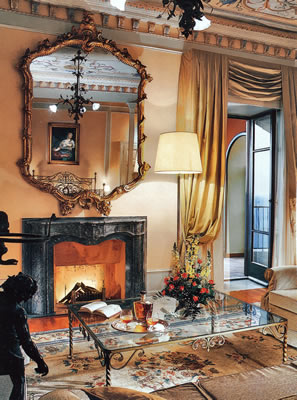 Two set menus are offered for dinner – at 100€ and 130€. My four courses from the carte were 134€. I began with blue lobster, precisely cooked and full of taste, with broad beans, broad bean shoots and bacon. This last ingredient is notorious for pushing aside its companions, but here it was a courteous servant of the ensemble. The balance was admirable. Then came the sort of pasta I like – delicate and translucent. Pea-stuffed ravioli with ricotta, sweet pea shoots and rabbit was partnered exquisitely by a light pepper sauce. Delicious. So, too, was my main course of pigeon breast, sweet and tender and admirably set off by pumpkin, orange, cocoa bean and a reduction with Taurasi red wine. For my pudding, I requested a soufflé, and received a fine version of ricotta, with raspberry sauce and raspberry sorbet. This was a magnificent meal.
And my drinking was magnificent, too, for I quaffed two of my favourite wines from Italy. The franciacorta was the Anna Maria Clementi made by Ca' del Bosco, the sparkling wine I regard as the Italian Krug. This 2006 vintage (160€) was bright, full-bodied and achieved a lovely balance between its discreet fruit and its lively acidity. I love red super-Tuscans and I love particularly Luce. The 2012 (170€) burst forth in its usual confident manner, with a captivating generosity of ripe damsons and blackcurrants, and left a fine aftertaste on my palate. In another five years, it will be a king. For now, it is a prince.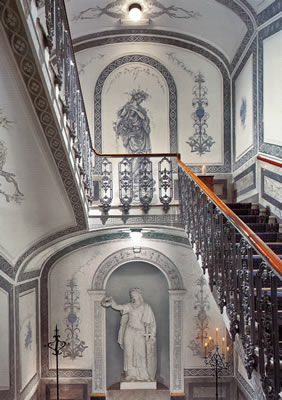 These joys were brought to me by Natale Sicignano, the knowledgeable sommelier. His list has 614 offerings. Most are Italian, but there are a few temptations from France and a handful from elsewhere. Prices run from 28€ for a local rosé to 3,000€ for the 2013 vintage of Pétrus. That ever-reliable chardonnay from Umbria, Antinori's Cervaro della Sala (2013) is good value at 80€.Other bottles to catch my eye were: 2011 Masseto (800€), 1998 Solaia (500€), 2007 Sassicaia (400€), 2008 Chateau Margaux (1,600€) and 2008 Chateau Haut Brion (1,400€).
Breakfast at The Grand Hotel Excelsior Vittoria is a special treat. Not only is it served in the lovely Vittoria Room, a large and elegant chamber with painted ceilings and magnificent views, but also a lady plays jolly melodies on a grand piano. There are surely few more pleasing experiences than breaking the fast to the sound of good music, properly performed. And the service – again under the direction of the admirable Giuseppe Sorrentino, and provided by friendly and courteous waiters like Raffaele and Ernesto (the latter of whom is expert at re-folding napkins) – lifts the whole occasion onto a high plane.
The buffet is always extensive and laden with food of top quality. From it I obtained slices of apple tart and crusty bread, bowls of magnificent marmalade and dishes of fresh fruit – melon, orange and kiwi. From the omelette station came omelettes and from the juice station came freshly-squeezed green apple juice. Brought to me were silver pots of coffee, buckets of ice and dishes of wild strawberries. I also tucked into 'grandfather's breakfast' – porridge made with water (not milk), brown bread and butter and sliced raw onion. You will gather that I did not leave the breakfast room hungry. Rather, I was thoroughly and gloriously satisfied.
Indeed, that is what this magnificent establishment provides for its guests: thorough and glorious satisfaction. Were he to return to this world and stay at The Grand Hotel Excelsior Vittoria in Sorrento, the second Viscount Falkland would surely repeat his famous words: "Where it is not necessary to change, it is necessary not to change." Amen to that, say I.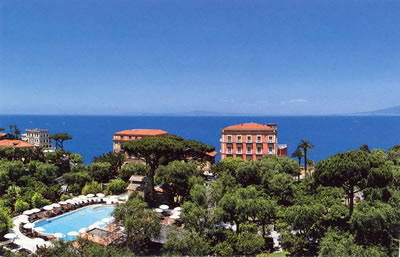 ---
ADDRESSES
THE GRAND HOTEL EXCELSIOR VITTORIA
Piazza Tasso 34, 80067 Sorrento, Italy.
Telephone +39 081 877 7111
Fax +39 081 877 1206
Email: info@exvitt.it
www.exvitt.it
Double rooms from 330€, including breakfast
Check the hotel website for the rates for specific dates