Sweden
STOCKHOLM
THE GRAND HOTEL & FREDSGATEN 12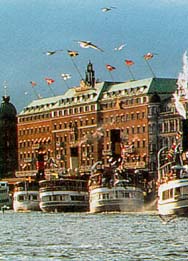 If you are going to Stockholm for the first time, allow me to offer you some tips.
You will, of course, be staying at the Grand Hotel – because this is where everyone who is anyone (including each of you who has won a Nobel Prize) always stays. So here is my first piece of advice: do not try to economize on your category of room. The Grand is an impressive old pile, a distinguished result of the city's building boom – which began in the 1870s and which means today that the Swedish capital is one of Europe's richest repositories of late 19th century monumental architecture. It is on the waterfront, and on the far bank are the austere grandeur of the Royal Palace and the inviting spires of the Old Town. This is one of the loveliest urban views you will find anywhere. Go therefore for one of the rooms on the front of the building, designated 'Deluxe Harbour View' (at £325 a night, bed and breakfast for two).
Foolishly, I did not. Upon arrival I was shown up to room 562 – and immediately I confronted the Scandinavian attitude to privacy. I suppose I had better call it 'liberal'. The apartment was pleasantly spacious. Its large plate glass windows overlooked a narrow thoroughfare. More significantly, they were directly opposite the large plate glass windows of the office block on the other side of the street. I asked how to draw the net curtains. There were none. I asked how to lower the venetian blinds. There were none. It was either living in darkness behind closed curtains, or enjoying the company of the office workers. I asked for a room which was not overlooked.
Thus I came to room number 377 (a 'superior' room at £275 a night). This, I think, must be a billet reserved for neurotic, un-liberated English customers like me. The single small window afforded a view of a flat roof from which grew a few miserable weeds. It was gloomy, but it was private. And, at night – when the lack of daylight no longer mattered – this moderately-sized accommodation was actually quite pleasant. It boasted a proper hallway, with a fitted wardrobe and a safe, polished parquet floors, a writing desk, an antique cabinet with a marble top and two (rather upright) armchairs. It was slightly irritating that there was no mirror at all in the bedroom, but I was pleased to find a brass clock mounted on the wall.
In the bathroom there was also good and bad. Good: the stylish confection of grey tiles, chrome, wood and spotlights, the 2 washbasins and the Molton Brown toiletries. Bad: the plastic bath with an uncomfortably shaped back, the small bath towels, the absence of bathrobes and the absurdly high loo seat. (This last was also loose, a fault I reported, along with the inoperative bedside light and the missing bottle opener for the mineral water. All were very promptly rectified.) I must also report one black mark for the housekeeping. I returned from dinner one evening, having asked for the turn-down service, to find my bed turned down, but all my dirty towels still piled in the bath…
One aspect of the Grand, however, proved faultless. The concierge desk. In a new city I am quite demanding of this facility, and here I found that members of the concierge staff were willing to go far beyond the call of duty to provide every help possible. They even tried to track down the book I had stupidly left at the airport. (To no avail, alas! Although why anyone would wish to walk off with a tome entitled Making A Living In Mediaeval Europe defeats me.)
I must also mention breakfast in the Verandah dining room. It was a buffet, of which I am not over-fond, but all the comestibles were of high quality (particularly the bacon, scrambled egg, pineapple and coffee) and through the windows was that glorious panorama of water, regal splendour and ecclesiastical good taste. For those of us who like to be uplifted by what we see and what we eat, this was a mighty fine way to start the day.
You will wish to end it in equally fine style. So let me take you for a five-minute stroll from the Grand, to one of Stockholm's Michelin-starred restaurants – where I can offer you my second important piece of advice.
Ask the waiter to describe the dishes. Now, we all know the jokes about the over-loquacious waiters who go on for half an hour about the miracles being prepared by the kitchen. But at Fredsgaten 12 (the address is also the name of the restaurant) explanations are absolutely essential. For two reasons: first, the descriptions on the menu have been written by a pupil of the School of Extreme Minimalism; and second, the talented chef (28 year-old Danyel Couet) is an enthusiast for spices. I wandered innocently into "Steak, cream of potato, Xéres vinegar, chorizo" – to find that the dish could have been called, "Chorizo, chorizo, chorizo". I was presented with a dish of furnace-like heat. I had to change it. So be warned…
But, having been warned, you can eat marvellously well here. My opening goat's cheese ravioli was decent, if a little unexciting, but then there came a real stunner. Four tiny croustades filled with foie gras and pear and topped with tamarind foam – eaten with my fingers and absolutely wonderful, tiny miracles of perfect taste and texture. More foie gras came in the dish which replaced the steak. This time it was stuffed into chicken. Morels came in a separate dish of frothy celery soup. This combination was much more than the sum of its parts. Excellent. Less good was the concluding 'peach melba', unbalanced by the inclusion of a muffin. (About £50 for these four courses.)
The atmosphere at this modern-minded restaurant is busy and buzzy, yet still somehow manages to be relaxing. This little paradox I attributed to the high ceilings of this 19th century building and to the excellent quality of the conversion. Spotlights, a boarded floor, white napery, white crockery, good Spiegelau glasses and waiters in grey shirts and dark blue aprons – this place has a pleasing style.>
Two short wine lists are offered, with over two dozen wines available by the glass. On the grander list you will find some of the best of Australia, California, Italy, France and Spain. 1994 Hill of Grace is £420, 1994 Dominus £200, 1997 Sassicaia £210, 1996 Margaux £490 and Vega Sicilia (I did not note the vintage) £170. Sommelier Kim Choukri brought me a well-structured Chilean chardonnay, with hints of toast, butter and lemon (Montes Alpha, 2000 - £39), and a very tannic, very viscous Portugese with an astonishing nose of mint (Touriga Nacional 2000, José Neiva, DFJ Vinhos, Estremadura - £42).
Follow my tips, and the Grand Hotel and Fredsgaten 12 will enable you to lodge and eat in Stockholm with enormous pleasure.
---