ITALY
SORRENTO
GRAND HOTEL LA FAVORITA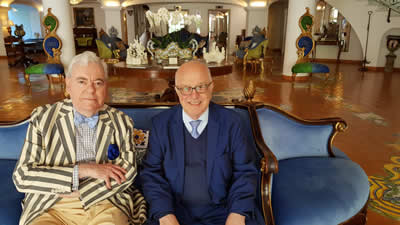 The Grand Hotel La Favorita is aptly named. It is, indeed, many people's favourite five-star hotel in Sorrento. And there is no real secret about why everyone likes the Grand Hotel La Favorita so much. It is spacious, immaculately maintained and wonderfully practical. Practicality is a characteristic too many hotels neglect nowadays, and the result of such neglect is a plague of hostelries which look wonderful in glossy magazines but which are hard put to offer their guests a comfortable chair or a useable bath tub. There is none of this nonsense at La Favorita – thank goodness. Indeed, I find that every time I visit I find another improvement in its amenities. This time, for example, I discovered excellent tea- and coffee-making facilities discreetly tucked away in a drawer in my room.
There is aesthetic appeal, too. For within this palace of sparkling white, located in the historical heart of beautiful Sorrento, you will find an abundance of pretty things. Although it is clearly modern (having re-opened in 2010 after a major refurbishment), the building is discreet in its modernity. Moreover, its extensive ground floor public spaces are packed with so many antiques – statuary, porcelain and furniture – that they provide a most charming and civilised welcome to its guests. These pieces, many of them from the 18th Century, have been collected by the hotel's owner, Mr Enzo Manniello, who clearly likes the good things of life – a proper characteristic for one concerned with the offering of hospitality.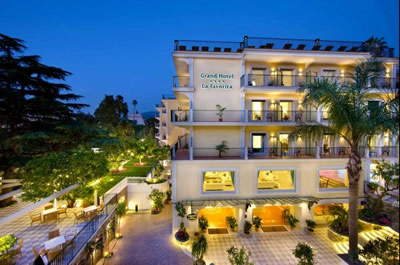 There are 85 bedrooms, and the overall decorative style suggests the neo-Classical. The service throughout the hotel is Classical, too: proper, friendly and courteous – a tribute to the fine leadership of the impressive General Manager, the genial Mr Mario Damiano (pictured, with your correspondent).
You will need to check on the hotel website for the rates for specific dates, but my judgement is that the establishment offers very good value for a five-star hotel. The price of my 'Superior' double room on the second floor varies from around 250€ to 500€ a night, bed and breakfast for two, according to season. Here was that practicality I have mentioned: the air conditioning was quiet and effective; the bed had been made deliciously soft for me; the bath tub was large, and easy of ingress and egress; the hot water was always abundant and the window blind glided up and down electrically at the touch of a button.
Room 224 was attractive accommodation, too. I liked particularly the superb local ceramic tiles, which provided colour and sparkle to the walls of the bathroom and to the floors throughout. In the fitted wardrobe was a safe. On the ceiling of the bedroom, painted birds swooped in a blue sky. A sliding door of plate glass opened onto my private terrace, which offered me a table and chairs, a sun shade and a pair of day beds. This was a quiet and sunny spot for my afternoon siesta, for it looked onto a little-used side street. (You might care to note that the channels on the television for Classical music are 203 and 266.)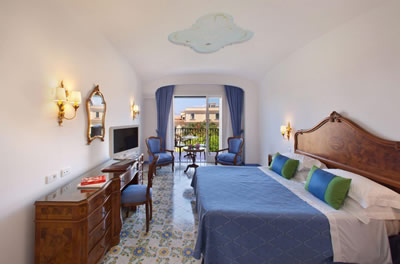 Dining at La Favorita is done either at the mezzanine level, in the Tiffany Restaurant, or on the top floor terrace, in the Restaurant Bellavista. The weather on the occasion of my recent visit was rather windy, so the Tiffany Restaurant was my destination each evening. Here good Schott glasses stood on white damask and silver domes were lifted. The service – orchestrated by Luigi, the expert Maitre d' – was efficient and attentive.
I was on the 'half-board' arrangement, and thoroughly enjoyed my experience of Chef Marco Erminione's cuisine. His pasta is excellent, and his soups are to be recommended – I particularly liked a thick and tasty Genovese soup with pesto. Meat, too, is carefully prepared, as was demonstrated by my pink and tender grilled lamb chops. And you should on no account miss for your pudding the gorgeously rich chocolate mousse.
The wine list has 219 offerings. Most are Italian, but there also some good bottles from France and elsewhere. Prices are attractive, running from 22€ for a falanghina from Campania to 700€ for the 2001 vintage of Chateau Lafite. Other entries to catch my eye were: Krug Grand Cuvée (250€), 2000 Luce (90€), 1999 Sassicaia (300€), 2003 Ornellaia (220€), 1998 Gaja Sperss nebbiolo (250€), 1998 Amarone Quintarelli (350€), Planeta chardonnay (50€) and Cervaro della Sala (105€).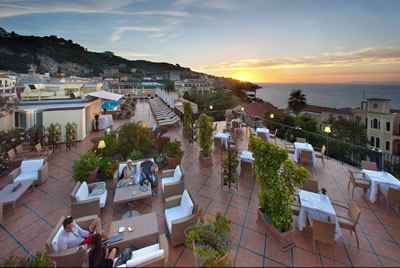 It was to this same Tiffany Restaurant, with its marble floor and crystal chandeliers, that I went for breakfast each morning. The delights of the omelette station – I liked the onion version most particularly – ensured that my days began well. From the extensive buffet I secured superb orange marmalade and crusty bread, dishes of mango, passion fruit, pineapple and melon, bowls of Allbran, plates of roasted peppers and potatoes and slices of lovely apple tart. All this food was of high quality, eaten off Schönwald cockery of white and pale blue, and washed down with pots of coffee (cooled by my customary ice cubes) and my concluding cappuccini. I must mention, too, the hard-working waiters at breakfast, who were both efficient and friendly to a man. And the atmosphere at the weekend was made particularly civilised by the melodious tinkling of the pianist.
The Grand Hotel La Favorita offers an attractive combination of comfort, good food, excellent service and practicality, in a position which is only a few steps from all those things the visitor wants to do in Sorrento. Its name is exactly right. Do try it. Then it will be your favourite, too.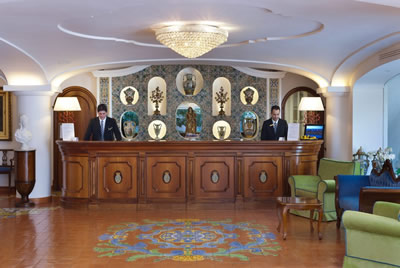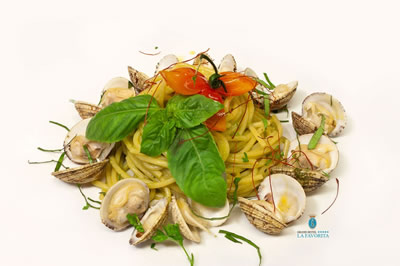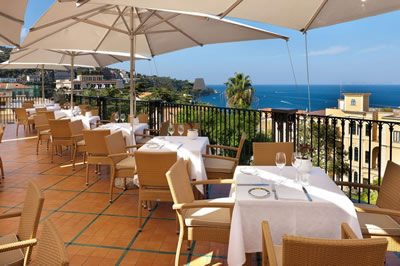 ---