SWITZERLAND
LUZERN
GRAND HOTEL NATIONAL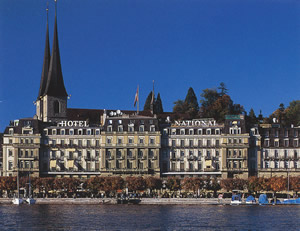 Luzern is my favourite city in Switzerland. This is saying quite a lot, because all Swiss cities are appealing to the civilized traveller. But Luzern has the most delightful combination of them all. In the crisp elegance of its architecture, the gentle calm of its residents and the painterly loveliness of its setting by a lake surrounded by mountains, Luzern presents to the visitor a vision of well-ordered contentment. And within this heavenly bower I can recommend to you the perfect room in the perfect location. It is within the majestic grandeur of the Grand Hotel Natonal.
The first part of this magnificent edifice was erected in 1870 by a gentleman who rejoiced in the name of Colonel Maximilian Alphons von Pfyffer von Altishoten. Seven years later he handed over the management of the hotel to the great César Ritz, and eleven years after that (in 1881) Ritz was joined by the most famous chef of the day, Auguste Escoffier. This noble pile in the style of the French Renaissance was, clearly, the place to be. And such was its popularity that a large East Wing – in the same style – needed to be built in 1900. It then had 220 rooms. Now it has just 41 bedrooms and suites, which occupy the East Wing, and the rest of the building is used as 'residences' for those who wish to stay for long periods. Of course, the location remains, with the hotel separated from the lake only by the exquisite (pedestrian-only) tree-lined promenade which is Luzern's pride and joy.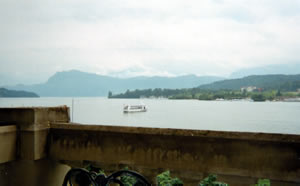 To look out at the panorama of water and snow-topped peaks would be pleasure enough, but to do so from an apartment of such elegance as mine was thrilling. Indeed, those of us who love this sort of luxury owe a debt of gratitude to the owner of the Grand Hotel National since 1970, the architect Umberto Erculiani, for maintaining his property with such impeccable taste. For room 306 (a Deluxe Junior Suite and therefore 1,070CHF-1,355CHF a night, bed and breakfast for two, according to season) was exactly the sort of room I want in a grand hotel. I entered straight into the bed-sitting room, which was the perfect size – about 21 feet square – with a high coffered ceiling and a floor of polished beige marble. The colour scheme was white, with delicate touches of gold leaf. The furniture – including the writing desk, the sofa and the two armchairs – was a mixture of Classical and Biedermeier, with much use of sparkling satin wood. A fireplace in white marble provided a pleasing focal point. Two overmantel mirrors increased the impression of space. The large crystal chandelier and the gilt wall lights were all dimmable, and joined the five table lamps in providing soft and effective illumination. The curtains around the four sets of French windows were swagged and tailed. My balconies enabled me to get even closer to the natural beauty without, and – when it was time for sleep – my bed had been made wonderfully soft for my ailing back.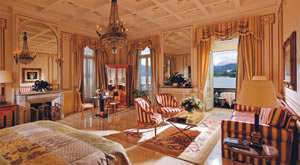 Then, as if all this were not enough, I went through the door into the dressing room. This was larger – at 15 feet by 9 feet – than some hotel bedrooms I have endured. It provided not only extensive hanging for my suits, but also a private safe for my cuff links and facilities for making tea and coffee. Another door led to the bathroom – a smaller chamber, to be sure, but still with enough room for a decent tub with a shower over, two wash basins, a loo and a bidet.
Upon arrival I was shown to my billet by the Assistant Front Office Manager, Christoph Stattaus. He was typical of every member of staff I encountered: friendly, charming, efficient and determined to do everything in his power to ensure I had absolutely everything I wanted. He even rushed off to find a cd player for me, which he then installed so that I was not denied my daily dose of Elgar. Evidently, the General Manager, Marcus Conzelmann, is doing a good job.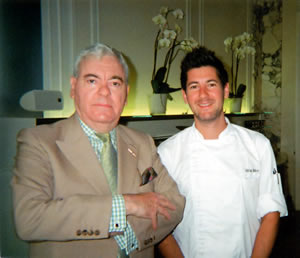 And so is his Chef, Adrian Bührer (pictured with your correspondent). He has the weight of history on his young shoulders, for he sends out his dishes into the Restaurant Trianon, where diners once tucked into the food of Escoffier himself. But my dinner showed that he is quite capable of meeting the challenge. I began with delicious, thin slices of cured ham from the famous Pata Negra pigs, with green vegetables and salad. Then I moved on to beautifully soft and yielding homemade fettuccini with morel mushrooms and onions, which was slightly too salty for my palate. Then came the star of the meal: superb turbot (ravishingly succulent), with avocado, cilantro, macademia nuts and a white wine sauce. I ended with the well-balanced richness of chocolate ice cream with rhubarb and strawberries. (These four courses from the carte were 112CHF. Set menus are offered at various prices from 80CHF.)
The wine list has 125 offerings, and whizzes around the world to good effect. Twenty wines are offered by the glass. Prices run from 43CHF for a Californian cabernet (Stony Terrace, 2011) to 2,200CHF for the 1994 Pétrus. Other bottles to catch my eye were: (from France) Chateau Margaux 2006 (1,200CHF), Yquem 1966 (1,000CHF), Cos d'Estournel 2006 (320CHF) and Cristal champagne 2002 (480CHF); and (from Italy) Luce 2009 (185CHF), Tignanello 2009 (185CHF), Ornellaia 2007 (295CHF) and Sassicaia 2007 (285CHF). I drank a bottle of big, buttery chardonnay, and enjoyed every mouthful (Aconcagua, Casablanca Valley, Viña Erràzuriz, 2011 – 54CHF).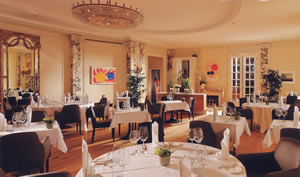 Le Trianon is a handsome room, with marble pilasters, a light wooden floor, black leather armchairs, white napery, Schott glassware and discreet lighting. A single tapered candle burned on my table in a silver candlestick, as Ella Fitzgerald crooned over the loudspeakers (one of the few singers I find tolerable over dinner). The service, orchestrated by Chef de Service, Kay – smart in his black tie – was correct, and included the replacement of napkins.
I returned to Le Trianon each morning for breakfast. From the buffet I treated myself to bowls of Sugar Puffs (which I am not usually allowed), as well as dishes of melon and pineapple, good croissants, slices of crusty bread and wonderful stewed fruit. And to my table the waitresses brought plates of bacon, poached eggs and grilled tomatoes and silver pots of coffee. These were relaxed and enjoyable occasions.
Indeed, my whole stay at the Grand Hotel National was relaxed and enjoyable. It is an impressive hotel with a fine staff in a majestic building. It has a wonderful location and it has a very talented chef in its kitchen. And its Deluxe Junior Suites offer accommodation which is well nigh perfect. Yes, my opening assertion is undoubtedly correct: Luzern is my favourite city in Switzerland.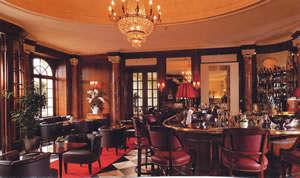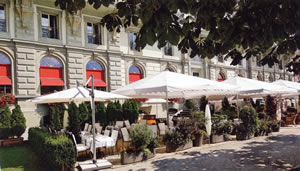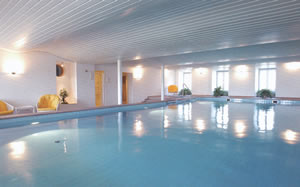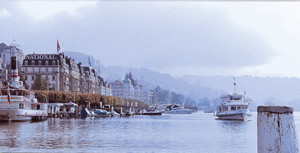 ---