ITALY
NAPLES
THE GRAND HOTEL PARKER'S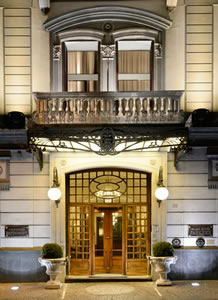 You either love Naples or you hate it. My opinion is that it is a wonderful city. True, in the last one hundred years, it has not been an affluent place. Yet that has been its blessing. It has meant that it has escaped the attentions of those barbarians of the twentieth century – the architects and the town planners. Many of its buildings might be a bit decrepit, but at least they have not been demolished to make way for concrete monstrosities. Of course, one has to be careful how one gets about. Neapolitan taxi drivers are notorious for the – how shall I put it delicately? – 'enthusiasm' with which they extract the maximum amount of cash from their passengers. I have been a victim of their remarkable calculations more than once. But those of us who love art will not be put off. We know that we will always find something new and glorious to see here. (On my most recent visit I popped into the Palazzo Stigliano to look at Caravaggio's last painting, The Martyrdom of Saint Ursula.) And there is another draw, too – a truly fine hotel. The Grand Hotel Parker's even has a charming story about its name.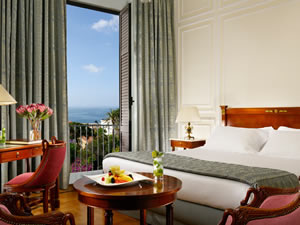 Early one morning in 1889 the marine biologist George Parker Bidder was asleep in bed when the local bailiff arrived at his favourite billet to confiscate it because of the owner's gambling debts. Woken by the commotion, Mr Bidder enquired through his door as to what was going on. Told by the distraught hotelier that his beloved establishment was now for sale, Mr Bidder – with that combination of languor and extreme wealth for which the Englishman Abroad was once famous – called out, "Put the hotel on my bill," and went back to his slumbers. Thus did an expert on the life of the sponge ensure that the name above the door would be not The Grand Hotel, but The Grand Hotel Parker's.
With hotels, I find first impressions important. Here they are excellent. The steep road outside (for we are near the top of the hill) is busy – but, then, every Neapolitan road is busy. There is therefore a lovely contrast when – in through the attractive Liberty façade – all is quiet, calm and supremely elegant. Gilt, marble, fine fabrics and antiques give the lobby and its spacious adjacent sitting areas a real sense of luxury. This is not a large hotel – there are just 83 bedrooms – but it has an impressive sense of grandeur. Much of the décor is French. Indeed, each floor of bedrooms is decorated in its own style from France. Some are Empire, others are Louis XVI, Directoire and so on. This attention to detail is to be applauded, and I expect former guests did applaud it. They have included Oscar Wilde, George Bernard Shaw and …Lenin. Clearly, the hotel's appeal has always been wide. Today you can also enjoy something new: a little spa on the first floor, a tempting haven of trickling water and greenery.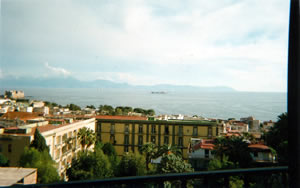 My own room – number 210 – was a Deluxe Double, as spick and span and smart a chamber as you will find in the city. (As so often nowadays, I must direct you to the hotel's website for information about the prices of rooms for specific dates.) In its proper hallway were fitted wardrobes (with a safe) and doors to the bathroom and the bedroom. The latter measured about 15 feet by 12 feet and was lit by three table lamps and a crystal chandelier. Seating comprised two upright chairs, two easy chairs and a small sofa. My comfort was further assured by the effective air conditioning and a bed which had been made very soft at my request. A Persian carpet and a small writing desk completed the decor. My ablutions were performed in a bathroom of black and white marble, divided into two sections: a place for the two wash basins, with bright lighting in the manner of a theatrical dressing room; and a chamber with the loo, the bidet and the bath tub. The lovely view from the window (pictured) included the whole sweep of the Bay of Naples.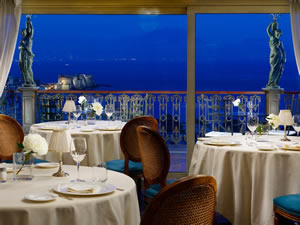 Eating at Parker's is done on the sixth floor, in George's Restaurant. (Once more, the name comes from our friendly marine biologist.) Breakfast on the terrace here I found a particular joy, for the panorama spread out before me was so impressive: a lovely confection of tiled domes, palm trees and the island of Capri floating seductively in the distance. The bronze ladies were quite seductive, as well. They adorn the balustrade and stare out, impervious to admiring glances from such as your correspondent. And even when a bit of inclemency from the weather forced me to stay within, behind the walls of protective plate glass, the view was just as captivating.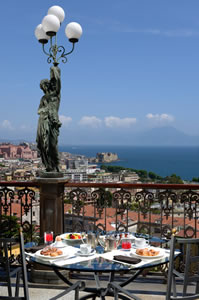 Each morning I brought from the buffet to my table plates of ham and melon, dishes of pineapple and orange, croissants, excellent bacon, scrambled eggs and slices of crusty bread (with which I enjoyed – as so many hotel guests around the world do – marmalade made in Tiptree in Essex by Wilkin & Son). All these comestibles, together with coffee in silver pots and dishes of ice cubes, ensured that my days in Naples started well.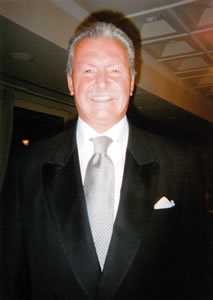 And they ended well, too. In the evenings George's is a formal restaurant, with waiters in black tie – overseen by the splendid maitre d' Franco Russo (pictured) – and good glassware by Bormioli. On a previous visit I had enjoyed the carefully prepared creations of the Parker's Chef Vincenzo Baciòt. On this occasion I happened upon a special evening, on which the food was being prepared by a number of chefs from both Naples and the island of Ischia. Many of the dishes were, of course, based on sea food, and included various things I cannot eat. But Mr Russo ensured that my main course was entirely to my taste – first rate fillet of beef with grilled vegetables. I began with rabbit, went on to some al dente pasta with aubergine and mozzarella, devoured the delicious beef and finished with two puddings – a fantasy of cantaloupe melon with almonds and a dish of chocolate with pineapple.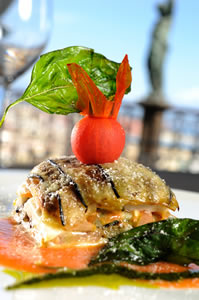 The 101 wines offered on the list are, apart from the champagne, Italian. Prices range from 22€ for a local white to 400€ for Cristal champagne. Other bottles to catch my eye were: 2009 Tignanello (92€), 2009 Sassicaia (165€), 1998 50 & 50 (113€) and 2007 Santa Cecilia (Planeta – 43).
After these and other gastronomic pleasures, I retired to my apartment each night and surveyed the glistening bay. Naples is, indeed, a wonderful city, despite its taxi drivers. If you are prepared to see whether you, too, can love it, allow me to recommend its famous, traditional hostelry – The Grand Hotel Parker's.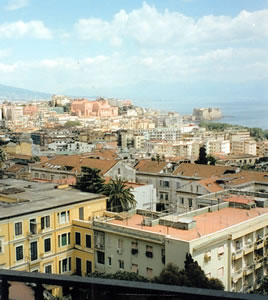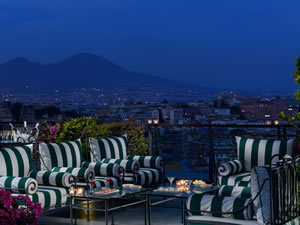 ---
ADDRESSES
THE GRAND HOTEL PARKER'S
Corso Vittorio Emanuele 135, 80121 Naples, Italy.
Telephone +39 081 761 2474
Fax +39 081 663 527
Email: info@grandhotelparkers.it
www.grandhotelparkers.com
See the hotel website for the room rates on specific dates.
Ask about special offers